Splatoon 2: Everything you need to know!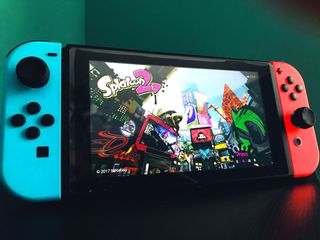 The long-awaited sequel to Nintendo's popular third-person shooter is finally here for the Nintendo Switch. Once again, you'll be asked to ink everything in sight as you battle it out with your friends or strangers online to spread your colors all over the map.
There's a lot going on in Splatoon 2 and a lot of different things to see in Inkopolis Square, so here's everything you need to know!
What's new with Splatoon 2
June 12, 2018: Splatoon 2 Octo Expansion coming tomorrow
For the US we will see the new expansion on the night of June 13th. Europe and Japan will get it on the morning of June 14th while Aus/NZ will receive it in the afternoon. On top of this exciting news, Nintendo says we'll be getting updates of additional weapons and stages throughout December. This includes new amiibos for new characters coming with the Octo Expansion!
April 27, 2018: Teenage Mutant Ninja Turtles get some Splatfest love in Splatoon 2 next month!
Next month there will be a Teenage Mutant Ninja Turtles Splatfest Tournament. Players will be asked to vote for their favorite hero in a half shell in order to determine who should take the throne as the best Ninja Turtle. Throughout the Splatfest, players can earn Super Sea Snails in order to purchase gear, as well as Ninja Turtle, themed shirts for their characters. The Teenage Muntant Ninja Turtle Splatfest will be broken up into three rounds.
Round 1: Raphael vs Leonardo: May 4, 9pm PST to May 5, 9pm PST.
Round 2: Michelangelo vs Donatello: May 11, 9pm PST to May 12, 9pm PST.
Finals: May 18, 9pm PST to May 19, 9pm PST.
Game Update! Version 3.0.0 is releasing today. Check out the full changelog here
Callie now shows up at the Tentakeel Outpost in Single Player mode after you do that thing you need to do. (no spoilers!)
X Rank has now been added, including special brag post you can strike by pressing L and R at the same time in the pre-match lobby.
You can pre-order the Pearl and Marina amiibo pack right now for $25. They will be released in July See at Amazon
If 'Rank S' isn't quite enough for you there is great news. Nintendo added 'Rank X' to Splatoon 2.
The Octo Expansion Is on it's way. Releasing sometime in October it will include 80 solo missions. You can pre-order it now for $20. See at Nintendo
Tutorial
The first time you load up the game, you'll encounter a unskippable tutorial that teaches you the basics of gameplay. How to shoot, move around, use sub weapons and special weapons, how to turn into a squid, etc.
The tutorial doesn't take very long to complete, and if you're brand new to the Splatoon franchise, there is a lot of useful information; however, you do have to do the entire tutorial using the annoying motion controls. You can turn them off as soon as you're done.
Inkopolis Square
Inkopolis Square is the center of all things ink! Here's where you'll be able to access the different shops, the story mode, all the online modes, and other places that give you access to various items in the game. Here's a quick breakdown of all the places you can go in Inkoplois Square!
This is the home of all the different online multiplayer modes you'll find in Splatoon 2, including Regular Battle, Ranked battle, League Battle, and Private Battle. This is also the social hub of Splatoon 2 where you can connect to the Online Lounge with the Nintendo Switch Online app and you can also start a game with your existing friends.
The Shoal is the place you go for all things local multiplayer. If you wanna play a game with your friends, host a private battle, or host a Salmon Run, The Shoal is the place for you!
There's a mysterious sewer in the top right corner of Inkopolis Square and while you're on top of it, you can press the ZL button to be transported to a different part of the Splatoon 2 world. Here is where you will play Hero Mode (A.K.A. story mode).
Entirely separate from the online aspects of the game, you can choose to completely ignore Hero mode, but it's there if you want to play through it!
Grizzco Industries (Salmon Run)
Mr. Grizz is a sketchy businessman who will give you various Salmon Run challenges to complete. You'll need to hunt down the Salmonoids and collect their eggs, all while staying alive. Don't forget to fill your quota of golden eggs before the timer runs out! You can play solo with computer generated teammates, with friends, or with people online!
This is the shop where you can purchase new shirts for your character with cash you earn from playing in matches. Shirts provide various bonuses to your character during a battle and you can read about the bonuses each shirt provides by pressing ZL. You won't be able to access Ye Old Cloth Shoppe until your character is at least level 4.
Headspace is your one-stop shop for headgear and is where you can purchase new hats, glasses, face masks, beanies, and other head accessories. Each piece of headgear will come with a special bonus that will help your character in battle. To learn more about the ability, press ZL. You won't be able to access Headspace until your character is at least level 4.
The weapon shop, Ammo Knights, is where you'll purchase new weapons for your character as you progress through the game. Weapons come in sets, meaning when you purchase and equip a new weapon not only changes your main weapon but your sub weapon and special weapon as well. You can test out new weapons in the shooting range before you buy them by pressing the Y button before you commit to spending your hard-earned cash. You won't be able to access Ammo Knights until your character is at least level 4.
Shella Fresh is the shoe shop and just like shirts and headgear, shoes provide you with bonuses during battles. You'll find a wide selection of sneakers, high-tops, and boots to choose from, and you can learn more about the bonuses each pair provides by pressing ZL. You won't be able to access Shella Fresh until your character is at least level 4.
The food truck is run by Crusty Sean and is where you can purchase various food and drink that will give you a boost to earning experience or cash during multiplayer battles or even increase the chance of your equipment gaining certain abilities upon leveling up. You won't be able to buy food with regular money; you'll need to use meal tickets, which you can get by playing Hero Mode or Salmon Run.
If you have any of the Splatoon 2 amiibo, you'll need to head over the amiibo stand to scan them into the game!
What else do you want to know?
Let us know what else you want to know about Splatoon 2 in the comments below!
Master your iPhone in minutes
iMore offers spot-on advice and guidance from our team of experts, with decades of Apple device experience to lean on. Learn more with iMore!