Spotify for iPhone gets the Discover tab, What's New being confined to history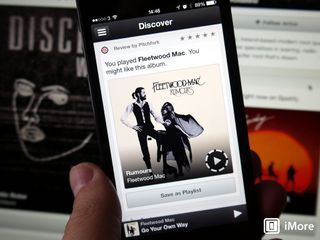 Spotify has pushed out an update to their iOS app with a bunch of new features — mainly for the iPhone — with the addition of the new Discover tab top of the list. The now playing view is also getting some polish, and there's a shiny new icon to boot as well. There's plenty going on, the new stuff looks a little like this:
New: Ever find yourself wondering what to play on Spotify? Introducing the new Discover experience on iPhone. (Coming soon to everyone.)
New: A shiny, new Now Playing view, featuring the 'Up Next' queue on iPhone. (Again, rolling out to everyone soon.)
New: Say hello to our new logo.
New: You can now edit your playlists on your iPhone.
There's also a bunch of fixes and general improvements, but it's really all about the Discover tab. One the one hand, it's a great tool to have; just yesterday I was bemoaning the lack of any discovery aspect to Microsoft's Xbox Music web player. But, in the case of Spotify, the Discover tab comes at the expense of the previous "What's New" section of the app. I like "What's New," so I'm not so happy about it disappearing. It's still there in the desktop player and the iPad version, but not in the iPhone app or the web player, the two I use the most. The iPad doesn't yet have Discover.
Discover does what it says on the tin. It tracks what you listen to and makes suggestions based on that, on your location, or just music that is popular enough for it to think you might like a listen. What's New used to show top tracks and playlists in your area, and show you the newest additions to the catalog. That's now gone, and I for one miss it. New features are great, but not always at the expense of something existing. Especially with no mention before hand.
The latest version of Spotify is available to download now from the App Store, and I'm eager to find out what you guys think of it. Is Discover worthy enough of losing the What's New tab, or like me, do you wish it would come back?
I definitely miss the What's New tab, but subscribing to Spotify's "New Releases" playlist is a decent replacement: http://open.spotify.com/user/spotifyusa/playlist/3dEjWfgB5jC6zn6tLoy9yy

Won't use it. It requires me to have Facebook to login.

Not here it doesn't. Granted I signed up a couple of years back, but I've just looked and you can still sign up with an email address.

I will try it again but I swear the last 2 times I've tried to use it, it would force a facebook login page after installing the app.

Sign up on the web. Not everything is better on mobile in this case ;-)

When will they ever improve the usability of their software? If I see an album in Rhapsody I want to download for offline listening, I can do it with one tap. On Spotify it takes eight.

I have the Discover tab... But I don't have the editable "up next" queue yet. I just need to wait a while and the feature will magically show up? That was a feature that almost made me switch to Google Play Music.

I just want an artist view of my playlists. Sent from the iMore App
Thank you for signing up to iMore. You will receive a verification email shortly.
There was a problem. Please refresh the page and try again.