Sprint will now let you lease an iPad Air 2 or iPad Mini 3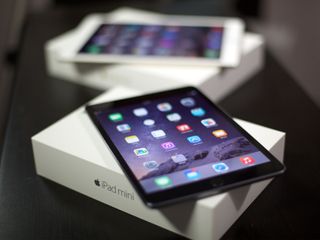 Sprint customers looking to get some iPad action can now do so easier than ever before. Through their exclusive iPad for Life Plan, Sprint is offering customers the option to lease a new iPad Air 2 or iPad Mini 3 starting at $20/month and $17/month respectively with no out-of-pocket costs up front. The lease runs for 24 months, at which time users will have the option to continue leasing, purchase the tablet, lease a new tablet, or terminate the contract.
Sprint hopes that the new plan will make it easier for customers to upgrade their tablet every two years, rather than shelling out full price only to be stuck with a device for the long-term. They're offering a few options at the end of the term as well.
Customers will have the following options:
Turn in the current leased device and lease another device with zero down at signing
Purchase the leased iPad Air 2 or iPad Mini 3
Continue leasing on a month-to-month basis
Or, when the lease ends the customer has the option to return the device in good working condition and terminate service
The iPad for Life Plan will be available starting tomorrow, November 14th.
Source: Sprint
Get the best of iMore in your inbox, every day!
Editorial Director - High Yield
Getting his start writing about BlackBerry in 2008, Adam is the Editorial Director of High-Yield content at Future. Leading an outstanding team, he oversees many of the articles the publisher produces about subscriptions and services – VPN, TV streaming, and antivirus software. From buying guides and how to watch content, to deal news and in-depth reviews. Adam's work can be seen on numerous Future brands including TechRadar, Tom's Guide, T3, TTR, Android Central, iMore, and Real Homes.
Doesn't sound like a bad deal for a new iPad every two years for less than a dollar a day. (28 per month for a 128) First I would want to know how much to keep it after two years, and second can I lock in a price for the next version for the following two years. On the website it does not state that you have to sign a data plan, it says it is available. So after taxes you're paying the same price as a brand-new iPad. I'm interested to see what other people think about this deal.

The huge drawback to this plan is that if you own the tablet, after two years you can re-sell it and get a good chunk of money back. On this plan, you pay almost the full price for an iPad, but then you have nothing to show for it.

Exactly, mulasien. A lease is only a good deal for one party -- the one writing the lease.

The thing I'm wondering with these Tablet/Phone leases is whether or not they hit you at the end for "damages". Like, if you scuffed the aluminum back or chipped the glass then how much do they charge you?

Of course, it's just like leasing a car, in the end you always get Ass Raped over a lease. Sent from the iMore App

AT&T calls it the Next Program, T Mobile Jump, Sprint a little late to the party? Sent from the iMore App

I figured they'd do something like this eventually. This will be nice when they finally finish the LTE rollout here.