Apple's monster Q1 blows away Wall Street estimates [Stock Talk]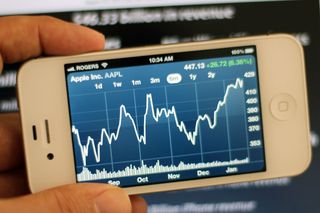 "Apple is firing on all cylinders and still looks like it has plenty of room for growth."
Tonight, Apple reported its 1st quarter 2012 results for the holiday period ending December. To say it was a good quarter would be like saying the iPhone was sort of different among smartphones when it launched. It would be more accurate to say Q1 was a tsunami of excitement for shareholders. In fact, according to Wikipedia, Apple now owns the #4 spot for top corporate quarterly earnings. Of all time.
Steve Jobs must have a huge grin on his face, wherever he is out there. And deservedly so. The company he founded and shaped continues to grow beyond his wildest imagination.
Highlights
<
ul>
Revenue was 46.33 billion, a whopping 20% above Wall Street expectations.
EPS, or earnings per share, was $13.87 while Wall Street expected $10.07, so this is an enormous beat on overall profitability
Apple shipped 37 million iPhones. The Street was expecting just over 30 million as the new iPhone 4S hit the market and demand clearly exceeded even the most wildly optimistic expectations.
iPad 2 shipments of 15.4 million were also well ahead of the Street's 13.2 million estimate. The Kindle Fire didn't put too much of a dent in Apple's ownership of the tablet market after all.
Mac hit another record with 5.2 million unit sales. This is still a 26% year over year growth rate whereas the overall PC market had zero growth according to IDC numbers. So Apple's Mac business is growing strong while he rest of the market shrinks. Nice position to be in.
The iPod business didn't set any records, but Apple still sold 15.4 million units, over half of which were the iPod touch. They still dominate the MP3 player market with 70% share.
Guidance for Q2 was also ahead of Street expectations. Apple says it expects about $8.50 in EPS next quarter compared to the consensus estimate of $8.02. But as any Apple follower knows, this company is the king of sandbagging quarters. They are uber-conservative and typically beat their own estimates handily.After hours, Apple is trading up over $30 per share to about $450. The company's market capitalization is now well in excess of $400 billion. The crazy part is that Apple is on the verge of having $100 billion in cash. Under Jobs' leadership, Apple didn't ever seem open to a special dividend to distribute its mounting cash hoard, or even a regular quarterly dividend . But since Cook took the helm, investors have been told that Apple is analyzing the situation and doesn't plan to let the cash burn a hole in its pockets.I, for one, would love to see Apple return some of the cash to shareholders. When one quarter of your valuation is tied up in cash it doesn't maximize value. Apple earns some interest income on the cash, but interest rates are excessively low these days and if they paid out the cash it wouldn't put much of a dent in their earnings. So paying out the cash unlocks value, which is why shareholders are so interested in seeing something materialize. 2012 looks like the year when something will finally happen.

Off the charts demand in China & pushing deeper in to Brazil
The iPhone 4S is now shipping in China, and CEO Tim Cook told investors on the conference call that demand is "off the charts".
China may be an emerging market where most people can't get anywhere near affording a $600+ phone, but it has a population of 1.4 billion. Even a thin slice of upper class citizens translates into a massive number of buyers. On top of this, China has an exploding middle class population. This country could very well fuel another significant leg of growth for Apple.
Brazil is another market where Apple sees huge opportunity. Cook speaks of Brazil as the #2 emerging market that Apple is focused on behind China. They don't expect to be opening any Apple retail stores there in the near term, but through other distribution channels they're going deeper into the world's 5th largest country.
India is still a tiny revenue generator for Apple, but Cook did disclose that revenue tripled in that market this quarter. India is no small fry either, being the world's second largest country by population with 1. 2 billion people.
iCloud is a strategy for the next decade
Apple's executive team didn't spend much time discussing iCloud, but Cook did drop a juicy line on us. He said, "ICloud isn't a product, it's our strategy for the next decade". When you really think about it, Apple built up its entire ecosystem around iTunes and a dependency on having a Mac or PC to synchronize your device to. That's fine in developed countries, but if Apple hopes to penetrate the prepaid market, or go deep into the enterprise, or other vertical markets, the cloud is where it's gotta be.
With iCloud, the way we use Apple products should make life even easier. Consumers can have automatic cloud based synchronization. Enterprises could potentially use iCloud to manage groups of devices and push apps out to them. Educational institutions could push textbooks and other material to them. If Apple is to succeed in these markets, they certainly can't do it with a need to plug each device into a Mac with iTunes running on it.
Apple TV still a hobby
Cook still describes the company's Apple TV business as a hobby. That may be the case, but it's a growing hobby with 1.4 million units sold in the quarter. Not too shabby as far has hobbies go. Almost everyone on the planet is expecting Apple to enter the home display market sometime in 2012, so I guess we'll see how this shakes out. I'd love to see Apple push deeper into this market. I've already ditched cable TV in my house in favor of Apple TV. Cable set top boxes just don't seem to be even trying to compete with their pathetic on-demand capabilities and horribly slow user interfaces.
Apple is firing on all cylinders and still looks like it has plenty of room for growth. They own the tablet market, and just injected a long term dose of growth into their business through their recent expansion into the textbook market. They're neck and neck with Android, both dominating in the smartphone market. And they stand alone in terms of controlling not only their entire smartphone ecosystem, but also their computing and content platforms. Apple remains an integrated powerhouse.
Yet its stock remains cheap by any traditional measure. At $450 per share (after hours quote), it's trading at about 12x annual earnings. But once you factor in that earnings estimates are bound to rise tomorrow morning, and if you back the company's enormous cash pile from it's valuation, the stock trades about about 10x earnings.
I'll take that bet. I'm hanging onto every single one of my Apple shares.
Former sell side analyst, out-of-box thinker, consultant, entrepreneur. Interests: Wife & kids, tech, NLP, fitness, travel, investing, 4HWW.
2012 would be the perfect year to give some money back to the share holders. I'm almost due an upgrade so that would be great to spend it on a new iPhone!

I own two of the 2nd gen Apple TV units, and I've come to a realization about them, and why they might still be considered a "hobby" in Apple's eyes. Something that, I think, is holding Apple TV back is the fact that despite Apple's best efforts to control the situation, there's one key area in which they don't have control: internet access.
Unfortunately, when the primary function of your device relies on steady, high-bandwidth internet, it's still a limited market in the US. Where I live, the ABSOLUTE fastest broadband (if you can even call it that) that's available is 1.5 Mbps. That's barely fast enough to stream SD quality video, which is a major drawback. Now I know that there's a decent percentage of people that have access to a standard 10 Mbps stream, but there's still a large percentage that don't, and I think it's hamstringing the Apple TV.
Until the US has a better, more consistent broadband experience, I don't think we'll see the Apple TV move out of the "hobby" phase, sadly enough. Here's hoping that changes within the next few years.

My 1.2 shares of Apple stock are very happy. :)

1.2? Is that even possible?

Incredible results considering the recession and poor economic climate.
Be interesting to see what direction they take through 2012, iPhone5 will be the most likely.

The first headphones we are going to talk about are the Monster Beats by Dr. Dre Studio High Definition Headphones. When you first see the product packages you know you are going to be getting a high quality product, the packaging is absolute stunning. The quality of the headphones themselves is also top-notch, you can see why these headphones are used widely across the globe thanks to their stunning looks, it is usually rare to find a set of headphones that not perform really well but also look great. The actual quality of the headphones is also very good, the headphones have built-in noise cancellation that basically cancels out the surrounding sound so that you are endorse only in the music. This feature of the wireless beats headphones headphones work really well. A slight problem that we and many other people have experienced when using this headphones is the fact that the sound leakage that come from the cheap beats by dre headphones while use is quite loud, for example if you were sitting on a bus then you bet that at least half of the bus will hear your music.Open monster beats by dre headphones, such as foam ear-pad models and several sports designs, are acoustically transparent and enable outside sound being heard with the monster beats studio headphones wearer, however, many from your sound will likely be audible to anyone near to well. They work effectively with portable devices, minus the worry of pulling or damaging thin wires, or getting tangled within them. Sealed models are ideal for private listening, in which you don wish the sound to get heard by others, as well as which means you don annoy others in quiet environments!
Thank you for signing up to iMore. You will receive a verification email shortly.
There was a problem. Please refresh the page and try again.