Swift Playgrounds will help anyone learn how to code on iPad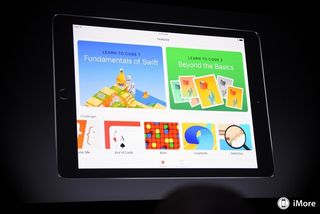 In an effort to help everyone learn how to code with Swift, Apple introduced a brand-new iPad app called Swift Playgrounds at WWDC 2016. According to CEO Tim Cook, Swift Playgrounds "will revolutionize the way people learn to code."
The app is meant to make diving into coding easy, even for kids. The first lesson, for example, starts with the introduction of a coding concept along with an interactive world. Users will then be able to interact with the world using the code they're learning. The app also features step-by-step instructions and QuickType suggestions for code. Students are encouraged then to enter their code, tap run and explore what happens in the library of playgrounds.
The app also features a new coding keyboard that will allow users to press and drag down on letters and numbers to access symbols. The free app will be available to developers today, with a public beta available in July. The final release will be available in the App Store right alongside iOS 10. While the app will be great for learning, it is important to note that this isn't Xcode; you won't be able to build and export full apps.
In addition to the new app, Apple revealed that Swift has become the number one language project on Github since it was made open source earlier this year. In addition, more than 100,000 apps are now using Swift, including big names like Twitter, Strava and more.
○ Everything about WWDC 2020
○ WWDC 2020 remote lineup
○ Download the Apple Developer app (opens in new tab)
○ iOS/iPadOS 14
○ macOS 10.16
○ watchOS 7
○ tvOS 14
○ Discussion forums

Get the best of iMore in in your inbox, every day!
I watched the WWDC session about Swift Playgrounds ( https://developer.apple.com/videos/play/wwdc2016/408/ ) today. This looks like a real winner. The game interface can be used or avoided for playgrounds as the author likes, and it's clearly quite valuable for writing little snippets of code and playing with an API. I liked Jean MacDonald's comment in Apple's press release, and I'm confident they will shift much of App Camp for Girls to these computers in 2017. The opportunities to share/network on playgrounds sounds really fantastic. I can't wait for Ren and the rest of the iMore staff to start playing with this.

I work with students who are blind and who use screen readers and braille displays with iOS. I'm wondering if Swift Playgrounds app will be accessible for my students to start learning the basics of coding. Apple has been fantastic at incorporating accessibility into iOS; I'm hoping that their app will allow my students to participate along with all their peers. I've been reading the iBooks that they have developed and am already thinking of ways to adapt some of the activities. And, thank you, iMore, for always reporting on Accessibility at Apple!
Thank you for signing up to iMore. You will receive a verification email shortly.
There was a problem. Please refresh the page and try again.