Tanktastic picks up new maps and tanks, gives out MOGA Ace Controllers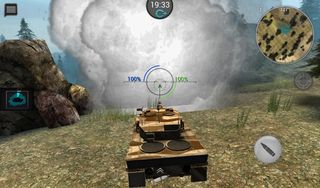 We last looked at Tanktastic, it was pretty much the only game online tank combat game in town for iOS. Now faced with competition from Tank Domination, Ukrainian developer G.H.O.R. Corporation has recently published a major Tanktastic update. They're also giving out MOGA controllers as part of a contest that ends on February 4th. Read on to learn about the contest, plus exclusive details on the update and the future of Tanktastic!
Version 1.18 update release notes
2 new maps: Forest and City
14 new tanks
Upgrades
Camouflages
Different armament
Artillery
Autocannons
IR Smoke
Updated tank control
Updated environment graphics
Updated tanks graphics
Updated game balance
Regional chats
Bugfixes and optimizations
New maps
A few months back, the Tanktastic team conducted a poll to determine what types of maps users would most like to see in the game. The top choices were forest and city maps, which now debut in this update. Along with original maps Oilfield, Military, and Demo, Tanktastic now has five total maps.
The city map stretches for several blocks, resembling an 8 or infinity symbol when viewed from above. Combatants won't contend with bystander traffic or pedestrians which might bog down the engine. But the city has something that other maps don't: overpasses. Hop on to an elevated road and you'll have an excellent view of oncoming foes.
As for the forest map, it contains plenty of trees, grasses, and rocks through which to navigate. Both trees and rocks provide cover to warring tanks. Forest also holds plenty of hills and uneven terrain, making for a diverse and challenging battlefield.
New tanks galore
Part of the appeal of tank combat games is their authentic selection of real-life tanks from around the world. The update adds the following vehicles to the mix, pushing the tank count up to 50:
USA:
United Kingdom:
France:
Germany (West Germany):
Russia/Soviet Union:
TOS-1a (24-barrel multiple rocket launcher mounted on a T-72 tank chassis)
2S19 Msta (self-propelled artillery, based on the T-80 tank full and powered by the T-72 diesel engine)
Black Eagle (main battle tank)
New weapons and balance changes
Autocannons: a rapid-fire projectile weapon that fires armor-piercing or explosive shells. Tank vehicles like the Marder can use autocannons to shoot and spray enemies with shells.
Infrared Smoke: fire a smokescreen that not only blocks visible light, it also prevents detection from infrared sensors or viewers. During gameplay, IR smoke will help combatants make a quick escape or simply obscure their movements to the enemy.
Updated game balance:
Gun features – Spread: Guidance on the tank does not completely guarantee a hit.
Armor thickness: Tank turrets are now more armored, whereas their backsides have less protection. This encourages sneak attacks.
The tank game to beat
While Tanktastic has some competition from Tank Domination, the latter can't compete in multiplayer options. Tanktastic has three game types instead of just one, a party system, and in-game chat. Tank Domination does offer twice as many maps (ten instead of five), but parties and chat are far more important to the multiplayer experience.
Neither game supports the iOS MOGA controller right now, but G.H.O.R. tells us that MOGA support will be added in the next title update. Expect more tanks as well.
Tanktastic is free to play. In-app purchases include coins (the game's currency) and premium account access. Premium accounts gain experience and coins faster than standard accounts. Whether players choose to play for free or not, they're bound to have a good time in this game of tank battles.
Tanktastic MOGA Giveaway
To celebrate the New Year, the Tanktastic team is giving out MOGA controllers for iOS and Android. Simply like the game's Facebook page and then fill out the entry form, naming your platform of choice. Winners will be chosen at random each Tuesday until prizes run out. The contest ends on February 4th, so enter soon!
Master your iPhone in minutes
iMore offers spot-on advice and guidance from our team of experts, with decades of Apple device experience to lean on. Learn more with iMore!
Paul started writing about games in 2003 with his first strategy guide (Bomberman Land 2) for GameFAQs. He continued writing guides while earning his B.A. in Literature. When Windows Phone launched in late 2010, the Xbox integration lead our hero to jump on board the platform. He joined Windows Phone Central as Games Editor at the beginning of 2011, going on to review over 125 mobile Xbox titles over the years. He now leads Windows Central's Xbox One coverage, personally specializing in developer interviews, indie games, controllers and accessories, and Twitch broadcasts. Paul loves games on all platforms; he goes where the games are. Although very busy with console coverage, he sometimes contributes gaming articles to iMore and Android Central.