Teaching changes lives: A salute to Apple's One to One program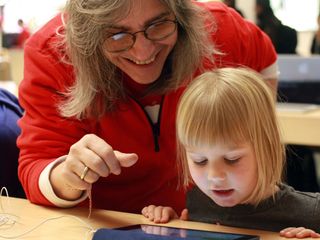 There's a saddening rumor being bandied about lately in regards to Apple's little-known but much-beloved One to One program: Namely, that the company plans to discontinue it as it continues to tweak and revamp its stores.
If you've never heard of the One to One program, well... I'm bummed, but not surprised. iMore visited One to One last year to help our readers learn more about it. Since its origin, Apple marketed the program exclusively to new Mac owners—a $99 add-on that gave them a year's worth of weekly 30-minute and hour-long tutoring sessions on anything Apple-related they wanted to know.
Most buyers turned it down. Those who didn't got some of the best tutoring, bonding, and Starbucks-fueled experiences Apple had to offer.
Training us, training you
Little-known fact: Before my life incorporated "online writer" into my dossier, I worked for an Apple Store and taught One to One classes. I was one of the few "part-time" Creatives—most trainers were full-time and spent the majority of their work day running personal training sessions and workshops alike.
One to One sessions ran the gamut when it came to topics: I'd clock in at 8:50 and have a "Welcome to Mac" tutorial session at 9 with a brand-new Mac user in their 40s; at 10 I'd be knee-deep in a Final Cut Pro project with a retired gentleman who wanted to reinvent himself as a documentary filmmaker; and by noon I'd be walking a new business owner through making a website with iWeb. (Still a thing in those days. Imagine!)
The pitch for One to One training was broad and all-encompassing: Want to learn basics? Dig deeper into the awesome things your Mac can do for you? Learn a professional program? We can help you do all these things and more.
As trainers, we studied modules and read up on our iLife and Logic apps, of course, but we were more guides and ambassadors than strict teachers. The One to One program was never designed to be a tutorial lecture: Instead, it was highly customized around the person's needs.
That meant, a lot of times, having to discover solutions on the fly. The phrase "Let's find out together" became our mantra: You want to do something potentially scary on your Mac that you've never done before? Don't panic. We can figure this out.
And in doing so, we helped hundreds—if not thousands—of people get comfortable with their Macs. We definitely made our mistakes, and nothing was perfect. But we'd also regularly walk people through features like Time Machine—something the average new Mac owner might never have touched for fear of screwing something up. (Don't even get me started on the number of sessions we did on MobileMe, now iCloud.)
There are a lot of memories that stand out to me from my time teaching. The woman who always came at 9AM on Tuesdays and brought coffees for everyone at the store. The elder gentleman who had hated Macs his whole life, but got hooked after just three One to One sessions. The 21-year old college student who wanted a tour of how Reddit worked after her quick primer on Pages and Numbers. And to date my weirdest retail interaction: A guy who, after dropping in on an iDVD workshop, tried to bribe me $500 to burn a bunch of DVDs for him on one of the store computers, then ran out before I could tell him "Thanks, but no."
The one I always think about, though, was a session that happened at the end of my work day: A one-off that I'd gotten subbed in for at the last second, with a subscriber who usually attended classes in another state. The woman wanted to learn how to hide photos in iPhoto—simple enough.
But although the woman had brought her laptop, she insisted learning how to hide, show, and organize hidden images on one of our store iMacs. We did this for about 20 minutes, and once she felt confident she knew the key commands and menus, she pulled out her laptop and launched iPhoto.
While the program slowly loaded, she revealed that she was grieving: A family member had recently passed away, and she had wanted to learn how to hide photos to temporarily remove those memories until she could once again deal with them. She hadn't wanted to delete them, she said. But she hadn't been sure what else to do.
And so, for the remaining 30 minutes of the session, we scrolled through her old events, hiding photos, talking about everything else. When she got up to leave, she was sad, but smiling.
The times are a-changing
I credit working in Apple's One to One program as one of the primary reasons why I'm in tech writing today. It helped me learn how to troubleshoot and teach through exploration, not lecture. And through it, I developed a system of breaking down the most complicated of terms and features into smart, digestible how-tos—a system I still use in part today.
I called the One to One program "Apple's most important service" when I worked for retail, and I truly believe it: Like the Genius Bar, it personalized the users living and loving their Macs. At its best, the One to One program helped an entire legion of new Mac and iPhone users love and trust their computers, and where to look to troubleshoot.
That program may not make sense for Apple retail anymore. The stores are getting bigger and more crowded, and personalized training was always a harder sell in noisy, rambunctious environments.
Workshops and free-floating Creatives might be a better fit for the new Apple, allowing them to reach more people. I imagine these larger group sessions will still be customized depending on the people who attend, and customers can always come into the store and ask any of the specialists questions.
It won't be the same, though, and I'm sad for all the new Mac owners who may miss out. But they'll hopefully find their solutions in new ways. They'll attend workshops. They can search online (and hopefully find their answers in sites just like ours), or take classes on sites like Lynda. They can bother friends and family. And with luck, they'll still find their solution.
Master your iPhone in minutes
iMore offers spot-on advice and guidance from our team of experts, with decades of Apple device experience to lean on. Learn more with iMore!
Serenity was formerly the Managing Editor at iMore, and now works for Apple. She's been talking, writing about, and tinkering with Apple products since she was old enough to double-click. In her spare time, she sketches, sings, and in her secret superhero life, plays roller derby. Follow her on Twitter @settern.