Tech traveling tips: What to take, what to leave, and how to manage it all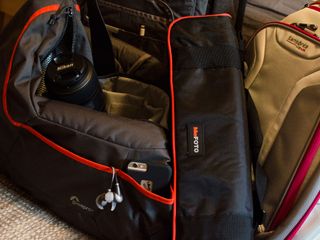 Most of us make our gadgets and tech a priority when packing for a trip. From iPads and iPhones to cameras and chargers, there's a lot to keep track of. With the holiday season upon us, we figured there's no better time to share our favorite products and tips for traveling with gadgets. We've got all the info you need you need to figure out exactly what you should be bringing, what's best left at home, and what you should carry it all in to keep them safe!
Be realistic about what you need to bring
The first thing you should do before packing a single thing: be realistic. Do you really need to bring three different charging packs or a cable for each device? Probably not. Overpacking is your worst enemy and 99% of people do it, especially when it comes to gadgets and the accessories and cables that go with them.
Overpacking is easy to avoid if you plan accordingly. First things first, lay out everything you intend on bringing. Then ask yourself if you really need it. If you find yourself debating over an item, leave it at home.
How to pick the right bag for all your gear
Choosing a bag for all your gear is one of the most important decisions you'll make. Not only should it protect your gadgetry, it's also extremely important that it's comfortable for you to carry. That being said, only you know yourself and your needs. If you have neck problems, for instance, avoid a messenger-type bag that's going to cause you heartache — even if your gear fits perfectly in it. There are so many bags out in the world that you have literally thousands of options.
My current favorite when it comes to light travel is the Lowepro Passport Sling iii (opens in new tab). It costs less than $50 and is a great lightweight bag for photographers along with anyone who needs space for a few gadgets to tote around. The camera compartment is removable and there's even a zipper you can unzip to expand the storage space by 30 percent. There's also a dedicated tablet compartment that fits a full-sized iPad just fine. You can't, however, fit something like a MacBook Air.
When I need something a little more heavy-duty to carry my camera lenses, computer, and a few clothes items, I turn to my Incase DSLR Pro Pack (opens in new tab). It does a great job carrying almost anything you can throw at it, and it does it all comfortably on your back.
While these two bags suit my needs, they may not suit everyone's. So if those two don't suit your fancy, here are some of my other favorite travel bags, made by Tenba (opens in new tab) and Tamrac (opens in new tab). Both these companies make a wide array of bags, varying from roller packs to messenger bags to traditional style backpacks. Best of all, you can find something to fit almost any budget.
Once you've found one or two bags that suit your use case, all that's left to do is fill them. Just remember, if you're questioning whether you need to bring something, leave it at home. When carrying your gear bag for long periods at a time, you'll be glad you did.
Cords, chargers, and accessories
If you're traveling with multiple devices, the first thing you want to do is figure out how many cables and chargers are actually necessary. For example, if all your devices take Lightning cables, do you really need to bring a cable for each? Probably not. Instead, bring one or two cables and keep the amount of charging bricks you take to a minimum.
I've actually settled on a ZAGGSparq 6000 (opens in new tab) in favor of the traditional charging brick that came with my iPhone and iPad. It charges two devices at once and only takes up one outlet. Not only that, it's a high capacity battery pack you can fish out of the bottom of your bag whenever you need to top off your device while out and about. These kinds of items not only serve multiple purposes, they minimize what you have to keep track of while on the road.
In general, keep battery packs and other accessories to a minimum: The more you add, the heavier your bag will get. I've also found it helpful to designate one section of my bag to cables and cords. This way I know where they are and they don't get tangled up with other items. To help with this, you can pick up cord wrappers (opens in new tab) which make it an easy job to organize cables on the go.
A few more things to remember
Every trip I take, I get a better idea of I need to bring with me and what I can leave at home. I've also yet to find one bag that is a perfect gear bag for all my travel needs. A combination of two bags, however, should be sufficient for almost anyone for any kind of trip, no matter what you plan to carry. One of my bags serves me well at conferences and events where I need all my gear and camera equipment; my other bag is a lighter bag that not only works as a carry-on, but as a great day bag for my camera and a few other necessities. I just pick the one that suits that particular trip the best and leave the other at home.
Your tips for traveling with gadgets?
If you frequently travel and have found an awesome gear bag or something else that you think is invaluable while on the road or in the sky, be sure to let me know what it is and why you like it so much.
iMore senior editor from 2011 to 2015.
Nice article. My gear bag of choice is the High Sierra Access. I fit an excessive amount of tech and cables inside, but mine is gaming oriented instead of photography.
More than enough space and pockets for a large laptop (although mine is thin as well), 2 controllers, a power brick and 5 or six 10 foot cables of various types. A Kindle, and clothes (or you know... A WiiU.) The Kindle actually saves me the most amount of space. I don't have to carry books with me and that's amazing. That and a composition book takes care of most of my school needs.
Posted from the amazing whatever device I can afford because I'm a broke college kid.

On my last trip to Disney World my ScotteVest Tropiformer Jacket allowed me to skip bringing a backpack for several days of the trip. PS use the slow motion video for the bird show in Animal Kingdom.

I use a LowePro Flipside Sport 15L AW. While designed as a camera bag, I switch the configuration inside around to accommodate different types of use. I use it for my larger camera equipment or change it for a smaller camera, a tablet and a bunch of accessories. While it is a bit pricy, the bag is lightweight and one of the nice features is the body-side access which 'offers quick access to gear when the pack is rotated to the front and provides added security while wearing'. This means that no one can come up behind you and take things out of the bag! Check the LowePro site if you want a better view and explanation.

Good article. I went through a lot of portable battery packs before deciding that it makes more sense to have a battery pack that also doubles as a charger, so I don't need a dedicated cable to charge the charger. I used a Zagg Sparq for a while, but recently discovered Top G chargers (http://www.amazon.com/gp/product/B00I8JEGE6/ref=oh_aui_detailpage_o02_s0...), which are really small and have a nice design that let it convert to a wall plug in charger if needed. Not huge capacity, but enough to get through a long travel day. I'm also a huge fan of Tom Bihn bags, and have been using a Large Cafe Bag for many years. Highly recommended.

Awesome! I will check those out too! Thanks!

That portable charger/wall charger looks awesome.

The Anker 40W 5-port charger (£20 or so, on Amazon) is a particularly good way to reduce clutter. It can even charge multiple tablets at once. I take a short three way (USB to lightning, old Apple, and micro USB) cable, and a lipstick-sized battery pack for top-up charges of a phones or DS during the day.

"Overpacking is your worst enemy ..." Amen to that. I never bring more than 1 carry-on, even for international multi-week trips. My luggage mantra is "If I can't run with it, I won't bring it." And having a carry-on lets you skip the luggage carousel wait. You get to the rental car desk / public transportation / taxi stand before everyone else on your flight. Having said that, under-packing can be your 2nd-worst enemy. It can be a massive pain to find a store that carries micro-USB cables. Depending on where you're traveling, of course. They're cheap, light, and small. Pack a backup just in case. Because it can be a huge waste of time (and money) if you need to buy one at retail tourist-sucker prices.

"My current favorite when it comes to light travel is the Lowepro Passport Sling iii." Mine is also a LowePro: the Flipside 200. It's a fairly small backpack-style camera bag (enough for a DSLR, big lens, 2 small lenses, accessories, and has an external tripod attachment.) And it can't be unzipped from the outside. You swing it around in front of you and unzip its back. But I think on my next international trip I'll just leave my ancient DSLR at home. I'll get one of the smaller mirror-less cameras, maybe the Fujifilm X100T. Fixed semi-wide angle 35mm-equivalent lens (in 35mm film format). Expensive, but very high image and construction quality. Why? Because you need to find that fine line between 1. enjoying your trip and 2. documenting your trip. Dragging a big DSLR around detracts from #1. Changing lenses because you weren't prepared detracts from #2 because you'll miss shots fiddling with your equipment. And anyway, if you have a good eye, you can find fantastic photo opportunities with any camera and lens. (And a small point-and-shoot is less intimidating than a big DSLR with huge lens when you're asking people if it's OK to take their photo.)

It's why I won't go full frame, too much weight. I always take my DSLR but I don't always bring it around. And I only take 2 lenses. A wide and a zoom. Sent from the iMore App

I still use my old Power Bag Back pack. I can fit my all of my electronics and gear in there (including a laptop) and I enjoy having the built-in battery pack to charge my tablet or phone on extended trips.

I'm a road warrior logging over 200 nights a year in hotel rooms. My bag of choice is my old fashioned, 15 year old Hartmann luggage carry on shoulder bag. This bag not only holds personal items not advisable to put in checked baggage, it also has a zippered compartment on the outside that stores my MacBook Air, making it very simple to remove to run through security X-ray at the airport. The main compartment has a zippered compartment on the inside that holds my iPad, MacBook charger equipped with Plug Bug for rapid iphone6 charging, 2 ten foot lighting cords, 1 25 watt apple usb charger, my MiFi, and a micro usb to charge it. Sounds like a lot but it's a very small amount of space taken up. It's a shoulder bag I can throw on and run through the airport no problem. I stopped traveling with the Mac Pro to reduce weight when I figured out the air does everything I need it to while traveling. Having two available chargers, cords to simultaneously power up pad and phone works best for me without the extra bulk of the dual charger. I have to pack the laptop charger anyway, so adding the Plug Bug adds very little bulk. My needs on the road do not require a battery pack so I don't travel with one. Aggressive battery saving settings on my iPhone gives a really long use time.
Your advice to lay everything out you plan to travel with and then pairing down to reality is excellent advice, and is a fluid exercise. Ebery excursion has a different set of needs.

Forgot to mention I pack an hdmi cord and apple connectors for watching things on my I devices through the hotel room tv. Must Haves!

Cables take up no space... You can pack like ten and its going to make any difference. Sent from the iMore App

Except when they get tangled and create a huge mess. I've just never found a need to bring that many. When you travel with one main bag, space is valuable and that many cables can take up much needed space. Sent from the iMore App

Twist ties are your friends. Or rubberbands. Or taking less which is what you prefer. To each their own. Posted from the amazing whatever device I can afford because I'm a broke college kid.

Here's a pro tip for cables: use the over / under alternating hand loops technique which helps to put less strain on the delicate wires inside. I learnt this technique almost 30 years ago when I was working in recording studios and had to roll expensive mic cables. I still use this technique for all my cables - although those short and stiff ones can be a challenge (any Viz fans?!). Your cables will last longer because the natural curve of the cable will be preserved. I'm sure there are some good videos on YouTube that'll teach you how to do it. Perhaps iMore could do an article about it... Sent from the iMore App

Ya, I would say leave more than you take. Airports don't like a whole lot of things like this coming through. A few ruined it for all.
http://www.lakecitytravel.com
Thank you for signing up to iMore. You will receive a verification email shortly.
There was a problem. Please refresh the page and try again.