Tech-educated congressman asks FBI to cease pressuring Apple into providing access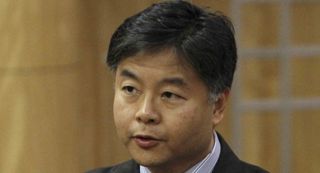 U.S. representative Ted Lieu has asked FBI director James Comey to withdraw the agency's requests for Apple to unlock and provide access to an iPhone used by one of the San Bernardino shooters. Apple has since opted to make a stand and is currently facing off both the FBI and Department of Justice with consumers and fans of the company looking to rally to show their support.
Lieu warned Comey in a letter that should Apple support the FBI in this case, the move could have the potential to pave the way for more prosecutors to make similar demands to bypass encryption and security.
It's argued that Congress should decide whether or not America-based technology companies must provide authorities with access to products. This is the latest in the locked battle between the FBI and Apple, with yet another name added to the list of support for the tech giant. See Lieu's letter to Comey in full below.
Dear Director Comey,
Thank you for your public service and excellent leadership of the Federal Bureau of Investigation (FBI). As a military veteran and former prosecutor, I commend you and the dedicated FBI employees for keeping us safe. I am writing to you in my capacity as a Member of the House Oversight and Government Reform Committee, and its Information Technology Subcommittee, regarding the government's Motion to Compel that would require Apple Inc. to create software it does not have in order to weaken its smartphone encryption system.
The FBI's demand that Apple write new code to weaken encryption defenses has generated passionate responses from many Americans. I read your recent open letter in which you urge folks to "take a deep breath" and "use that breath to talk to each other." I You also argue that the two values of privacy and safety should be "resolved by the American people." I completely agree with you. That is why I request the FBI's demand of Apple and the Motion to Compel be withdrawn. We should all take a deep breath and talk to each other, rather than use a lawsuit to circumvent the critical and necessary policy discussions.
The San Bernardino terrorist attacks were horrific and the significant loss of innocent lives demands a strong response. We share the same goal that we must do all we can to bring justice to the victims and prevent future terrorist attacks. I also agree with you that the profound issues raised in the San Bernardino investigation will reverberate not just for this single investigation, but will affect "how we want to govern ourselves in a world we have never seen before" and "will matter to every American for a very long time."
The profound issues at stake should not be decided, as you state, by either corporations or the FBI. Neither, however, should these critical issues be decided by an unelected magistrate judge's or Department of Justice's interpretation of the All Writs Act, a law first passed in 1789, nearly 90 years before the light bulb was invented. As a computer science major, I have seen far-reaching unintended consequences when government applies outmoded concepts to our fastchanging technological world. Trying to apply an 18th century law to a 21 century technology company should not give anyone any confidence in the result.
Using the court process and an antiquated law to coerce a private sector technology company is especially inappropriate in this situation because Congress has been actively debating the very issue of the appropriateness of mandating "back doors" and other ways to weaken encryption. Numerous Congressional committees, including the Oversight Committee, have held hearings on privacy and encryption issues. Legislation has been introduced, or soon will be introduced, on these exact issues.
For example, earlier this month Representatives Blake Farenthold, Suzan DelBene, Mike Bishop and I introduced the ENCRYPT Act, which would prevent states from mandating that companies weaken their encryption systems. 5 House Homeland Security Committee Chairman Michael McCaul and Senator Mark Warner are working on legislation to create an expert panel to study and make recommendations on privacy and encryption issues. Senate Intelligence Chairman Richard Burr and Senator Dianne Feinstein are working on legislation to require companies to decrypt data under court order.
The framers of the Constitution vested the 535 elected Members of Congress with the responsibility to represent the American people and strike the appropriate balance on the important issues facing our country. The difficult and challenging issues of balancing privacy, liberty, safety, and national security should not be decided by unelected entities, such as private sector companies, governmental investigatory bodies, or magistrate judges.
If the magistrate judge's strained interpretation of the All Writs Act were upheld to give the FBI the right to force a private sector company to weaken its encryption defenses in this case, the precedent would open the floodgates for all future prosecutors to make the exact same demands in any case involving a smartphone that government cannot decrypt. The precedent set in this case would essentially enact a policy proposal to weaken encryption that has not yet gained traction in Congress and was previously rejected by the White House.
You appear to understand fully that decisions on how to strike the complex and difficult balance between privacy and safety, and civil liberties and security, require buy-in from the American people. Your open letter was not directed towards the judge. Rather, the open letter was designed to influence public opinion; and that is exactly where these issues should be resolved.
I ask that you follow the arguments you made in your letter and withdraw the FBI's demand of Apple, along with the corresponding Motion to Compel. Let's all take a deep breath and start talking to each other instead of fighting in court. Let Congress, stakeholders, and the American people debate and resolve these difficult issues, not unelected judges based on conflicting interpretations of a law passed 87 years before Alexander Graham Bell invented the telephone.
Via: FWC
Get the best of iMore in your inbox, every day!
So whatever happens, because of this case companies will rush to make their data unreadable even by themselves and then the issue will turn into forcing companies to build backdoors by law, and then servers and data will start migrating to safe havens. FBI would have been better off not forcing this issue.

Finally an educated voice of reason in the government!

FBI has horrible tech employee. Sent from the iMore App

U.S. representative Ted Lieu for President. Like Rep Lieu, if you'd want to support Apple's stance on privacy, then add your name to the White House petition at https://petitions.whitehouse.gov/petition/apple-privacy-petition Tell the Administration we #StandWithApple

HELLO to all iMore readers.
A small question? Where is the ELEPHANT in the room?
If I read right, the FBI instructed the County to change a password and started all this hoo ha. If the said employee did change the password, then that person knows the new password. Ergo just use that password to open the phone! EASY.
New Q why is this not reported in articles.
Tell me I am wrong and let the herd of elephants out.