There are rumors that Apple will kill off Beats — I say good riddance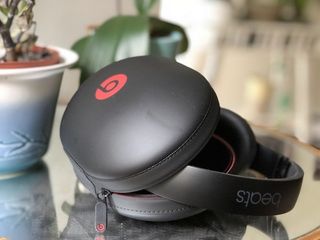 (Image credit: iMore)
It was August of 2014 when Apple bought Beats $3 billion, the largest acquisition Apple ever made, which was a massive splash in the industry at the time. It was also rather ironic since Beats were originally developed because Dr. Dre hated that people would steal his music, put it on an iPod, and then listen to that music through Apple's EarBuds, which didn't (and still don't) sound that great.
Beats, especially when they were first purchased by Apple, owned a considerable market share of the over $100 headphones sector. Still, since then companies like Bose, Sony, and countless others have come to the table with excellent over-the-ear headphones, Beats aren't really what the used to be, and if Apple wants to get rid of them, I would be happy.
It's about branding
A companies brand is the most powerful tool it has in its arsenal. Brands are what really sell products, which in turn make stocks go up, which in turn equals profits — it's just the way the business world works. Apple is arguably one of the most recognized companies in the world and has a very established brand, and while Beats certainly has a brand and an identity, its not as strong or as valuable to Apple as its own name.
Beats are mostly known for their bass-heavy sound, which in fairness lots of people like, but that's not what Apple's AirPods are known to sound like. AirPods and AirPods Pro have a relatively balanced sound compared to other headphones, and their main selling feature is how well they work with Apple devices. Of course, in recent years, Apple has included its W1 and H1 chips in Beats headphones, making Beats just as good as AirPods at communicating with your Apple devices. So what's left for Beats that Apple isn't offering?
Beats as a fashion statement
If there's one thing that makes me slightly sad about the idea of Apple tossing the Beats brand in the garbage, it will be the style and look of Beats. On top of functionality and sound profile, Beats have always been available in bold and bright colors and have always been somewhat of a fashion statement as well. This may shock you, but not everyone buys headphones because they sound the best, some people buy products because they are stylish, look good, and are "hip." Beats always had that sort of swagger that Apple products don't really have.
Most Apple products have a simple, understated, and function-over-form look and feel to them (AirPods are a prime example), and I'm not entirely sure what a pair of Apple-branded over-the-ear pair of cans would look like. They may keep the same form factor as Beats and just slap the Apple logo on them and call it a day, but it's more likely they will look different and new, so they are their own thing. Plus, Apple has always had a very limited color palette compared to Beats, so if you loved Beats for the way they looked, I could understand how this rumor could be bad news.
Apple > Beats
If Apple is truly planning to release over-the-ear noise-canceling pair of headphones similar to the Bose 700 has Jon Prosser suggests, it would be incredibly redundant to continue to release Beats as well. The Apple brand is just more valuable to Apple than the Beats brand — plain and simple.
No one knows exactly what these theoretically Apple-branded headphones will look or sound like. If Apple decides to ax Beats, they may attempt to make the transition as smooth as possible for Beats lovers, but its also just as likely they will go the other direction and make a pair of headphones that carries the weight, expectation, and popularity that the Apple brand comes with. Personally, I hope its the latter.
What do you think?
Let us know in the comments down below.
Get the best of iMore in your inbox, every day!
Luke Filipowicz has been a writer at iMore, covering Apple for nearly a decade now. He writes a lot about Apple Watch and iPad but covers the iPhone and Mac as well. He often describes himself as an "Apple user on a budget" and firmly believes that great technology can be affordable if you know where to look. Luke also heads up the iMore Show — a weekly podcast focusing on Apple news, rumors, and products but likes to have some fun along the way.
Luke knows he spends more time on Twitter than he probably should, so feel free to follow him or give him a shout on social media @LukeFilipowicz.
I hope they don't. No one makes workout headphones like my Powerbeats and if Apple thinks that AirPods Pro are supposed to be my replacement for that, they need to do some actual sports with them.

I don't care if they are called Beats or Apple, as long as my Power Beats survive as a product, with their form factor, quality etc. I had the Air Pods (Pro & non-Pro) before, and found they don't fit my ears at all. The Power Beats are perfect though.

"Apple has always had a very limited color palette compared to Beats, so if you loved Beats for the way they looked, I could understand how this rumor could be bad news." What are you talking about? "Always"? What do you mean, "always"? Consider the following: iMac G3 (avaliable in Bondi Blue, Blueberry, Grape, Strawberry, Tangerine, Lime, Indigo, Ruby, Sage, Indigo, Snow, Graphite and the bizarre Blue Dalmatian and Flower Power pair);
iBook G3 (available in Blueberry, Tangerine, Indigo, Key Lime, and Graphite);
PowerMac G3/G4 (available in Blue & White, Graphite and Quicksilver);
1st-gen MacBook (avaliable in White and Black);
MacBook Pro Thunderbolt 3 (available in Silver and Space Gray);
MacBook Retina (available in Silver, Space Gray, Gold and Rose Gold);
MacBook Air Retina (available in Silver, Space Gray and Gold);
iMac Retina 5K (available in Silver and Space Gray in the Pro model);
iPod 4G (available in White and U2 Special Edition [red & black]);
iPod 5G (available in White, Black and U2 Special Edition);
iPod Classic (available in Silver, Black and Space Gray);
iPod mini (available in Silver, Gold, [pastel] Blue, [pastel] Pink, [pastel] Green, Blue, Pink and Green);
iPod nano (available in White, Black [plastic], Silver, Blue, Pink, Green, Black [aluminium], "Product (RED)", [azure] Blue, [dark] "Product (RED)", [moss] Green, [space gray] Black, [old] Pink, Purple, Yellow, Orange and [navy] Blue);
iPod Shuffle (White, Silver, Blue, Pink, Green, Orange, [pastel] Blue, [pastel] Green, Purple, "Product (RED)", Black, [navy] Blue, Yellow and Stainless Steel);
iPod Touch (available in Black & Chrome, White & Chrome, Black & Slate, White & Silver, Blue, Pink, Yellow, "Product (RED)", Black & Silver, Space Gray and Gold);
Apple Watch (Silver, Space Gray, Gold and Rose Gold [Sport/aluminium], Stainless Stewl, Space Black Stainless Steel and Gold Stainless Steel [Watch], Yellow Gold, Rose Gold, White Ceramic, Gray Ceramic and Titanium [Edition]);
iPhone (Black and Silver, Black, White, Silver, Space Gray, Blue, Pink, Green, Yellow, Gold, Rose Gold, Jet Black, "Product (RED)", Yellow, Coral, [dark] "Product (RED)", Purple, [mint] Green and Midnight Green);
iPad (Black & Silver, White & Silver, Space Gray, Gold and Rose Gold);
… and finally, none other than iPod Socks (Gray, Navy Blue, Hot Pink, Green and Orange, and you couldn't even buy them separately but only as a set). Not to mention the myriad Apple smart covers for the iPad, cases for the iPad and the iPhone and especially Apple Watch straps, which are refreshed seasonally. Also, some of these typically Apple-y colours, especially the recent, post-Beats-acquisition Gold and Rose Gold, also made an appearance in the Beats lineup. Now, tell me again how Apple's pallete has "always" been "very" limited… 🤦‍♂️ It used to be expansive back when Steve Jobs reigned supreme, Jony Ive was in his post-beige-box experimenting phase and Tim Cook was still finding his footing as COO, then became muted when they realized that Apple wasn't – yet – big enough as a business to bear that many SKUs, and finally it started expanding again in mass-market product lines – first the iPod, then the iPhone and, to a certain extent, the iPad and the most popular Mac models, and *always* the accessories. The Apple Watch is a very personal accessory, so are the über-popular AirPods – which, I'm guessing, are still white because they're so small that the only way you can get them noticed is by going with that classic and venerable white earbud look so iconic to Apple – and so are Beats headphones. I'd put my money on Apple keeping the colours on their Beats offerings and perhaps changing the styling to be more Apple-like and minimalistic, maybe with their arguably more premium and valuable logo. The only reason I can imagine them forgoing that and keeping the status quo would be strict market segmentation, i.e. them releasing an Apple-like and Apple-branded set of Hi-Fi headphones filling in the gap between the AirPods Pro and the Home Pod, and leaving Beats as a lower-end, style-over-fidelity product range. And even then, I can easily imagine said Apple headphones coming in White/Silver and Black/Space Gray, kind of like the Home Pod. Even though they would fill a small market niche, they would be bulky and noticeable enough for Apple to want to offer two SKUs, just as they do for that large-ish thing that could otherwise stick out too much among your home décor.

They need to ditch the current airpod design. it looks like a 3 year old designed it. Once they have a nice small form factor without the white earwax dripping from your ear I will be in, until then nope. They look extremely stupid in peoples ears now.

Right they should definitely ditch the design of one of their best selling products because you don't like it.

I think Apple is still putting a decent bit of money into marketing the Beats brand. What they might start doing is coming out with products that properly compete with their Beats products on all levels. But I don't see that happening. Tons of companies run multiple brands, all the different cereal and food companies in most stores turn out to be like four companies. Apple has also had Filemaker for YEARS they're not averse to doing different brands. Also Apple and Beats are like the #1 and #2 brands in headphones, it gives the illusion of competition. People who care about Apple know that Beats is owned by Apple but I'm sure a decent number of people who are just 'against Apple' still own Beats products. Also with Beats Apple is able to make designs that appeal to certain people, without messing with Apple's design language. Beats is HUGE with certain demographics that Apple isn't big with. The only thing they could possibly do is deemphasize Beats in their marketing. But they'll still probably pay for special spaces at Best Buy, and they'll probably still have co-branding arrangements with athletes. It mints them money.