These are the coolest new Star Wars things you can buy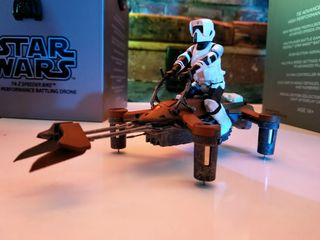 Luke's chilling statement in the first trailer for The Last Jedi leaves a ton of questions, and it is going to be a while before we're all able to sit in theaters and get the answers we're looking for. Just like the launch of The Force Awakens, Disney has teamed up with tech and toy companies the world over for a unified launch of new things designed to celebrate this film.
This unified launch is called Force Friday II, and we've got the complete list of exciting new things for you to add to your collection.
Advanced Laser Battle Drones by Propel
Fly your favorite Star Wars vehicles in tiny drone form, and when you've got the hang of things there's a special laser combat system where you can battle with friends and strangers alike. These little drones will set you back $179, but it's hard to say that isn't worth it!
Jedi Challenges AR Game by Lenovo
Plug your phone into the headset, grab your Lightsaber, and prepare for a series of augmented reality games including Holochess and drone combat! For $199, what more could you ask for?
Pre-order at Best Buy (opens in new tab)
BB-9E and R2-D2 by Sphero
It's BB-8's evil twin alongside the classic R2-D2? This new character in the Star Wars universe leaves us asking a lot of questions, but also leaves us wanting to grab this new robot ball and race it with the existing lovable Sphero droid! Whether you're in the First Order or all about resisting the darkness, for $179 you can have a Droid to suit your aesthetic.
Build your own Droid with littleBits
Why limit yourself to play when you can create? The folks at littleBits have a unique take on R2-D2 as a kit you can assemble yourself. No word on whether there's a snark chip you can add or remove, but if you want to do more than just build an R2 unit there's a whole universe of DIY options available to you for $99!
See at Amazon (opens in new tab)
7,541 piece LEGO Millenmium Falcon
The biggest LEGO model ever sold is this new Millennium Falcon! It's going to have minifigs for classic Star Wars scenes as well as characters from the new movies! This massive kit is impressively detailed and massive, so naturelly there's an impressive price tag to go with it. Expect this kit to show up in stores starting October 1 for $799.
Get the best of iMore in in your inbox, every day!
Russell is a Contributing Editor at iMore. He's a passionate futurist whose trusty iPad mini is never far from reach. You can usually find him chasing the next tech trend, much to the pain of his wallet. Reach out on Twitter!
Thank you for signing up to iMore. You will receive a verification email shortly.
There was a problem. Please refresh the page and try again.