Three great Mac App Store games to start your week: Shadowgun DeadZone, Cognition, Sky Gamblers - Cold War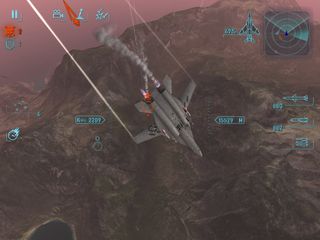 More and more, games in the Mac App Store are appearing on the App Store. Apple makes it as easy as possible for developers who already create apps for iOS devices to make them work on the Mac, and the Mac App Store gives them a great way to get those titles out. Here's a roundup of some of my favorites this month:
Shadowgun: DeadZone
Madfinger's multiplayer third-person shooter arena actually plays better on the Mac than it does on iOS, at least if you're accustomed to using a mouse for aiming and firing instead of swiping your finger.
Up to a dozen players at a time can compete in two different game modes - Deathmatch and Zone Control, grabbing almost two dozen weapons and med kits, powerups and boosters. The game's free to download and play. There's an in-app purchase system to unlock premium content.
Cognition Episode 1: The Hangman
Erica Reed is an agent with the FBI's Boston bureau. She's following the trail of serial killers when one kidnaps her brother. Reed harbors a secret, though - she has a special ability: she can see the past.
Cognition is a graphical adventure game that has you pointing and clicking at clues on the screen. While it's up-to-date graphically, with good voice acting and sound effects to boot, the gameplay will be instantly familiar to anyone who remembers Sierra On-Line's classic graphical adventures like the later King's Quest games, or the Monkey Island series from LucasArts.
It's being sold serially, in "episodes" (a bit like Telltale has done with The Walking Dead). Three episodes have been released so far.
Sky Gamblers - Cold War
Atypical Games keeps churning out Sky Gamblers air combat games - their latest is "Cold War." It is, as the name implies, focused on flying planes from the end of World War II through the 1990s. There are 17 different aircraft to fly here, with representatives from the end of World War II, the Korean War, Vietnam and the height of Soviet/American tensions. Some odd ducks in here, too, like the SR-71, which was used for high level reconnaissance, not combat, but there it is anyway.
The flight dynamics don't change radically from plane to plane, though acceleration and armaments do. You'll need to be patient, learn and defeat foes in combat in either single or multiplayer missions in order to proceed and unlock new aircraft. An in-app purchase system can help you alone too. Combat, especially after the Korean era, is largely missile based, which makes combat a bit less fun and more remote, but there's lots of fun to be had here, thanks to a very robust matchmaking service and online gameplay.
Master your iPhone in minutes
iMore offers spot-on advice and guidance from our team of experts, with decades of Apple device experience to lean on. Learn more with iMore!