Three indie games you'll want to play on iOS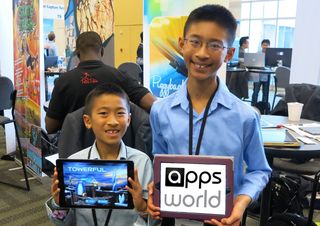 We've brought you news of some cool iOS games from the recent Apps World event, such as social photo game Revel and the 3D penguin adventure XnO. Today we look at three more games from the show.
Mr. Runner 2 is a free to play running game that you can (and should) get right now. Towerful is atower "offense" game designed by two bright young boys. And Zato is a sword slashing game starring a blind samurai. All three games bring something new and different to the table that you'd only get from indie game developers.
Mr. Runner 2
Ready for a running game with lots of crazy cool touches? The Mr. Runner series continues with Mr. Runner 2. A bad guy has captured Mr. Runner and locked a mask onto his face. To free himself from the mask, he'll have to run through numerous worlds, defeat giant bosses, and avoid getting squished.
Mr. Runner 2 is different from other running games in several ways. First, the hero can't jump. He's limited to speeding up and slowing down, always keeping his feet on the ground. By starting and stopping his runs wisely, he can avoid being crushed by the ceiling and other obstacles.
Most endless running games are literally endless, but Mr. Runner 2 actually has 32 distinct levels spread across four different worlds. Our hero will collect coins, meet NPCs, and search for the puzzle pieces needed to remove his mask over the course of those levels. The game also offers an endless level based on the original Mr. Runner, so people who like running really far won't be let down.
Mr. Runner 2 is a game to look out for. It's got beautiful 2D graphics, humorous references to classic games, and tons of masks and costumes to buy for the hero. Mr. Runner 2 has been available for a while, but it has just gone free to play. Try it and see if you can unmask the hapless hero.
Towerful
The tower defense genre is also teaming with games demanding to be played. Towerful makes its voice heard by shifting things up a bit and becoming a tower offense game. You're still building towers, but the goal is to take down enemy towers instead of protecting a base. Destroy the enemy's main tower and you win the level.
Towerful's 15 standard levels take place across a variety of environments like desert, sea, and plains. Players always start out with a single tower and multiple pathways over which they can build more. New towers must be placed within a certain radius of existing ones. You'll want to pick a route that allows your towers to knock out enemy towers and gather resources. Use those to build more towers, and hopefully build a suitable offense against the main enemy tower.
Standard tower defense mechanics like upgrading towers also appear in Towerful – simply double tap a tower to upgrade it. Players can also charge up a force field on any tower by tapping and holding it. Release to unleash a force field that will knock away aerial enemies. Force fields are important, because losing your main tower to enemy aircraft will cause you to lose the level, as does running out of time.
Towerful will debut on iOS later this month. The game design came from the developer's young sons Mitchell and Trenton Yu, which makes for a cute story. But Towerful also looks like a fun and accessible spin on a popular genre.
Update: Towerful is now available on iTunes!
Zato
One of the big early hit games on mobile was Fruit Ninja. Slashing at fruits proved to be a fun and intuitive use of touch screens. Indie developer Homunkulus has built its game Zato on those foundations, but with a focus on slashing techniques over casual appeal.
Zato is the story of a blind swordsman who must duel other samurai in feudal Japan. Instead of fruit, he must block the enemy's sword slashes and counter with his own maneuvers. Enemy attacks come in several different colors, all of which require a different slashing technique from the player. Draw a simple slash to block blue attacks, V shapes for red attacks, and spiral shapes for yellow attacks. It requires some patience and skill, but you'll get the hang of it before long.
Homonkulus will launch Zato with an endless survival mode, but they also plan to add a proper story mode with bosses eventually. The story mode would be playing to Zato's strengths, since as a blind character the visuals are naturally subdued. But the developer does plan to beef them up a little anyway, thankfully. Zato will cost 99 cents when it arrives later this spring.
Get more iMore in your inbox!
Our news, reviews, opinions, and easy to follow guides can turn any iPhone owner into an Apple aficionado
Paul started writing about games in 2003 with his first strategy guide (Bomberman Land 2) for GameFAQs. He continued writing guides while earning his B.A. in Literature. When Windows Phone launched in late 2010, the Xbox integration lead our hero to jump on board the platform. He joined Windows Phone Central as Games Editor at the beginning of 2011, going on to review over 125 mobile Xbox titles over the years. He now leads Windows Central's Xbox One coverage, personally specializing in developer interviews, indie games, controllers and accessories, and Twitch broadcasts. Paul loves games on all platforms; he goes where the games are. Although very busy with console coverage, he sometimes contributes gaming articles to iMore and Android Central.