I love you, iPhone 7 Plus, but I'm going back to iPhone SE!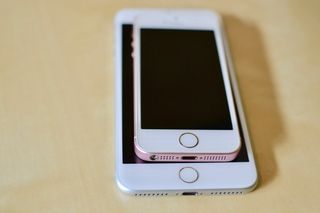 I love — LOVE — the 4-inch iPhone. Though the larger 4.7- and 5.5-inch iPhone devices are great for most, there are some of us that still prefer a phone that can fit easily in a back pocket and can be used with one small hand effortlessly.
When the iPhone 7 Plus was unveiled, however, I was so enamored with its faster speed, amazing camera, and that Home button that's not actually a button, that I had to have one, even though it meant switching to a larger-size phone.
Three months later, and I've formed a solid opinion about whether I think 4-inch iPhone fans would be happy with or regret the decision to switch to the iPhone 7 Plus.
Why the iPhone 7 Plus rocks
First off, a larger phone would have to be pretty special to convince me to switch, and the iPhone 7 Plus is just that. What pushed me over the edge? The camera.
The iPhone 7 Plus has not one, but two camera lenses. They are both 12 megapixels. One is a wide-angle lens with an aperture of f/1.8 and the other is a telephoto lens with an aperture of f/2.8. Because of these two lenses, the iPhone 7 Plus has a 2X optical zoom. Not that fake digital zoom that leaves your pictures grainy.
Additionally, the iPhone 7 Plus has a bonus Portrait Mode in the Camera app that creates a faux depth effect that is pretty spectacular. Portrait mode, while not fully DSLR-grade, is about as close as you can get with a mobile phone.
There are a lot of other amazing things about the iPhone 7 Plus, like wide color gamut (DCI P3), better speakers (in stereo!), the the A10 fusion chip. But, honestly, If it weren't for the camera, I probably wouldn't have made the switch from the iPhone SE.
What daily usage on the iPhone 7 Plus is like.
In short: it hurts.
That's right. It actually hurts me to use the iPhone 7 Plus for extended periods of time. If I'm using the device in landscape mode with both hands, I'm fine. But, who uses their iPhone in landscape mode all of the time?
If I'm checking emails or chatting with my coworkers in Slack, my hand starts to cramp up and my wrist gets sore. I find myself setting my iPhone down on a table or my lap, just so I can continue working while giving my hand a rest.
If I'm playing a video game, I'll hold the phone in my left hand with my ring finger resting at the bottom of the phone for support. I've developed a sort of tough spot on that finger (not a callus). If I play a game for more than about 10 minutes at a time, that spot on my finger starts to feel irritated because it is rubbing against the rough edges of the Lightning port. Incidentally, I also have the same problem with my pinky finger on my right hand.
I know this sounds nit-picky and overly dramatic, but these are actual in-the-field experiences I'm having with the larger, heavier iPhone. It isn't the worst thing that's happened to me, but it is real (#firstworldproblems, I know).
Should I stay or should I go?
The iPhone 7 Plus has so many amazing features that the iPhone SE doesn't have. I love 3D Touch. I love the buttonless Home button. I love how fast it runs. I love the Taptic feedback. I love the bright colors and huge screen when I'm playing games or watching YouTube videos. I love the clarity and sound boost of the stereo speakers. I love that I can see everything on the screen without squinting. I absolutely love the camera. I really, really love that camera.
I don't love that it doesn't fit in my fanny pack very well (yes, I wear a fanny pack, but it's super badass and makes me look tough, I swear). I don't love that I tend to keep it out of said fanny pack because it is easier than trying to stuff it in and yank it out all of the time. I'm always worried that I'm going to leave it on a table somewhere. I don't love that I can't sit down with it in my back pocket or it might fall out. I don't love that I can't play Pokémon Go one-handed with it. I don't love that I get physically fatigued when I use it for lengthy periods of time.
After having spent a full three months with the iPhone 7 Plus, I've come to the conclusion that size does matter when it comes to mobile phones. I need something that is light, small, and easy to use with one hand. The iPhone 7 Plus is none of those things for me.
That is why I'm switching back to the iPhone SE. By the time you read this, I'll have already switched.
"But what about the larger screen, brighter colors and the faster speed?"
I have the 9.7-inch iPad Pro for that. In my opinion, the iPhone 7 Plus is about as portable as the 9.7-inch iPad Pro; in other words, not very.
"What about that camera you love so much?"
You got me there. I'm having to give up that oh-so-awesome 2X zoom 12MP camera with faux depth effect in exchange for a phone that fits in my pocket. It was a very tough decision. I'm not going to say it won't hurt a little.
Should you go or should you stay?
If you love the 4-inch iPhone, but have been tossing around the idea of switching to the iPhone 7 Plus because of the awesome camera and super cool hardware feature, consider this: Why are you still using the 4-inch iPhone?
If the answer is that you have small hands and are afraid that the iPhone 7 Plus is too much to handle, literally, then you might want to stick with the 4-inch form factor, or at the very most, upgrade to the 4.7-inch iPhone instead. I can say from experience that the iPhone 7 Plus is difficult to use for long periods of time and I find myself not wanting to pick it up as often.
If the answer is convenience (the 4-inch iPhone just fits better in my pocket), then you should think about an upgrade. As annoying as it was to squeeze the iPhone 7 Plus into my tiny fanny pack or even hold it because I didn't have a pocket to fit it into, I could have gotten used to the size. I would probably have eventually purchased a larger fanny pack, or move onto some other bag, to keep the iPhone 7 Plus in. Though it is less portable than a 4-inch phone, it certainly shouldn't be the only reason you don't upgrade.
If the answer is cost, then you might want to look into the iPhone 6s Plus. It has a ton of awesome hardware features that the 4-inch iPhone doesn't, like 3D Touch, a 5MP front-facing camera, and more. It costs $120 less than the iPhone 7 Plus model and you're getting a whole lot for a whole lot less.
TL;DR Wrap it up!
Even with the most amazing camera I've ever seen on a mobile device, the beautiful screen, the buttonless Home button, and the super fast speed, in the end, I've decided to go back to the 4-inch iPhone SE because the 5.5-inch phone actually hurts me to use it. That, coupled with the fact that it is too big to fit in my bag or back pocket, is enough to make me decide that portability is more important than a kickass camera.
My experience is not going to be the same as yours. If you've been thinking about switching to a larger iPhone, consider why you've stuck with the 4-inch iPhone this long. You may find that you love the 5.5-inch screen and it's worth a little inconvenience to have such an amazing piece of hardware.
Like that camera. Oh, that camera.
Get more iMore in your inbox!
Our news, reviews, opinions, and easy to follow guides can turn any iPhone owner into an Apple aficionado
Lory is a renaissance woman, writing news, reviews, and how-to guides for iMore. She also fancies herself a bit of a rock star in her town and spends too much time reading comic books. If she's not typing away at her keyboard, you can probably find her at Disneyland or watching Star Wars (or both).
Interesting article! In the end, you really have to choose what is best for you, and it sounds like you made that choice.
I am curious why the middle ground (the iPhone 7) was not explored though. For me, it's annoying to have a phone that you spend a lot of energy thinking/worrying about what you can or cannot do because of it. It should be more about just doing without a second thought.

I didn't talk about the iPhone 7 because I've never used a 4.7-inch iPhone. I don't want to imply that 4-inch iPhone fans should or shouldn't switch to a 4.7-inch model if I've never really experienced it. Since I'm one of the few writers on iMore that prefers the 4-inch iPhone, I'll have to give the 4.7-inch model a try and write my conclusion about that one, too!

I can palm a basketball and the 4.7" iPhone 6 is still cumbersome one-handed.
.
The iPhone 5/5s/SE is my preferred form factor. I can HOLD the phone with one hand VERTICALLY and actually touch every pixel on the screen with that thumb. (Hold = Grip between my finger tips & knuckles, not just teetering on my pinky) Not possible with the 4.7" iPhones, and certainly not with the Pluses. The edges are rounded and the phone is slippery, which making dropping very likely when you have to juggle the phone to touch the top left corner (WHY THE F ARE BUTTONS EVEN UP THERE?!)
I was very close to getting the SE, but decided to wait to see if they make an "SE2" with better specs. We'll see. I also want the great features of the iPhone 7 (also want a f'n headphone port!) even if they have to change the edges of the 4" to the stupid slippery rounded sides, I would prefer a smaller phone.
.
And yes, I experience pinky fatigue when holding my iP6 vertically for moderate periods of time. Sent from the iMore App

I never use a phone one handed no matter how small or large the screen. Back when screens were 3 inches I still used two hands and always will. So It is more comfortable for me

I stood in line for a 7 Plus but left with a 7 when I learned that the Plus was sold out – this article has reassured me that I did the right thing. One correction: I'm pretty sure both 7's go up to 256 GB, not 128 as you state.

I am staying... with the SE! The overall perfect phone. Can't beat being able to drink coffee AND use your phone at the same time. Awake and Happy FTW!

Me too! Switched from iPhone 6. Sent from the iMore App

Couldn't agree more. Went from 6S to SE

Honestly, besides the zoom ability of the Plus, the 7's camera is not really that much better than the 6S/SE's, and IMHO worse (and slower) in a few scenarios - especially outdoors in good lighting. I had a 7 and went back to an SE as well. Water resistance was nice peace of mind, but not something I've had an issue with historically. I never could get used to the new home button. It was workable, and not a deal killer, but now that I'm back on a regular button, I know I prefer it. The lack headphone jack was a nuisance as we have so many ear buds around our house and are always just grabbing the closest ones to use. #firstworldproblem Battery life (on the 7 anyway, I'm sure better on the 7 Plus) was not that great. The screen on the 7 was definitely better, and force touch was nice in a few niche scenarios, but again not a deal killer to *not* have those, at least for me. On top of all of that, we're talking hundreds of dollars of difference in cost...

Thanks for telling us your experience with the 4.7-inch model iPhone. I personally haven't used one yet, so don't have an opinion either way on whether I prefer the iPhone SE to the iPhone 7.

Fully agree with this post - but still sticking with the jet black 7 - it's a beautiful thing! Beautiful things that you can use daily are few and far between, so I'll be sticking with it. the SE is more than enough phone for everyone though, the premium price of the 7 over the SE is definitely not worth it, very frivolous use of money. but if you have it, spend it! It's a thing of beauty!

LOVE my SE and will hold onto the 4-inch form factor as long as I possibly can!

+SE! Sent from the iMore App

I can only imagine how uncomfortable it must be to use the iPhone 7 Plus, or any Plus iPhone when you're an average sized woman. I'm petite and have small hands with long fingers (not long enough to be able to handle a Plus iPhone without both hands). But I definitely like the 4.7 inch size iPhones best. Lory, I know you haven't used that size yet, but I definitely recommend it. You're in between the other sizes, but I find that the 4.7 is closer to the four-inch than the 5.5.

I find it a little tiring at this day in age that there has to be any conversation about phone size. It is such a personal preference that Lory's experience may be vastly different than another user who has the exact same size hands. Neither are wrong and neither are right, making articles like this rather irrelevant and combative. The only relevant message is that you should tryout a phone in a store before you buy if you are nervous about its size. If Apple is smart, they make sure to release phones on the small, middle and large ends of the spectrum to appeal to the small lovers like Lory, those who like large phones and everyone in between.

I too am not a fan of the bigger size just for comfort sake. But everything else is a plus (no pun intended?) so I deal. But I too experience moments of discomfort from holding the phone the wrong way. I've also found that holding the phone with a case is uncomfortable so I often remove the case when I'm not moving around.

Really nice article; I myself have downgraded from a plus model (had the 6+ onwards) to a 7 because of portability.
The form factor of the SE is still amazing and portable. What drove me to the plus models (and the only reason) was the battery life. With the 7 and keeping a cable with me or battery pack, I've somewhat realised that I can get the juice without the larger sized phones. I may in fact actually get an SE model and swap intermittently with the 7. Again great article

The thought of scaling down and using that small screen would drive me nuts... To each his own, as they say...

So, I switched back to the SE right after I finished writing this opinion piece. It's been about two days, and I am struggling to get used to the smaller screen. I mash my fingers on the keyboard (remember when we got our first iPhone and couldn't seem to tap the correct letters on the keyboard? It's sort of like that again). App icons seem so much smaller, too. I'm happy I switched back, but you're right. It is taking some time to get used to the smaller screen again.

Lory, are you still back withvthe SE or did you give the 7 a shot?

What a strange pack of people as the iPhone plus is the best all round phone. I don't have any of you guys iPhone problems, I did say once why make a phone bigger than a 4s but now I would never go back to a small, lack of featured iPhone. Why do people have to carry their iPhone every where they go so what if you miss a call. Its like watching disengaged people from the real world walking down the street having to check their iPhone for message every few minutes.

For me it's also about portability. When I had the 7 plus it was horrible carrying it in my jeans front pocket. I tied the back pocket but stuck out too much. Someone suggested a holster but I don't wear belts. Honestly I much prefer the larger screen of the 7 plus but when I factor on comfort of portability I went to the 7. The 7's screen is 'almost' good enough for me. When I add the screen size being almost good enough and comfort of portability for me it's better than the plus.

Hi Lory, not to nit-pick, but in the last paragraph of the "Should you go or should you stay?" you recommend the iPhone 6 Plus as an alternative due to cost, and you mention it has 3D-Touch. Unfortunately, it doesn't! I have an iPhone 6 Plus (which I absolutely love, even though I have tiny hands), and 3D-Touch came in with the 6S/6S-Plus. Otherwise, great article (tho a bum-bag? lol ... note: not calling it a *****-pack, as ***** means something different in the British Commonwealth). As I said, I love my Plus, and am never going away from it, but I can see why for you it doesn't work :) *edit: lol, the commenting software censored f*anny above!

You think it's strange to censor f*anny? Try typing in p a s s i o n or p a s s i o n a t e!

Ha ha. You're so right. In the US, it means something totally different! Bum bag just sounds cooler, too. Also. I meant to reference the 6s Plus in that paragraph. I've fixed it. Thanks for catching it.

I agree with this. I just prefer having a smaller phone. Prior to switching back to apple, I was using a Lumia 1520 - which was a monster of a phone --beautiful though (I had the white one that looked ceramic) but such a pain to carry about with me - and forget slipping it into a small clutch for cocktails!! I now have an iPhone 5s - It was $50 on contract with AT&T. I was thinking of getting the SE, but the lack of 3d touch puts me off - I feel I could not justify the $499 I would need to pay for it (I would need to buy it outright) I am hoping Apple sticks with the 4" screen size and updates the SE to 3d-touch next year - if they do that, then my next iPhone will be another small one!

I'm going on Day 6 of the 7+, from the 5s. I have decent sized hands (I can cleanly span 10 keys on an average-sized piano, if that helps at all) but I can easily see how this phone is way too big for some people. I tend to use reachability daily, although rarely, and having a decently grippy case helps a ton when I have to one-hand the phone while also holding a baby. What doesn't work? The landscape keyboard is a mess. I haven't been able to successfully type with it yet. What works? The camera, which essentially replaces my 3-year-old Nikon DSLR 90% of the time. The battery life is insane, although it's still early. Ask me again when the iPhone 9 comes out. :-D

I don't operate my phone with one hand. I didn't when I had a 4S,or a 5, and I still don't with my iPhone 7. My hands are too small to make this practical with any of the phones after the 3GS. No, I am not a dwarf, just an average sized guy with smaller than average hands. Trying to use a phone with one hand is like trying to drive a stick shift car with only the left hand. I can't be done, but it is clumsy, inelegant, and dangerous.
I find the 'plus' line too heavy, and too large (my wife has one, and every time I pick it up, I hate it a bit more'. That said, I wouldn't want to go back to a 4" screen, not for all the tea in China. I find the iPhone 7 to fit me perfectly, so, I wonder why that wasn't the alternative to the 7+.

So I'm a knuckle dragging male with large hands. It would be the opposite for me if I were to move from my 7 plus to an SE. I NEED the large size for my hands or they cramp trying to use a smaller device. My wife has the 7 and is quite happy with it. She doesn't have tiny hands but they aren't exactly large either. I think the 7 is awesome for her. She can use mine, but she probably wouldn't like it on a regular basis. I love my phone. I am curious, Lory, what your impressions would be of the 7 as it is a bit smaller.

I often used my iPhone 6 one-handed, in my left hand, as I used my iPhone 5. After a few months use my left thumb was very sore, repetitive stress injury. Became disabling. Got a Cortisone shot and a 5SE. All is,well. My nephew has the 6 and much larger hands. Do you suppose that the 8 will come in three sizes?

Congrats being in the privileged few who prefer tiny phones.

That is why I switched back to the 7. The plus has too much wasted space with the bezels. No reason a 5.5" device should be larger than devices with larger screens. Hopefully the revamp rumored for this year will work on the form factor and the huge bezels.

This is poorly written and the writer is fooling people into briefing that she doesn't want to use the iPhone 7 plus. This is a comparison article and nothing more. Sent from the iMore App

Guess you haven't used a Pixel as it has a better camera than the 7. Posted from my Nexus 6P

Yep have the 7 plus and pixel XL and prefer the pixel XL pics. Only thing going for the 7 plus is the 2x zoom.

Lori, What is your maximum comfort size for a phone? Mine is 5 Inches. Anything bigger and I find it hard to hold with one hand

Thanks for your take Lory. At first I wanted the plus size 7 at the Apple Store but was told they were sold out. Settled for the 4.7 inch 7 and haven't look back since. Not too big and not too small.

First time at iMore it felt like an article was written by an adult.
I mean this what its all about "Choices" something is best for someone doesn't mean its best for everyone. It could be phone size or even OS itself.

I also went back to SE. Love the size and feel. I like the 7 but since it's just as hard to use as a 7+, may as well get a 7+.
Stating SE til April to see if it gets updated.

Interesting Post ... Really a great mind of you i like .... you share awesome and nice information and after reading i consider that i leave a comment because... i have iPhone 7 and i love the new generation of Apple... Also i am iPhone News and Apps Founder at Purbat and i would like to read nice and Awsome Post from iMore.com and also from Apple Official Site.
Thanks for nice and Great Mind Sharing .... Keep It Up

Might as well stay with the 7 Plus; they're discontinuing the SE line.

and you know this how?
oh, you are just guessing? yep.

I wish they'd just add a 4" model to the normal iPhone lineup... though I think the SE is a better case design. I'd like hardware parity though. Maybe, with edge-to-edge glass, they can give a bigger screen in a SE form factor? It will be interesting to see what moves Apple makes with this in the future.

The SE was actually made from left over parts from the 5s and 6s. iPhones have been getting gradually bigger and the 4 is no longer available, so looking at how iPhones have evolved it is fair to say that apple might stop making the smaller model phones. The SE did sell quite a lot, however i believe apple will put this down to the low cost of the phone rather than people like myself just wanting a smaller phone. Apple need to stop their obsession with slim as it is ruining their phones. Take the iPhone 7 for example, do you think not being able to listen to music whilst the phone is charging is a feature or just a compromise due to the fact the 3.5mm jack took up too much space. Apple haven't really made any serious breakthrough with any phone for a long time. The fingerprint reader on the iPhone 5s was probably the last time a piece of new tech was added to an iPhone. The force touch was just taken from the MacBook trackpad and seemed like an easy out for a company expected to add a new feature to their phone.
How about wireless charging to combat the problem with the poor charge/sync design. This obviously wouldn't be new tech as far as smart phones go but a welcome addition to the iPhone. The fact that apple products have become some kind of status symbol/ fashion statement (look i can afford £45 a month/ I want to fit in) doesn't do apple many favours when working out what the sensible consumer actually wants, the fashion victim will always just buy the latest iPhone regardless of features because they probably don't know what is different about it other than its appearance.

I looked at the iphone 6 series but their overall size was bigger than my 4.7 android phone and I didn't like their shape. I wanted a small screen, fast, with a reliable operating system. I bought the SE, excellent choice.

I bought my first iPhone ever.......6s......and am very, very happy with my choice too :)

The one thing in this article that bothers me is that Lori and many other women keep their phones in their back pocket. The idea of sitting on my phone make me cringe. The idea of having $400 to $1000 dollars peeking out of my back pocket, out of my sight makes me a little queasy, as well. I know ladies front pockets are not designed for utility, but there has to be a better way.

I may be treading a stereotyping line here, but I believe women's pants tend to have higher pockets then men's. Where your pocket might be so low on your backside that you literally sit on your phone, my pockets are high enough that the phone is resting to the back of a chair, not the bottom. I can't speak for all pants, though.

definitely my experience. i dont actually 'sit' on the phone. it's just there in the void between my rear and the chair back.

to say nothing of when it falls out of your pocket when you take a seat on the "throne" (which just happened to a friend of mine, and now she has a brand new phone- and $699 less money in her pocket)

I use the back pocket a lot of the time, as it doesn't put as much stress on the headphone cord... for example, when working around the house and listening to podcasts. But, I take it out before I sit down. When I'm out and about, it usually goes in my front pocket unless I'm wearing a jacket, when it goes in the inside breast pocket. A friend of mine often keeps his in the shirt pocket. The problem with the bigger phones, is that you can't really have all of those options available to you. You almost have to keep it in a purse or backpack, or just carry it in hand all the time. And, then there's the whole mess with the 7 / 7 Plus not having the 3.5mm jack! That makes it pretty much a no-go for the way I listen to podcasts (i.e.: phone in pocket with wired ear-buds). So, I guess that means the SE might be my last Apple phone?

Plus is good but not practical (IMO). I'm pleased with my 6s and I've  Silicon and leather cases which doesn't add bulk and give enough protection. Lory, go and try 4.7" phone and let us know. I'm quite positive you'll like it.

I think I'm going to do that! Thanks!

I probably have larger hands than Lory and I still find the plus unusable with one hand because it is so top heavy and slippery. That is, unless it has grippy case such as the Speck Presidio GRIP. The phone simply would not survive me without this. I would be dropping it way too often. A bonus ability is to prop it in the instrument cluster of whatever car I'm driving for navigating. The rubber grip keeps it from sliding down.

buy what you like, like what you buy.

I've ordered my iPhone 7 Plus, but haven't recieved it yet. I was worried about the size as well. I'm going to use a "Pop Socket" on mine if I have a hard time with one-handed operation. Hopefully, it's not an issue for me.

Why not trying the iphone 7 it may be the right compromise for you :) Oh and please don't put anything in your back pocket it is kind of silly Sent from the iMore App

Hopefully Apple will come out with an updated SE'S? That has the A10 chip and iPhone 7 camera lens, because if they do I'm sure it would be a hit! 3D Touch, Taptic Engine, solid state home button and better screen are far less important, especially if they keep the price low. Sent from the iMore App

I used to use a giant 6" phone. A Lumia 1520. It had a great camera as well, but it was impossible to take photos without two hands.
I switched back to iPhone last year and have been using an SE. I must say that I love how portable it is. I can do anything with one hand. I know I will miss that if I go bigger. Sent from the iMore App

I too am thinking of going back to the 4" iPhone after switching to android for the larger screen size. I am switching back primarily because I miss the iWork and iLife apps and will probably get the SE as I carry my phone I'm my front pockets and find larger phones uncomfortable. Hope Apple give us an updated SE with force touch and better front facing camera. Sent from the iMore App

I JUST GOT MY WONDERFUL SPACE GRAY 64GB IPHONE SE CANT WAIT TO CRACK OPEN THE BOX ON XMAS

I changed from a 5 to a 7plus because I was tired of trying to find my smaller phone in my purse. I never keep my phone in my back pocket. The few times I tried that, I was just always worried it was either going to fall out or be stolen. Although I can't use the 7+ one handed like my prior phone, I look at that as an advantage because I haven't dropped this phone even once which cannot be said for the smaller version which was dropped (and shattered) several times because of using it one-Handed.

I'm a woman with very small hands so it doesn't matter what phone size I use, I'll always use two hands for most things. I had the 6 plus and now the 6s Plus and there is no way on earth I could go back to a 4". Or even the 6s... while it fits better in my hands losing the bigger screen and the better camera just isn't worth it. I sure wouldn't be dumb enough to carry any phone in my back pocket.... sorry but I saw someone get theirs stolen right out of there pocket at a flea market and as bad as I felt for them it was almost like they asked for it. The kid who stole it was on a bike and disappeared into the crowd, happy as a clam I'm sure.

But totally worthless to him or anyone else.... its now just a useless brick. So sad....

The screen size has become normal for me in the month I've had my 7+. I went from the 5s to the 6 (4.7) to the 7+. It was so subtle in the screen size getting bigger, but when I have to text someone on my mom's 5c, it seems so tiny.

I just switched to the iPhone SE from a Samsung Galaxy Note 4. Having two toddlers running around left me with a need for a smaller phone. One that I can use with only one hand. The iPhone SE is a great size and I'm glad I switched. Now iOS 10 after Android 6.1? That's another story for another day.

Here. Here. I just want a phone I can text with one handed. I have small hands. I went to the SE after (mistakenly) trying out the 6s plus since i literally do everything on my phone. It just wasn't worth it. I absolutely would leave it behind when i went places because it was too annoying to bring along with that single hand holding it and unable to do anything else. sigh. first world problems for sure but definitely relatable!

I did sort of the same thing except I went back to the 7. Although I love the larger screen portability is just as important. The 7 fits in my jeans without feeling uncomfortable. The plus feels too bulky in jeans especially in front pockets. I also couldn't get used to how uncomfortable the plus was using with one hand. I walk out dog a lot and often times I'm texting and couldn't text with one hand comfortably with the plus and often had to stop to get a secure handle on the plus. I do miss the larger screen but the 7 screen is almost good enough.

I own the iPhone 7 with 256gb of internal-storage in Rose Gold & yes the SE in Rose Gold with 64gb of internal-storage. Love them both. I switch back & forth all the time. Vinny

OMG y did u give me these tiny, little, fragile, but useful hands! y!y!y! lol :)

Not sure why you didn't try the 7 as a compromise. It's much smaller in feel than the Plus variant, yet gives you all of the features of the 7 Plus save the additional camera. The camera is the same, same processor and screen, same home button, etc. Food for thought.

It's a good camera on the 7, but not quite the same. I agree with what you're saying here tho

The camera is actually identical. The Plus adds an additional "telephoto" camera, but the standard camera is the same in both with all the improvements (OIS, f/1.8, Quad-LED, 6 Element Lens) included.

Don't have a 7 Plus, but I have a 6 Plus and an SE. I go back and forth between them. The big screen is great at times, but you do have to actually haul it around, so sometimes I prefer the small size of the SE. Will I get the new XX Plus that Apple comes out with this year? Probably, but I'll keep that SE humming right along as well.

I am forced to go for the big boy 7 plus, cos at my age my eyes (and pretty much everything else ) is shot
Bigger type rules. My hands can still find their way to any keyboard.

The problem with this choice is always the same. If you want a smaller screen, you get a less capable device. The same problem exists with the Macbook pro: smaller screen, smaller processor, less performing video card, and many times less standard ram. Can't they just put the same performance in the different screen size packages? Come on, let me buy a 13 inch MBP with all the powerhouse features of the 15inch without having to pay the extra bucks off the options ( that most often put me at a higher price than the fully loaded 15"!).

I have an SE and I'm obssessed with the 7+ camera. I want it SO bad, but the size is too big for me. I'm deeply hoping Apple will come with a 4.7 inch iPhone 8 boarding the double camera.