You may be familiar with Twelve South's line of BookBook cases for MacBook laptops. They're beautiful, handmade leather cases which were designed to look like an antique book, for both style and a bit of theft deterrent, while the CaddyShack cases offer the same protection for smaller tech accessories. The recently released CaddyShack Journal case looks more like a journal rather than an antique book, but it'd look right at home on a bookshelf in any case. Today it's down to $62.99 at Amazon, matching the lowest price we've seen it reach there. Considering it regularly sells for $80, this isn't a sale you want to miss if you're interested.
Tech To Go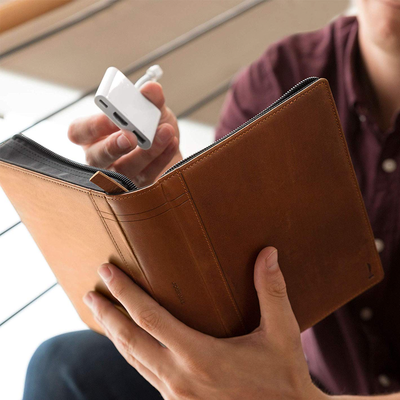 Twelve South CaddySack Journal Case for small tech accessories
This CaddySack case was designed to look like a boring, but pretty spiffy, leather journal, though it secretly organizes your most important tech accessories inside with its built-in elastic straps.
$62.99 $79.99 $17 off
From charging cables and AirPods to your MacBook's power adapter and more smaller tech accessories, this case can hold the best of them. There are built-in elastic straps inside to help keep your cables organized and tidy, along with a dedicated spot for your MacBook's wall charger.
If you're on the hunt for something a bit more affordable, this UGreen electronic organizer has room for cables, hard drives, and more for just $12 with the on-page coupon.
We may earn a commission for purchases using our links. Learn more.