You can now get an AirBar and get a touch screen on your MacBook Air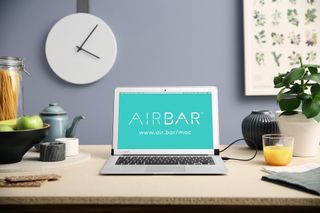 Before Apple launched the MacBook Pro with Touch Bar, rumors floated around that the company was making a laptop with a touch screen. After the MacBook Pro with Touch Bar was launched, there were still a number of people saying they wanted a touch screen, not a touch bar.
Clearly, that was all the motivation Neonode needed to create the AirBar, a gadget that connects to the MacBook Air, making the screen touch compatible. So, for those that think Apple made a mistake by not making its laptop screen touch capacitive, you can do it yourself with the AirBar for MacBook Air.
What's new with AirBar?
AirBar is officially on sale for the 13-inch MacBook Air on Amazon.
See at Amazon (opens in new tab)
How does it work?
AirBar is a small strip that magnetically sticks to the bottom of your laptop's screen and projects a light field across it. The AirBar picks up your gestures and somehow sends the signal to the computer that you want to zoom, scroll, swipe, and more.
Because it is a light field and not an actual touch capacitive screen, the AirBar can sense gestures, even when you're wearing gloves, or if you aren't using your finger at all, but some kind of pointy tool instead.
Yeah, but does it work?
PCWorld magazine recently reviewed the AirBar for Windows-based screens and said it is a "surprisingly good peripheral."
Why only the MacBook Air?
The AirBar connects to the bottom of your computer screen using magnets and measures 13.3 inches long. It needs about 17 mm of non-screen space in order to work. So, the current AirBar only fits the MacBook Air. According to the company's press release, compatibility with other MacBook models is in the works for later this year.
Yeah, but why would I want it?
I know there are plenty of people out there that long for the day when they can reach out and touch their Mac screen and use gestures to navigate their actions. Not all of us are onboard with that kind of user experience though. In an interview with the Independent, Apple's senior vice president of worldwide marketing Phil Schiller talked about how the company researched, tested, and ultimately tossed out the idea of a touch screen computer.
Apple hasn't found the perfect storm of computer usage, combined with touch screen technology, in a way that works, which is why there is still no such thing as a MacBook with a touch screen.
This is one of those situations where Apple knows best. But choice is an option that humans value, which is why there is such a thing as the AirBar.
What if I want one anyway?
AirBar for MacBook Air is on sale now at Amazon (opens in new tab) for a retail price of $99 (though the price has already gone up to about $116 on Amazon). You can also find out more about it from the company's website.
What do you think of a touch screen Mac?
Do you want a Mac with a touch screen? Would you invest in the Airbar to have that ability?
Updated July 18, 2017: AirBar is now on sale at Amazon.
○ MacBook Pro with M1 Review
○ Macbook Pro with M1 FAQ
○ Touch Bar: The ultimate guide
○ MacBook forums
○ Buy at Apple (opens in new tab)

Get the best of iMore in in your inbox, every day!
Lory is a renaissance woman, writing news, reviews, and how-to guides for iMore. She also fancies herself a bit of a rock star in her town and spends too much time reading comic books. If she's not typing away at her keyboard, you can probably find her at Disneyland or watching Star Wars (or both).
I would not invest in the AirBar to get a touch screen but really wish Apple would make a make competitor to the Surface line. I have come close to switching away from Mac a few times because Apple refuses to make a device that has both track pad and touch capabilities. Heck I would even be happy if they made a Mac compatible with the Apple Pencil. Sent from the iMore App

And Apple's excuse that a laptop doesn't make a great touch screen interface is laughable since out of the other side of their mouth they pitch the touch screen only iPad Pro as the perfect laptop replacement. Sent from the iMore App

Welcome to the exciting world of Apple doublespeak.

Apple needs a Surface competitor! Great device. Also embrace touchscreens on ALL devices! Posted via the iMore App for Android

Why does everyone always say surface. It is just another windows machine. It means there are plenty of choices. Why pay premium when you can get the same thing for less. Look at other vendor. They make the same thing for less. Sent from the iMore App

Apple: Make the iPad Pro an iOS tablet in your hand and an OS X MacMini when keyboard plugged in. You have the speed, the storage and the engineers to make this happen. Otherwise hurry up and merge the two so we can run the few desktop apps we need on the tablets! Please do this before my 2007 17-inch MBP gives up the ghost! Maybe a "classic" mode for OS X apps inside iOS? You guys are killing me!

I think your MBP will give up the ghost first. It's much more likely that Apple will try to bring more desktop apps to iOS, rather than getting macOS to work on the iPad

Yep, the peanut gallery is out in full force I see.
Please Apple, make a touch screen Mac so we too can experience touching our screens multiple times in order to close one Window just like our Windows counterparts.
We need this to get the full tablet experience on a laptop/desktop.
It's like that time when we absolutely needed Flash, in order to get the full web experience with our iPads. /s Sent from the iMore App

I use a Mac at home and a Windows 10 laptop for work. Touchscreen on the latter is a far more ergonomic and productive than either the Magic Trackpad or Mouse. The only downside is I have to wipe my screen periodically. I still prefer MacOS in numerous ways over Windows, but it's becoming more of a chore to use than Microsoft's OS thanks to Apple's reluctance to adopt touch.

AirBar =/= touch screen if it is only for GESTURES. The trackpad has many great gestures built in, and there are programs which allow even more. And it doesn't require you to lift your arm or smudge your screen.
.
Just bc a computer has a touch screen doesn't mean you CAN'T use the keyboard & mouse. It's nice to have a touch screen sometimes. Sometimes it is the best input device, even when the GUI isn't optimized for touch. Sometimes the Apple Pencil would be the best input device. I remote into my desktop computers with my iPad Pro all the time. Pencil + keyboard = highly functional. Using the Pencil is much better than the virtual trackpad built into the remote apps. Sent from the iMore App

Why would I want fingerprints all over my screen? Especially when I can use a much more precise trackpad and/or mouse.
Thank you for signing up to iMore. You will receive a verification email shortly.
There was a problem. Please refresh the page and try again.