TreSensa brings web-based games to iOS with no muss, very little fuss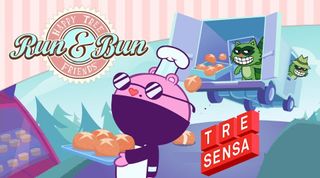 Practically every game engine, whether it be Unity, Havok, or Unreal Engine, evangelizes how effortlessly it allows developers to port from one platform to another. They also tend to boast of their graphical features and 3D effects. All very lovely and impressive, no doubt.
Then there's TreSensa, an engine designed to make porting web-based games to iOS and other platforms a snap. TreSensa powers a variety of casual games including Vector Runner Remix, StranDead, and Run and Bun. Read on to learn about these games and the engine that brings them to life.
Before there was a Remix...
Vector Runner started out as a 3D flash game. You can still find it on the Crazy Games website. In order to reach new audiences, developer LittleGrey Media (also known as DigYourOwnGrave) soon brought the game to iOS.
The original Vector Runner uses vector graphics (hollow line-based artwork) for 3D effects and gameplay. Players frantically dodge deadly geometric obstacles while traveling along a path illuminated by green outlines. Power-up cubes add to their score, repair damage to shields, and provide brief invincibility.
Videogame graphics have come a long way since vector graphics were invented, but vectors still create a charm all their own. Vector Runner could easily have been a real arcade machine back in the early 1980s. Of course, back then you'd only have high scores to chase, not fancy Game Center Achievements.
Vector Runner was ported to iOS and Android natively, without the use of a multiplatform game engine. The process took the game's small developer two years.
Running in two dimensions
In contrast, developing the sequel Vector Runner Remix using the multiplatform TreSensa engine took less than 30 days. The engine, which utilizes JavaScript and HTML5, allows developers to port their web-based games to multiple platforms with no additional work on their part. Once a game works with TreSensa, it can be published directly to iTunes and other storefronts.
Vector Runner Remix doesn't just come from a different engine than the first game. It also makes the unusual switch from 3D perspective to a 2D perspective and gameplay.
Players can now see their character – a little blue car-like shape. Many of the same obstacles from the original game return: red triangles and steep orange cones. Only now they must be leapt over instead of dodging from side to side. Tapping the screen once jumps, while tapping in mid-air performs a double jump.
In many endless runners, falling or striking an obstacle results in death and a game over. Remix is more forgiving though. Fail to jump over a triangle or fall off the track and you'll simply lose a unit of energy and restart from the nearest checkpoint. Checkpoints! Getting hit five times will end your game though.
Also different: Remix's levels are not endless. It will take practice and skill, but players can reach the finish line in one piece. The first level is free, while the second and third levels can be unlocked by a single In-App Purchase for 99 cents.
Like its predecessor, Remix offers Game Center support. Players can compete for online leaderboard scores and work to unlock a handful of Achievements.
Vector Runner Remix is a cute and approachable running game. The neon vector art style and music work well together. I can see kids and running game fans spending plenty of time on the free portion of the game, trying to master that challenging level. Players who really get into it will find more levels are just a single, affordable purchase away.
TreSensa and the Happy Tree Friends
The TreSensa lineup includes both original and licensed titles – the most notable of which star the Happy Tree Friends.
Happy Tree Friends is a web-based animated series in which cute and cuddly woodland creatures meet their demise in a variety of gruesome and over the top ways. It's dark humor (too morbid for me), but you know the Hot Topic crowd totally eats that stuff up.
Naturally, any Happy Tree Friends games must also feature their share of carnage and gore. The first such game from TreSensa is called StranDead (pictured above). As the name implies, StranDead involves helping the hapless forest animals escape from a deserted island – or die trying. Players basically slingshot Giggles the bear off of the island and then help the little critter dodge deadly obstacles in the sea and air.
The follow up to StranDead is called Run and Bun. This time, the Happy Tree Friends take part in an endless runner à la Vector Runner Remix. Only here, running into an obstacle results in your character getting shredded or worse. The stolen buns players collect can be used to unlock new characters and levels in the shop. If you'd rather unlock everything straight away, an In-App Purchase of $2.99 will get you the whole kit and caboodle.
TreSensa Platform for developers
Compared to a typical game engine, the TreSensa Platform has a real personality of its own. First, it's designed for developers who work with JavaScript and HTML 5 rather than C languages and the like. But developers can build on top of it using a plug-in like architecture. The scale of games that TreSensa can support will never rival Unity, but it could be perfect for smaller indie developers or those desiring a strong web presence.
Indeed, developers who are used to working with Flash and browser games in general will feel right at home with TreSensa. The engine can export Flash animations to Java files, detecting repeated animations and keeping file sizes as light as possible. Any game made with TreSensa will work on desktops but mobile web and native mobile games are the engine's first priority.
Monetization is an important concern for any mobile game developer. TreSensa games are designed around two revenue forms: ads and In-App Purchases. Ads are important because many people play these games through browsers and might not be used to spending on browser games. A single TreSensa game gets played on many different platforms and devices, allowing ads to reach a wide assortment of players.
Ads also help keep IAPs from becoming too obtrusive. One of TreSensa's missions with IAPs is to keep them benevolent. They don't want players to reach a frustration point at which IAPs become mandatory, nor do they want to pressure players too much in general. The ad/IAP combo allows games to make decent revenue with creating animosity from the player. Developers aren't required to implement IAPs, either.
Finally, TreSensa helps reduce or eliminate the need for marketing expense. TreSensa has deals in place to push games through a variety of channels, including carrier stores and even Kik Messenger. Kik users can play games and make purchases without leaving the app. TreSensa reports that Vector Runner Remix has been played over 750,000 times since it debuted in July, and Happy Tree Friends: Run and Bun has over a million plays.
Developers can visit the TreSensa website to learn more.
Get more iMore in your inbox!
Our news, reviews, opinions, and easy to follow guides can turn any iPhone owner into an Apple aficionado
Paul started writing about games in 2003 with his first strategy guide (Bomberman Land 2) for GameFAQs. He continued writing guides while earning his B.A. in Literature. When Windows Phone launched in late 2010, the Xbox integration lead our hero to jump on board the platform. He joined Windows Phone Central as Games Editor at the beginning of 2011, going on to review over 125 mobile Xbox titles over the years. He now leads Windows Central's Xbox One coverage, personally specializing in developer interviews, indie games, controllers and accessories, and Twitch broadcasts. Paul loves games on all platforms; he goes where the games are. Although very busy with console coverage, he sometimes contributes gaming articles to iMore and Android Central.