Using the Ecobee3 Wi-Fi thermostat with your iPad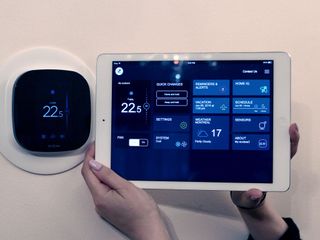 As soon as we finished installing the Ecobee3 wifi thermostat, we immediately began using it with our iPhones and our Apple Watches. Those are the devices with have with us all the time, so having Ecobee on them was a no-brainer. When we wanted to do even more, however, we went to the iPad!
Since we'd already registered with Ecobee, all we had to do for our iPad was download the app and log in.
You can do everything on your iPad that you can do directly on the Ecobee3 touch screen, maybe even more. That's because the iPad app has graphs that let you better appreciate the status of your system over time. Also, Because the iPad is so big, you don't have to jump between screens either. Almost everything you want is right there at your finger tips, almost all of the time.
That includes the main menu, where you can check the status of the system and sensors, set your schedule and comfort settings, add vacation plans, set reminders and alerts, and get more information about your Ecobee3.
It also includes weather, which gives you detailed information about your local temperature, precipitation, and more. Since your Ecobee3 can perform actions based on outside conditions as well as inside, it's important information to have in-app. And it includes quick changes, where you can find convenient toggles for things like turning the fan on or off.
That means you can put your feet up and not only control but consider your Ecobee3 system right from your couch, kitchen, or anywhere you want.
Master your iPhone in minutes
iMore offers spot-on advice and guidance from our team of experts, with decades of Apple device experience to lean on. Learn more with iMore!
Senior Editor at iMore and a practicing therapist specializing in stress and anxiety. She speaks everywhere from conferences to corporations, co-host of Vector and Isometric podcasts, follow her on Twitter @Georgia_Dow and check out her series at anxiety-videos.com.