Vainglory interview: Creators talk heroes, controls, Metal, and more!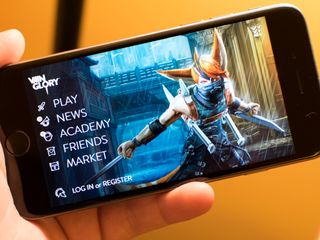 Most games released for the iPhone and iPad don't get a demo at an Apple press event. Yet that is just what developer Super Evil Megacorp got a chance to do in September when their debut game, the fantasy Multiplayer Online Battle Arena (MOBA)-style game Vainglory, was shown on stage during the iPhone 6 launch event. Now that the game is finally out in the US and Europe, we wanted to learn more about the title. We received answers to our email questions from Bo Daly, the CEO and co-founder of Super Evil Megacorp, along with Kristian Segerstrale, its COO and Executive Director.
First, how did Super Evil Megacorp get started and how did you pick that awesome name for your company?
How did the idea for Vainglory come about?
MOBA games are highly popular on the PC, where keyboard and mouse controls can be more precise. How hard was it to make a similar game that would work with a touchscreen?
What are a couple of your favorite heroes in this first version of Vainglory?
Besides its touch-based controls, what other gameplay elements make the game different than other MOBA games?
What can you tell us about the graphics engine for Vainglory and how you worked with Apple's Metal API to make it look good on iOS devices?
What sort of multiplayer options and community features does the game have?
You worked with a number of highly skilled MOBA players in the testing of Vainglory. What's the most surprising thing you have learned in this testing phase?
After its release in the US and Europe, what's next for the team in terms of adding content to Vainglory?
Will the game be released for Android, Windows Phone and Windows 8.1 devices at some point?
Finally, how did the big demo at Apple's iPhone 6 press conference come about?
We would like to thank Bo and Kristian for answering our questions.
Get the best of iMore in your inbox, every day!
I have been writing professionally about technology and gaming news for 14 years.
Can't use it on iPod touch even though it has the same specs as ipad 2 was waiting ages for this game aswell Posted via the iMore App for Android