Volvo announces the new XC90, no mention of CarPlay just yet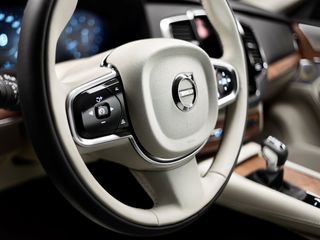 Volvo has today made official the brand new XC90, and along with it an interesting looking unveiling program that as yet doesn't make mention of Apple's CarPlay. Starting today, Volvo will gradually release snippets of information about the new XC90 culminating in the grand external reveal sometime in August. We single out the lack of CarPlay information particularly as we're expecting the new XC90 to be Volvo's first model off the production line with support for Apple's in-car software.
What we do know about the new XC90 is what the interior looks like – Volvo pegs it as its "most luxurious interior ever" – and we get a brief look at the system that will house whatever in-car tech that Volvo decides to integrate. In amongst the crystal glass gear lever and diamond cut start/stop control, we see a honking great "tablet-like" touchscreen center console and very few buttons around it.
The exact details of the system will be announced at a later date, so we'll have to sit tight and see if CarPlay did make the cut. But as far as European SUV's go, the new XC90 has us extremely excited to learn more. For now, here's a couple more shots of that pretty spectacular looking interior to feast your eyes on, so go ahead and then drop your first thoughts into the comments below.
One of the most anticipated car launches of recent years – Volvo's all-new XC90 – begins today. Volvo Car Group (Volvo Cars) has created a launch programme that will unveil the car from the inside out, meaning that it will start by disclosing the many new interior features of the car and culminate in the full external reveal in August.
The original XC90 was launched in 2002, and it revolutionised the SUV segment with its combination of space, versatility and safety. It went on to become a global sales phenomenon. As will be made clear in coming weeks, the all-new XC90 will also be a transformational vehicle in its market segment.
As a taste of what is to come, today, Volvo Cars provides the first glimpse of the interior of the car.
The new interior is the most luxurious to have been designed for a Volvo, taking its inspiration from the country of Volvo's birth, Sweden, which has a global reputation for integrating the latest technology with design that is clean, beautiful and crafted from the finest materials.
"The most striking feature is a tablet-like touch screen control console, which forms the heart of an all-new in-car control system," said Thomas Ingenlath, Senior Vice President Design of Volvo Cars. This system is virtually button free and represents an entirely new way for drivers to control their car and access a range of Internet-based products and services.
The new XC90's interior combines materials such as soft leather and wood with handcrafted details including a gear-lever made of crystal glass from Orrefors, the famous Swedish glass maker, and diamond-cut controls for the start/stop button and volume control.
"These details are designed to become the jewels of the interior. They add a bit of exclusive playfulness rather than pure functionality," said Robin Page, Volvo Cars's Interior Design Director.
The all-new XC90 is the first Volvo to use the company's Scalable Product Architecture (SPA), which creates a far wider range of design possibilities, improves driveability and permits the inclusion of the latest safety features and connected in-car technologies, while at the same time increasing interior space.
"Our new interior architecture is pure and uncluttered, while still radiating the sophisticated confidence and formality that luxury SUV customers expect," said Peter Mertens, Senior Vice President Research and Development of Volvo Cars.
The story of the latest advancements within safety and interior air quality will be released in late July/early August, while the reveal of the technology highlights, including chassis and powertrains, will start in mid-July and continue throughout the summer until the exterior launch at the end of August.
"The customer and the customer experience are at the heart of everything we do at Volvo Cars. We don't do technology for technology's sake – everything in a Volvo is there to make our cars safer and more pleasurable to drive," said Alain Visser, Senior Vice President, Marketing, Sales and Customer Service of Volvo Cars.
Master your iPhone in minutes
iMore offers spot-on advice and guidance from our team of experts, with decades of Apple device experience to lean on. Learn more with iMore!