VR on the Mac first impressions: The Mac, eGPU, and HTC Vive make for a dynamite experience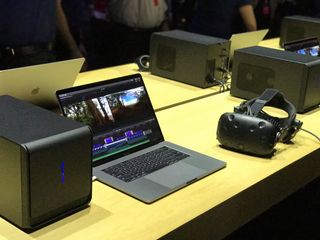 (Image credit: iMore)
Today, I hula danced on a sandy beach, flew over a defunct volcano, and nearly fell into a lagoon — all within the span of 45 seconds.
No, I wasn't hallucinating from lack of sleep after a hectic WWDC — I was strapped into an HTC Vive in the press product hands-on area, experiencing a VR-ready Final Cut Pro X project on one of Apple's Kaby Lake MacBook Pros.
The demo — an incredibly effective one, at that — showcased the power of Apple's new MacBook Pro when combined with Apple's first-ever fully-supported external graphics processor. Sonnet's rather massive Thunderbolt 3 external GPU chassis sat next to the 15-inch MacBook Pro at my demo station, connecting and powering an AMD Radeon RX 580 graphics card.
Support for an external GPU (or eGPU) effectively provides VR-capable graphics for all of Apple's Thunderbolt 3-capable Mac line, including the MacBook Pros. They're not very portable, but they're powerhouses — designed to crush and process the millions of pixels a VR setup requires.
This means that, yes, soon you'll be able to — with the appropriate additional hardware — run a VR experience like Star Trek's Bridge Crew on your Mac. (I can hear our VR editor Russell Holly squealing from here.) But more importantly, developers of VR experiences can build those games on a Mac.
We got a snapshot of that during Monday's keynote, when ILM's John Knoll took the stage to showcase building a Star Wars scene inside a VR environment, and I got a first-hand look at some of the other tools developers can use to build those worlds — including Final Cut Pro X, which will get an update later this year to allow for full-featured video editing in VR. I got to play with a few of the tools, including previewing the timeline itself inside an HTC Vive — and my almost-ending-in-disaster glance downward off a rope line.
VR is still very much in its early stages, and especially so on the Mac: The average user isn't going to run out and plunk $400-$1200 on a Vive and eGPU to play games from SteamVR or develop with the Unity VR engine. But it's a necessary first step into the world of VR, and the tools Apple is providing offer a buttery-smooth experience. I was incredibly impressed with the slickness of the in-VR experience and Final Cut's tools — for things that won't ship until later this year, they were both polished and controlled, and I'm looking forward to giving the whole thing a spin when it's ready for public use. (360° roller derby videos. I want to make 'em.)
Serenity was formerly the Managing Editor at iMore, and now works for Apple. She's been talking, writing about, and tinkering with Apple products since she was old enough to double-click. In her spare time, she sketches, sings, and in her secret superhero life, plays roller derby. Follow her on Twitter @settern.
Finally EGPU support for the Mac!!

Does the eGPU support accelerated output to an external display panel, or only to the internal LCD?

Well considering the HTC Vive HMD has 2 screens (connected with one HMDI Cable) I'd have to say YES

Oculus was seemingly "proud" to not support anything apple. I don't understand... Good on you HTC! The Vive had my attention since launch and I'm glad that Apple support has been given. I really hope to see more and maybe this will bring more help/support to HTC. Good on them!

Oculus lost their way when Facebook bought them. The original Oculus team was highly supportive of making it work on the Mac, then Facebook's obnoxious c*nts joined the team and Oculus became another company destroyed by being purchased by a corrupt company. Thankfully HTC Vive has mostly taken over the VR scene from Oculus, and will continue to do so

I can actually have these experiences through "Lucid dreams." Google that. The problem is that I'm not very good at it and I go for weeks without anything worthwhile.

Hello toysforever this Abbott Dragon Meditation Balm. It is Vive and ARKit ready and exceptionally good for Lucid dreaming and exoeriecing the Higher Self (escaping the Lucid Dream state). Availale on Amazon, or ask me more at @AbbottMaverick
Thank you for signing up to iMore. You will receive a verification email shortly.
There was a problem. Please refresh the page and try again.