We chat with Remedy about their new iPhone and iPad game Agents of Storm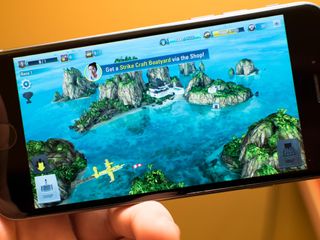 Earlier this week, developer Remedy released Agents of Storm for the iPhone and iPad. The strategy game, set in a super-spy world, is the first exclusive mobile game from the developer, which is best known for their classic PC and console games like the original Max Payne, Alan Wake, and the upcoming Xbox One exclusive Quantum Break.
We got a chance to ask Remedy some questions about the game and received our answers via email from Remedy's Project Lead Markus Mäki and the franchise's art director Saku Lehtinen.
First, how did the idea for Agents of Storm come about?
Markus Mäki: After the success of the iOS and Android versions of Death Rally, we have been excited about the opportunities on mobile games, and wanted to jump in. It's a great opportunity to learn and develop as a game studio, but also a fun space to make games in, one where we can more and more apply our high-end console and PC development experience. Agents of Storm is Remedy's first internally developed mobile game, and we wanted to step outside of our comfort zone. The team had a wealth of ideas, and Agents of Storm was the one that gained most traction.
How much did Remedy's partner in Agents of Storm, Flaregames, participate in its development?
Markus Mäki: Remedy did most of the development work, but it's been great to get Flaregames' experience on the end phase of the project. As said, this is Remedy's first free to play game, and first internally developed mobile game.
What can you tell us about the fictional backstory behind Agents of Storm?
Saku Lehtinen: STORM stands for Special Tactical Organization of Remote Missions — a secret agency that operates where governments can't. Their arch enemy is the paramilitary multinational Chimera Corporation, now occupying a group of remote paradise islands in the Far East. These islands are rich in extremely rare and energy-potent substance nicknamed Blue Jade and Chimera is massing it for an unknown purpose. A team of STORM agents led by the player is assigned on a mission to establish a base near the enemy territory, build an attack fleet to liberate the islands and to put a stop to Chimera's evil plans. This is not going to be a walk in the park, as Chimera has fortified the islands with defensive structures and each island offers a different challenge. The player must also keep building and expanding the base, develop and unlock new exciting units, learn to use air strikes and manage Jade and other resources to defeat the enemy.
What can you tell us about the art style and visuals for Agents of Storm?
Saku Lehtinen: Sunny beaches and massive explosions – do I need to say more? No, really, as Agents of Storm is set in Far East remote paradise islands, it sets the background of shores of white sand, palms and vertical cliffs – we wanted to create a place where you definitely would like to be on those cloudy and rainy autumn days. The game world is rendered in gorgeous and cinematic 3D marrying that with an easy-to-use 2D interface. Our STORM team of heroes uses their fast and nimble high tech units against the more heavy and industrial Chimera units resulting in visually stunning battles over the islands – that's where the things really shine.
What other features can you tell us about the game that you think are important?
Saku Lehtinen: The game has plenty to do in addition to attacking the enemy islands. The key to success in any combat for the player is to expand and develop the fleet of attack boats. Above all, learning to use Air Force and to support the attacking fleet is the key to success. For this, the player must hunt for enemy Convoys and utilize their technology against the enemy. The Game's social features expand the experience even more, exchanging units with your friends and following their progress adds to the fun. Hunting hidden secret treasures and excelling in a ladder fight will help to earn more resources and do better in the fight.
What sort of new content can we expect after the game is released?
We can't disclose much yet, but we have a strong live team on the game that's busy at work creating new content.
How does Remedy see the current mobile game industry and where does it think it might evolve in the future?
Markus Mäki: The mobile game industry is a heavily competed landscape, with production budgets growing constantly, while the marketing is more and more difficult. But it's also evolving so rapidly from the types of games you can do, to business models and makes it a fun place to be in. It's also possible to reach audiences like never before, and Remedy's culture is be entertainers at heart, and if we can entertain more people better, that's something that keeps us working hard!
Finally is there anything else you wish to say about Agents of Storm?
Markus Mäki: Go download it, we hope you have fun!
We would like to thank Markus and Saku for answering our questions about Agents of Storm.
Master your iPhone in minutes
iMore offers spot-on advice and guidance from our team of experts, with decades of Apple device experience to lean on. Learn more with iMore!
I have been writing professionally about technology and gaming news for 14 years.