The week's best iPhone games: Her Story, Your Story, and more!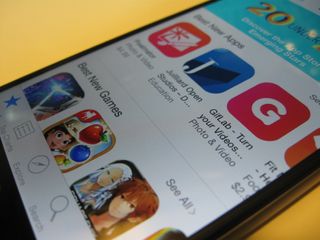 This week's iOS games feature choose-your-own-adventure stories, strategic master-minding, and ... oh, all right, there's at least one of those free jumping puzzles in the mix.
1. Her Story
This mystery game relies on noticing behavioral clues as displayed by the live-action stylings of Viva Seifert; you play the role of an investigative detective interrogating the maybe-murderess about her missing husband. The game relies on actual video footage in the style of old school FMV games like Night Trap — but rest assured that Seifert's excellent acting and Sam Barlow's well-crafted writing ensure that Her Story rises above the corny conventions of the genre.
2. Your Story
Speaking of stories, this interactive fiction game also relies on a mysterious unfolding narrative, but Your Story plays out entirely in text — no pictures, no music, no frills. Much like a classic choose-your-own-adventure novel, you'll decide which path to take, but if you don't keep track of your rights and lefts, you may go in a circle ... and end up in grave danger.
3. Hearthstone: Tavern Brawl
Hearthstone's Tavern Brawl expansion hit during the recent throes of E3, so you may have missed the news. Just in case you weren't already ensconced in Blizzard's digital card game, this update promises a new challenge every week, provided you log in between Wednesday and Sunday. Last week's challenge allowed competitors to take the roles of bosses Ragnaros and Nefarian, with overpowered decks to match.
4. Chaos Domain
It's a good thing Chaos Domain is free, because it may be the game that inspires you to buy one of those iOS controller accessories. This cyberpunk-meets-Ancient-Egypt run and gunner compares itself to classics like Contra, presumably because of its steep difficulty curve. The spaceship setting and Anubis-inspired hero look fantastic, but the controls require a patient hand.
5. Dragon Jump
Dragon Jump, a spectacular addition to the infinite landscape of free jumping puzzles, trains hand-eye coordination while giving your frustration barometer an excellent workout. The dramatic gong-like music adds an epic flourish to replay after replay after replay. So many dragons. So many tridents. My best score is still only 20. Good luck.
Your favorites?
Which iPhone games have gotten your thumbs tapping this week? Let me know what else is out there.
Master your iPhone in minutes
iMore offers spot-on advice and guidance from our team of experts, with decades of Apple device experience to lean on. Learn more with iMore!
Contributor emeritus at iMore, currently writing about games, movies, and podcasts at The Mary Sue. Former assistant Games Editor at Paste Magazine. Host of Isometric. Keytarist/singer for the Robot Knights. Follow her on Twitter @samusclone