The week's best Mac games: Fox & Flock, Super Star Path, and more!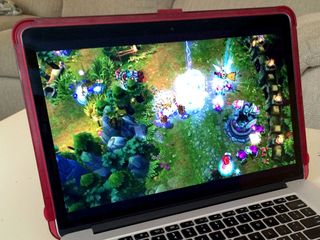 These recent Mac games may require some strategic thinking. Would you prefer to fly a spaceship into uncharted territory? Or would you like to delve deep into a dark psychological narrative? Choose your own adventure from what's on offer here.
1. Fox & Flock
The classic board game Fox & Geese has been around for hundreds of years, and this digital spin on the timeless favorite adds a ballroom dance aesthetic. A fox in a full suit cuts quite the formidable figure, but don't be fooled by his dashing dance — he's a trickster. The game includes local cooperative play if you'd prefer to face off against a friend rather than the AI.
2. Super Star Path
There have been a lot of twists on the Space Invaders genre, but the aesthetic of Super Star Path has the joyful, colorful feel of a Bejeweled or a Candy Crush. Enemy ships explode into gems, which can be collected to earn ship upgrades.
3. Quantum Conscience
I've always wanted psychic powers, but navigating the ethical quandary of whether I should use them might prove difficult — as it does in Quantum Conscience, a visual novel with a mind-reading protagonist. You can use your powers to either help or hurt the people around you, but deciding on the "right" choices when you always have the upper hand in all of your relationships can be quite a tricky task.
4. Tonight You Die
This Duende Games release, featuring appropriately eerie sound design by GRYPT, navigates themes of suicide and existential dread. Explore a foreboding concrete world lit by dim streetlights in this first-person horror experience.
Name Your Price (Suggested Donation $3.00) - Order now
5. Legends of Pixelia
Pixel art is not dead! It's merely gone underground in this fan-funded dungeon crawler, influenced by the modern trends of procedurally generated RPGs while still embracing a distinctive old school visual aesthetic. The game also includes local co-operative play, for those who prefer exploring areas and trawling for treasures in tandem.
Your favorites?
Have any new releases for the Mac struck your fancy? Let me know what I missed.
Master your iPhone in minutes
iMore offers spot-on advice and guidance from our team of experts, with decades of Apple device experience to lean on. Learn more with iMore!
Contributor emeritus at iMore, currently writing about games, movies, and podcasts at The Mary Sue. Former assistant Games Editor at Paste Magazine. Host of Isometric. Keytarist/singer for the Robot Knights. Follow her on Twitter @samusclone