The week's best Mac games: Tales from the Borderlands, Super Chibi Knight, and more!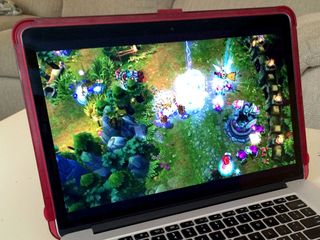 Explore uncharted territory as a intergalactic swashbuckler, a super-cute knight, or an Old Testament animal-sitter in this week's Mac games roundup.
1. Tales from the Borderlands: Catch A Ride
The third episode in Telltale Games' take on the Borderlands franchise has arrived to great acclaim—so if you were holding off on diving into this cyberpunk-meets-outer-space narrative, it's not too late to jump on board and ride it home.
Speaking as someone who's logged several hundred hours into collecting guns and beefing up my stats in the Borderlands RPG titles, I'm relieved that I can now explore and learn more about the world of these games without the hourly grind.
2. Super Chibi Knight
A hack-n-slash platform game about a medieval knight may not sound so special at first glance, but the 8-year-old girl who voiced and co-designed this game's adorable protagonist will doubtless win you over. Bella and Nick Pasto, the game's father-daughter development team, crafted this full-fledged sequel to the original Chibi Knight, a browser-based favorite that also featured Bella's vocal stylings.
3. Astro Emporia
Astro Emporia describes itself as a quickie strategy game; as promised, matches don't last long, but they're not exactly easy. You start out with a spaceship and a $4000 loan from the interplanetary bank; you'll have to trade resources with other planets in order to earn back enough money to repay your debts, but flying around uses fuel, which costs money. The board gamey aesthetic makes outrunning debt feel fun, but this sci-fi budget balancer will definitely require you to get in touch with your inner accountant.
4. Galactic Shred
Here's another spaceship flyer for the list, this time with a heavy metal twist. Pop a Dramamine and strap in for this free indie flight simulator; shoot at other ships to rack up points, all to the strains of Dragonforce's falsetto wails and sweet guitar licks.
5. Super 3D Noah's Ark
Just in case you missed this bizarre Wolfenstein clone back when it came out in 1995, the Biblical twist on the old favorite has finally come to Steam this week; it's also available on itchio. Instead of shooting Nazis, you'll play as a frazzled Noah trying to give tranquilizers to unruly animals, all in the name of weathering the storm. It must be played to be believed.
Your favorites?
Did any other compelling new games hit the Mac this week? Surely I missed a spaceship or two while flying out in the inky blackness of space; let me know what I flew by.
Master your iPhone in minutes
iMore offers spot-on advice and guidance from our team of experts, with decades of Apple device experience to lean on. Learn more with iMore!
Contributor emeritus at iMore, currently writing about games, movies, and podcasts at The Mary Sue. Former assistant Games Editor at Paste Magazine. Host of Isometric. Keytarist/singer for the Robot Knights. Follow her on Twitter @samusclone