The best Mac games: Comedy Dating Sim Edition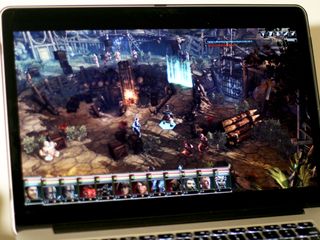 Many dating sims are available in the Mac gaming space, but few are as funny and adorable as this collection of dating sims featuring unusual prospects, from pugs to dinosaurs to sandwiches.
1. Hatoful Boyfriend
Perhaps the most famous in the "what if a dating sim had animals" genre, Hatoful Boyfriend began its life as an April Fool's joke and soon gained cult status for its bizarre twists, well-crafted writing, and tongue-in-cheek skewering of romantic tropes. You play as a human girl who lives in a post-apocalyptic world where pigeons rule the planet. It feels like an unofficial fan-fiction epilogue to Alfred Hitchcock's The Birds, but with more supernatural elements and straight-up weirdness.
2. Hot Date
Unlike the pigeons in Hateful Boyfriend, many of whom treat the protagonist like a princess, your evening with the pugs in Hot Date will probably not go well. This game is set in a speed-dating environment, so you only have a few moments to impress these puppies. They're pretty hard to please.
3. Jurassic Heart
This browser game made a little over a year ago deserves to gain a little boost now that Jurassic World is out. The aesthetic and writing of the game could easily go hand-in-hand with this unrelated love letter to Jurassic Park's raptors.
4. Food Court
I love food: A pint of fresh strawberries could never break my heart, and a steaming pile of french fries would never stand me up. That seems to be the premise of Food Court, which takes place in a universe populated by anthropomorphic food items that, uh, eat and date other foods.
5. #iluJam
#iluJam, a month-long game jam that has just ended, includes several free, delightful, and unusual games. I've only played a few so far, such as Food Court (the previous entry on this list) and also the incredible Amity Bound, pictured above; the game revolves around a traveling circus packed with fun characters, including both humans and the occasional anthropomorphic animal, like a two-headed snake who's also the circus's chef. The watercolor art style and clever writing took me surprise, especially given that this game—along with the others—was completed in just one month!
Your favorites?
Which dating sims are your best picks to play on a Mac? I prefer my romance with a side of comedy, so tell me about your funniest favorites.
Get the best of iMore in in your inbox, every day!
Contributor emeritus at iMore, currently writing about games, movies, and podcasts at The Mary Sue. Former assistant Games Editor at Paste Magazine. Host of Isometric. Keytarist/singer for the Robot Knights. Follow her on Twitter @samusclone
Thank you for signing up to iMore. You will receive a verification email shortly.
There was a problem. Please refresh the page and try again.