What do the Flags do in Harry Potter: Wizards Unite?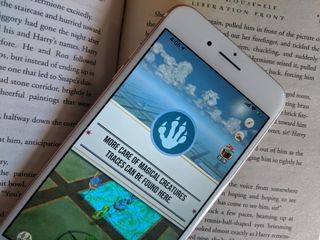 Niantic has worked really hard to make Harry Potter: Wizards Unite distinct from its other AR games and it has done that by adding several new mechanics to the game. Most of those mechanics are things you have to do in-game but some of them are simple touches that allow the company to easily add variety.
Flags have been added to the game for just that reason, and though you may have seen them around you may not know what they do.
What are flags?
Flags can be seen on the world map of Harry Potter: Wizards Unite, often in the areas populated with plenty of Inns and Fortresses — sorry rural players, we still get the short shrift — and can have various symbols on them. These symbols denote each of the "Families" that can be found in your registry.
There are 10 Families in the game right now, and they are as follows:
Care of Magical Creatures
Dark Arts
Hogwarts School
Legends of Hogwarts
Ministry of Magic
Magizoology
Magical Games and Sports
Mysterious Artefacts
Wonders of the Wizarding World
Oddities
How to use Flags to your advantage
Flags are essentially just that, flags. They flag an area in-game where the specific Traces that matches the family icon can be found in greater numbers. When you tap on a flag it highlights the area that is being affected and in that area Traces of that type will appear more frequently and with a higher risk than they do elsewhere.
This is a lovely addition to the game and allows you to target specific areas you want to go and fight in. If you are on your hour lunch break and you want to grab some "Ministry of Magic" traces then head over to that flag, tap it to find out the area it covers and move into it. Simple.
Harry Potter accessories we love
(opens in new tab)
Hogwarts phone case (opens in new tab) ($10 at Amazon)
Show your love of the Potterverse, and protect your phone with this beautiful faux-leather case. The Hogwarts crest burns bright on the front with plenty of room inside for some cash and cards too.
(opens in new tab)
RAVPower Ace (opens in new tab) ($40 at Amazon)
You don't want to run out of juice while battling baddies in Fortresses, now do you? Make sure you've got backup power with this quality but inexpensive
(opens in new tab)
Hogwarts House PopSocket (opens in new tab) ($15 at Amazon)
Represent your house with a secure way to grip your phone while walking on your magical adventure casting spells and securing Foundables.
(opens in new tab)
Harry Potter Over The Ear Headphones (opens in new tab) ($25 at Amazon)
Show your love of Harry Potter to the whole world, while shutting that same world out with these funky headphones from ihome.
Get the best of iMore in in your inbox, every day!
James is a lover of all things new and shiny. From 3D printing to Nintendo he stays current with all the technology that will lead us into the future.
Yes, us small-town users of this game are at a distinct disadvantage when playing. My small town has a Greenhouse located at our fire station and a Fortress located at our water tower, but there are no Inns at all. And none of the surrounding towns or even bigger towns of 10-15,000 have them either, so when we run out of spell energy, we just have to stap for the day and come back in a day or so to play again when it naturally replenishes. Not the most ideal situation, but the game is still lots of fun to play while your energy holds out. The most annoying thing about the whole game is just how difficult it is to cast a spell. It is extremely difficult to actually trace a spell outline on your screen. I wish they would tweak that just a bit.
Thank you for signing up to iMore. You will receive a verification email shortly.
There was a problem. Please refresh the page and try again.