What to consider when building a DIY home security system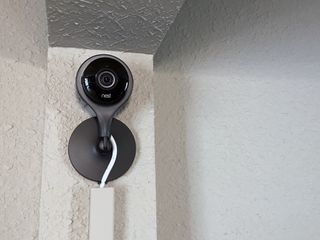 Home security is as important as ever, and with all of the home automation equipment available that can help keep your abode secure, you may be opting to DIY your security system instead of going with a stock option from a monitoring service.
If you're thinking of building your own system, there are a few things you should consider before going out and buying all the bells and whistles (literally).
The basic building blocks
There's a lot that can go into a DIY home security system. You can build your system well beyond what you'd get from companies like Brinks (you could also probably make more believable commercials). That being said, there are certain pillars of home security to consider right off the hop.
The first thing most folks probably think about when it comes to a home security system is an alarm. You need something to trigger that alarm, so you'll need motion sensors and door sensors. You'll also need sensors that can detect smoke/heat in the event of a fire. You may even want to consider water sensors for when you're out of the house for long periods, just in case your sump pump decides to go night-night.
The next thing you might think of when it comes to keeping your domicile safe is a security camera. Current smart cameras can give you a 24/7 view of your home via their companion apps. You can get cameras for inside and outside your home so that you can even know who's ringing your doorbell or snooping around your trash can while you're at home. Camera's are, of course, completely optional, but they're a neat addition, if for nothing else than to see what your pets do when you're not home.
Check out our favorites for the different types of home security cameras:
This might seem like a no-brainer, but you might overlook something so obvious. Your locks are your first line of defence against intrusion, so which route should you go? Do you opt for standard locks, or should you delve into the world of smart locks? Well, if you want a fully automated home security system, you just might want to invest in smart locks.
If you opt for sensors of your own choosing, you'll want to consider getting your alarm system monitored. Yes, you can be notified via apps and what not when sensors and cameras are triggered, but a monitoring station can keep an eye on things when you're out of town and can notify the police (perhaps more quickly) if something's amiss. A local alarm (one you can hear/see in your home) is a great burglar deterrent, but a central monitoring station completes the package.
You'll want to look into companies that monitor DIY systems, since some may only choose to monitor those systems which they've installed themselves. You'll also want to consider your options if you only have a cell phone and don't have a landline. The monitoring service will need to install a transmitter for the wireless signal, and not every alarm company offers this service yet. Monitoring is also more expensive, since the alarm company has to pay a wireless provider to use its network.
Other things to consider
Now that you've got your building blocks down, there are things under these umbrellas that you'll want to consider in more minute detail.
If you have pets, motion sensor might be a no-go for you. Those sensors need 6 feet of clearance, so they're usually placed roughly 7 feet from the ground. That'll nail any person and any dog taller than a foot. If you just have cats, motion sensors are usually fine, though you may get a call from time to time because one of them knocked something over. So long as there are no high shelves near your sensors, you should be fine.
If motion sensors won't work because of larger dogs, then you may want to consider a glass-break (or break-glass, depending on the alarm guy you're talking to). These devices have a sensor that detects the frequency of broken glass, so a low dog bark or human talking isn't supposed to set them off. That being said, I have one in my hallway, which is more like a big square that connects all the rooms in my house, i.e. soundwave central. If I walk by the damn thing and cough or sneeze, it goes off. So be prepared for that.
If you have pets who can't exactly call 9-1-1 when there's a fire, you'll likely also want to get your smoke alarm/carbon monoxide detector integrated into your monitoring.
Central station vs. local alarm
I touched on this earlier, but you need to decide whether you just want a local alarm (one you can hear/see in your home) or just want monitoring from a central station or both (the best option). Remember that, if you just have a local alarm, it could startle the burglar and send him or her packing, but if you aren't home, they may take their time, and then the cops never show up until you get home and call them. That being said, if you're confident in your alarm and surveillance, you may not want to shell out the money every month for monitoring.
If you're building a DIY home security system, you'll have to shop around for monitoring, which will likely net you the best deal, but you'll also need to find a service that works with what you have already. Some firms may only monitor equipment they install, or they may charge extra for having to monitor yours.
Before going out and buying equipment and installing it yourself, you're going to want to examine your home's points of entry. Think about where burglars are most likely to come in and do your research. As many sites and references will point out, the front door is actually a very likely point of entry for a burglar, so (and this may seem obvious) make sure that your front and back doors are armed with sensors and/or surveilled by security cameras.
Burglars often come in through an unlocked door or window, so if you're in a neighborhood where leaving windows open at night might not be the safest thing to do, don't!
Perhaps the final (or first?) thing you want to decide is whether or not you want a smart home security system — one that you can communicate with and receive alerts from via Wi-Fi/cellular data — or a regular one. On the one hand, having a smart home system means that you'll get alerts when your system is tripped, no matter where you are, so you might be able to eliminate the need for monitoring that way. Just call the 5-0 yourself!
PCMag considers the Vivint Smart Home to be the best smart home security system for its quick event response, video doorbell, remote control of smart locks, thermostats, and sensors. You also don't need a contract and everything's done via the free mobile app. Of course, with a smart system, you're looking at higher prices — the Vivint panel retails for around $549 (though you can probably negotiate if you purchase multiple home security products from Vivint).
The main motivator in all this, note that the cost of a DIY home security system will almost always be greater than going with an installed package from a monitoring service. In fact, many services often eat the cost of the system when you sign a monitoring contract.
As an example, I went with a monitor service-installed package. My alarm panel was $360 (CAD) and the door monitors and glass-break were tossed in for free. I pay around $30 a month for monitoring because we don't have a landline, so the service has to pay Rogers to use its towers.
If you want to start with a smart alarm panel, you're looking at a $300 (USD) average (not terrible). Add that to the cost of smart locks (the best one, August is around $240. A decent indoor security camera will run you $150 and up. So you could be looking at $1000 in startup costs. That being said, then you own everything; sometimes the monitoring service maintains ownership of the system it installs
Think like a bad guy
At the end of the day, protecting your home in any way is a great idea, especially if your neighborhood is prone to break-ins. If you're building a DIY home security system, do your research. Find out where burglars are most likely to enter your home and sure up perceivably weak points.
Figure out what you actually need to get started and save the bells and whistles for later. No use blowing your wad on the best camera around when you don't have your doors armed and motion sensors up. You'll just be able to watch your house be ransacked (of course, you could call the police, but what if you can't connect to the internet to watch your cameras?) without any real deterrent.
At the end of the day, just do your homework and really understand the needs of your particular home, and you'll be able to build the best system for you.
Questions? Tips?
Sound off in the comments below!
Master your iPhone in minutes
iMore offers spot-on advice and guidance from our team of experts, with decades of Apple device experience to lean on. Learn more with iMore!
Mick is a staff writer who's as frugal as they come, so he always does extensive research (much to the exhaustion of his wife) before making a purchase. If it's not worth the price, Mick ain't buying.