What credit score do I need to be approved for Apple Card?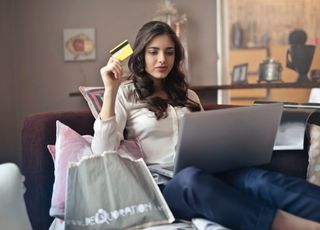 Heads up! We share savvy shopping and personal finance tips to put extra cash in your wallet. iMore may receive a commission from The Points Guy Affiliate Network. Please note that the offers mentioned below are subject to change at any time and some may no longer be available.
If you are like me and excited about what Apple Card is bringing to the credit card market, you are probably about ready hop in the Wallet app and fill out an application. You're probably looking forward to that gorgeous titanium card, Daily Cash, and all of the budgeting and management tools to help you be more responsible with your credit card. Before you go straight to applying there's one thing you should do first: make sure you're in the best position to be approved for it!
Apple and Goldman Sachs haven't come out with exact numbers regarding what your credit score needs to be in order to be approved for Apple Card, but there are some important things we do know that can help all of us be as prepared as possible in order to get approved. . Here are some of the most common questions surrounding applying for Apple Card.
How will I apply for Apple Card?
Apple is making the application process incredibly simple. You're able to apply for Apple Card right through the Wallet app. Once approved, your titanium card will be shipped to you through the mail and your digital card will be immediately available to use with Apple Pay. If you want to apply, you can get a direct link right through the Apple Card website (opens in new tab).
What kind of credit score will I need to get approved for Apple Card?
It's fair to say that Apple and Goldman Sachs are looking for relatively decent credit scores (opens in new tab) from those who wish to have the Apple Card. While some credit cards are designed for those with low or no credit score, Apple Card is not built for those scenarios. You'd be better served by a secured credit card if you're starting with no credit or working back from bad credit.
However, people have been surprised at some of the credit scores that are being approved. There have been reports of some being approved with credit scores as low as 620. Therefore, you'll need to make sure you have at least what is considered "fair" credit if you want a decent chance of being approved.
Most banks and credit providers split the range of credit scores into groups, ranging from poor to excellent, and your approval and terms you receive are determined by which group your credit score falls into. The basic range of credit score categories are as follows:
Poor: 300-600
Fair: 601-660
Good: 661-780
Excellent: 781-850
Apple Card offers an APR between 13.24% and 24.24% based on your credit score, and all approved cardholders will be placed at the bottom of the interest tier they fall into, which will save everyone a little bit of interest. Such a wide range is a promising indicator that Apple is willing to approve those without the most stellar credit score, but you can expect a higher interest rate and a lower credit limit.
How do I find out my credit score?
There are a number of ways you can find out your credit score (opens in new tab), and a lot of them are free. For a long time, people were only able to check their credit score once per year for free and would have to pay a fee each additional time. That has since changed, and there is now a multitude of services that allow you to track and check your credit score as many times as you would like without paying anything. A few of these services, like Credit Karma (opens in new tab), provide your credit score for free as well as a host of other things like free tax returns, unclaimed money, and help with disputes on your credit. A lot of credit cards have started to provide free credit scores (opens in new tab) to their cardholders as well, so check with your card providers to see if it is an included benefit with your card.
How can I improve my credit score?
There are a number of things that factor into your credit score, but these six are the most common, in order of importance:
Credit card use
Derogatory marks
Payment history
Credit age
Total accounts
Hard inquiries
If you're looking to improve your credit score (opens in new tab) as much as possible before you apply for Apple Card, the best thing you can always do is to pay down your balances. If you are using more than 30% of your total available credit, try to pay this down past that point to dramatically improve your score. Make sure to always pay your bill on time as late payments can be recorded as a negative mark on your credit history. Also, try to avoid applying for cards close to when you apply for Apple Card. Credit card providers get weary when they see a bunch of credit inquiries too close to each other. Take a look at your credit factors and focus on the ones that will have the biggest impact for you!
The bottom line
While you may want to just jump in and apply for Apple Card right away, we do know that the best thing you can do to get ready for it is to know what your score is now (opens in new tab) and look at ways you can improve it (opens in new tab). The better your credit situation is when you apply, the better your chances will be of approval as well as preferential treatment with a better interest rate and a higher credit limit.
If your credit score will support it, there are several credit cards we think pair nicely with Apple Card to make sure you're maximizing all your rewards and benefits!
Joe Wituschek is a Contributor at iMore. With over ten years in the technology industry, one of them being at Apple, Joe now covers the company for the website. In addition to covering breaking news, Joe also writes editorials and reviews for a range of products. He fell in love with Apple products when he got an iPod nano for Christmas almost twenty years ago. Despite being considered a "heavy" user, he has always preferred the consumer-focused products like the MacBook Air, iPad mini, and iPhone 13 mini. He will fight to the death to keep a mini iPhone in the lineup. In his free time, Joe enjoys video games, movies, photography, running, and basically everything outdoors.
I really hope iMore doesn't go down the route of "Reasons why you want the Apple Credit card." Its a credit card, nothing more. Trying to convince readers to go into debt with a credit card with an apple logo on it won't sit well with me. It shouldn't sit well with anyone here.

Some people use credit cards for debt, some people use them as a smarter way to shop. There's tons of advantages to using different cards, how you manage the payment at the end of the month though is up to the person, entirely. Promoting credit card content and benefits does not equal promoting debt.

Where in the article are they discussing credit card content and benefits? Oh right, they don't. They explicitly discuss credit scores and how to qualify for an Apple Card. Since you are super smart, you should know the moment you apply for the card your credit score takes a hard hit, lowering it. You also go into debt the moment you use it, even if you pay the balance off monthly. Its debt incurred every time its used. I think its slimy to discuss that on a tech site that is for Apple hardware and software, which the credit card is neither. Thank you for attempting to educate me though.

What are you talking about? What makes you think the only purpose is more debt and who told you an inquiry gives you a 'hard hit'? No, an inquiry will drop your score about 2-3 points, and an approval will raise it 2-=50 points as well as lowering your debt ratio. Approval for a card can raise your score up to 50 points. Just because you are too irresponsible to understand how credit works does not mean everyone else is as well.

This rational shows that you may not fully understand how to use credit cards responsibly. They allow customers to pay for items on credit rather then having each charge come directly out of ones checking account immediately. This provides the user with more flexibility by paying all of the charges on their card at the end of their statement date or sooner. Only people that don't understand their financial situation go into debt using credit cards. As long as someone doesn't spend more than they can afford to spend they won't ever go into debt.

Wow you are so smart. Dude please, it has nothing to do with knowing how a credit card works genius. It has to do with the slimy nature of hawing a credit card on this site like its a piece of hardware Apple is selling. And FYI the moment you use a credit card you go into debt until that amount is paid off. If you pay it off every month, great, but you are in debt until that amount gets paid off. Thanks thought for finance 101.

There is no need to be so angry just because you do not understand how credit works.

Hey Don! I definitely understand your concern, and I certainly wouldn't encourage anyone to go into debt, especially with a credit card. As someone who has been in his share of credit card debt but now free of it while benefiting from using a credit card for the rewards, I've learned that it's a financial tool like any other financial tool. If used responsibly, it can be a great tool, but if not, it can be a burden. What we want to do here is be as informative as possible, as this is going to be a product that Apple offers and we want to provide what we hope is valuable information on all aspects of it so that people can use it to make an informed decision on what is best for them!

I'm also confused, why does iMore talking about the Apple Credit Card mean people will go into debt? Some people use credit cards for a better shopping experience. Guess I missed the part about them instructing readers to go into debt.
There are so few things in this world that provide pleasant information and this just so happen to be one of them.

I never said it meant that at all. I said I don't like iMore discussing how to get a freaking credit card. Yes I know how a credit card works, and you should know the moment you use one you go into debt until that balance is paid off. If you pay it off monthly, great. But until the balance is at zero you have that debt. Thank you though for your financial planning lesson.

Thank you for the kind words Kaysee!

Article title: "What credit score will I need to get approved for Apple Card?"
Answer: Not in the article.
Summary: Typical iMore

Did you skip past the section which has the subtitle "What kind of credit score will I need to get approved for Apple Card?"? It states the range of credit scores, and: "… is a promising indicator that Apple is willing to approve those without the most stellar credit score, but you can expect a higher interest rate and a lower credit limit." Generally the credit score for mostly _any_ credit card will need to be in the average to good range. The ones that accept poor ratings will have a high interest rate
Thank you for signing up to iMore. You will receive a verification email shortly.
There was a problem. Please refresh the page and try again.