What to include when gifting a Nintendo Switch this season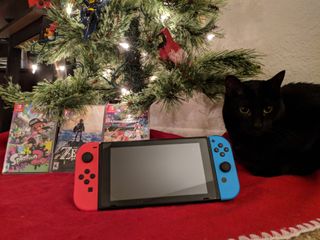 If you have a gamer in your household who has been begging for the Nintendo Switch, here are a few accessories you will need in order to protect the console and make sure they truly enjoy it.
Screen Protector
In order to protect the rather sensitive Switch screen, buying a screen protector is a must. When docking the Switch and just day to day use, it would otherwise be easy to scratch up the screen. AmFilm Glass two-pack screen protector is a less expensive way to get good quality protection for your Switch.
See at Amazon (opens in new tab)
Joy Con Charger
If you're purchasing an extra pair of Joy Cons along with the Switch, a Joy Con charger is a great addition to the Switch. You can always charge the Joy Cons with the Comfort Grip, but being able to charge them all at once while you're out and about is very handy. Nintendo's own charging dock is a perfect match to the Dock which charges your Switch.
See at Amazon (opens in new tab)
Micro-SD Card
In order to get screenshots off of your Switch without sharing them to Facebook or Twitter, you'll need an Micro SD card to save the files to. Micro SD cards are a quite expensive, but they are reusable, meaning you can save the pictures to your computer and then delete them from the card to add more. Hori sells 16 GB, 32 GB, and 128 GB Micro SD cards at a fairly reasonable price.
See at Amazon (opens in new tab)
Carrying Case
A carrying case is a must for any on-the-go gamers, especially if they're carrying it to and from friend's houses or family houses. It's a safe way to make sure everything is together and safe, in case it gets in the hands of someone less careful. HonE has a carrying case that includes extra items like a screen protector, Joy Con cover, and an extra charging cable.
See at Amazon (opens in new tab)
Nintendo Joy Con Wheel
Joy Con Wheels are a great addition for the biggest fan of Super Mario Kart, perfect if they like to feel like they're in the game. It makes for easier control throughout the game and improves drifting, even for the most trained players. Nintendo has a two pack of the Joy Con Wheels, which should be perfect for someone's first Switch.
See at Amazon (opens in new tab)
Nintendo Switch Games
There are many Nintendo Switch games to choose from, and a lot of great gems among them. Whether you want to play homage to Zelda or try out the new 1, 2 Switch, there are plenty to choose from. One of my personal favorites is Super Mario Odyssey, which is a great new turn on Mario and his journey to save Princess Peach. Any of the Switch games you purchase are sure to be great fun for the new Switch owner.
See at Amazon (opens in new tab)
Get the best of iMore in in your inbox, every day!
Thank you for signing up to iMore. You will receive a verification email shortly.
There was a problem. Please refresh the page and try again.