What we're watching for the holidays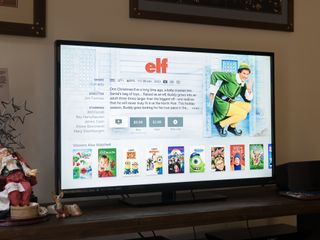 Settling down in front of the TV to watch classic holiday movies and TV shows is a great way to spend time with friends and family during the holiday season. It's also a great way to avoid going out into a frigid Midwestern winter in search of a gift that nobody's going to have in stock anyway.
Here at iMore, we've all got our on favorites for this time of year. From Christmas movies both classic and unconventional, to holiday-themed episodes of favorite TV shows, here's just some of what we'll be watching during the holiday season.
Serenity Caldwell
Die Hard: Not only is it a delightful action movie, but it's one of my favorite unintentional Christmas films. John McClane's first battle with the bad guys takes place in a fictional Los Angeles skyscraper after a Christmas work party goes awry, and it is everything a girl could want to get into the holiday action-movie spirit. I mean, how do you top "Now I have a machine gun, ho ho ho"? You can't.
Mike Tanasychuk
National Lampoon's Christmas Vacation: This is the absolute best of the "Vacation" series and by far the funniest of the bunch. Everyone is at their best here, and Juliette Lewis and Johnny Galecki are the perfect Rusty and Audrey. Every scene is gold and Chevy Chase's epic speech at the end is as quotable as the day is long. Plus this is pre-Randy Quaid going nuts, and he's at the top of his Cousin Eddy game.
Arthur Christmas: This movie came out at an awkward time and didn't see a DVD release until the following holiday season (for some dumb reason), so it's no surprise when I mention it and people haven't heard of it. This might be the best animated Christmas movie I've ever seen. It has a wonderful, all-star British cast, including James McAvoy, Hugh Laurie, Imelda Staunton, and the enigmatic and absolutely brilliant Bill Nighy. This take on the Santa Claus mythos is fresh, fun, and absolutely hilarious, and though this is from 2011, the animation holds up to the best of today's releases. If you're looking for something heartwarming to watch with the whole family, Arthur Christmas is not to be missed.
Lory Gil
Rare Exports: This Finnish holiday classic won my heart the very first time I saw it in 2010. It's about a little boy that still believes in Santa Claus, only he believes that Santa is not the jolly fat man that brings presents for everyone, but instead is the master of judgment who kidnaps and eats children who've been bad. There is one particularly endearing moment where the boy, Pietari, and his father are eating Christmas cookies on Christmas Eve, just before bedtime, when father is trying, and failing, to express his love for his son. It's beautiful and vulnerable and gritty, which is how you'll feel while watching this movie.
Rene Ritchie
Iron Man 3: Sure, almost any Shane Black movie is a Christmas movie, and Kiss Kiss Bang Bang is basically this without the super suits, but you still gotta love Tony Stark taken to the Extemis.
Lots of lows and groans, but the characters have so much fun that I can't hold any grudges.
I just really, really want that Armor for Xmas. K, Santa?
Also: Elf. Because Elf.
Mikah Sargent
The Year Without a Santa Claus: My twelve days of Christmas are incomplete until I get to sit down and sing along to The Year Without a Santa Claus, my all-time favorite Christmas movie. It's an old school (1974) stop motion TV special that includes a bunch of delightful songs and life lessons. Santa falls ill and decides he won't be riding out for Christmas unless his elves can prove people still believe in Santa Claus. The film also features two wonderfully bitter characters: Mr. Heat Miser and Mr. Snow Miser. It's a fun film that's well worth your time.
*[Dr. Seuss' How the Grinch Stole Christmas](https://itunes.apple.com/us/movie/dr-seuss-how-the-grinch-stole-christmas/id286621192?at=10l3Vy
"Fahoo Fores Dahoo Dores"
"Welcome Christmas Come this way!"
I adore Jim Carey's performance in this film almost as much as I adore the music. How the Grinch Stole Christmas is hilarious, touching, and — IMHO — an excellent nod to Dr. Seuss' original work. If you've got a bit of the Scrooge spirit, pop in this film (after you watch A Christmas Carol to exorcise ol' Scrooge and let your heart grow three sizes that day.
Cella Lao Rousseau
"My $2000 ceramic Vektor my mother got me as a special gift. You threw in the lake next to the car. What happens when they drag the lake? You think they'll find my pistol. Jesus. Look up 'idiot' in the dictionary. You know what you'll find?" "... A picture of me?" "No! The definition of the word idiot, which you f*$#ing are!"
Kiss Kiss Bang Bang has been one of my favourite movies of all time for a long time, but it wasn't until about 3 years ago that I realized it was truly a perfect Christmas film.
Not only is it hilarious, crude, and insanely well-written, but the plot takes twists and turns and has a lot of heart despite Robert Downey Jr. and Val Kilmer constantly bickering (which is hilarious, by the way).
As someone who really loves action movies, Kiss Kiss Bang Bang also delivers on the action aspect while still managing to be heartwarming and absolutely hysterical. It's riiiiiiight up there with Die Hard in the sense of Holiday movie + action + comedy = 🙌🏼 🙌🏼 🙌🏼 (but with Kiss Kiss Bang Bang you get some mystery, too, so that's always bound to brighten up the holiday spirit, right?)
Joseph Keller
The Santa Clause: Live-action Disney movies in the 90s could get a little weird, and one of the results of that era is one of my personal favorite Christmas movies.
What happens when Santa Claus falls off your roof? If you're Scott Calvin, guess what? The job is yours now. As it turns out, the position of Santa passes from person to person, with all that's required to become the next one is to put on the current Santa's coat after he dies (it's like "you keep what you kill" from The Chronicles of Riddck but without that movie's convoluted mythology clunky dialog).
When Scott becomes the new Santa, he brings his son Charlie along for the ride, and Charlie spends the next year telling anyone who'll listen that his dad is Santa Claus. This includes Scott's ex-wife, who understandably becomes concerned about the kinds of things Scott is telling Charlie.
This is one of my favorite Christmas movies from when I was a kid, and it still holds up now. It's funny, heartwarming, and offers an interesting twist to the mythology of Santa Claus.
Brooklyn Nine-Nine - Christmas: Brooklyn Nine-Nine is one of the best comedies on American television right now, and this show has absolutely dynamite holiday episodes. However, the first Christmas-themed episode will always have a special place in my heart.
The main thrust of the episode sees Detective Jake Peralta placed in charge of security for Captain Raymond Holt after Holt receives a death threat ("I mean why would a death threat be a big deal? Oh that's right: because it threatens death!"). Naturally, Jake uses his position to bother the hell out Holt while trying to determine if the death threat is real.
From a great cold open with fighting Santas to the final chase in the rail yard, this episode is a great showcase of what Brooklyn Nine-Nine is all about.
"Nine-Nine!"
What are you watching?
We've given you our favorites, now why don't you tell us some of yours? Let us know what you'll be watching this holiday season in the comments.
Master your iPhone in minutes
iMore offers spot-on advice and guidance from our team of experts, with decades of Apple device experience to lean on. Learn more with iMore!
Joseph Keller is the former Editor in Chief of iMore. An Apple user for almost 20 years, he spends his time learning the ins and outs of iOS and macOS, always finding ways of getting the most out of his iPhone, iPad, Apple Watch, and Mac.