Your verse: Enter now to win a FREE iPad Air from iMore!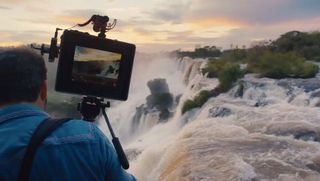 Apple's latest iPad Air commercial features Robin Williams from Dead Poets Society quoting Walt Witman and asking — what will your verse be? It's filled with iPads in amazing places, being used for amazing things. And it got us to wondering — if you had a brand new iPad Air, what amazing place would you take it? What amazing thing would you do with it? What would your verse be? Answer that in the comments below, and we'll give you a brand new 16GB iPad Air to help you do it. (Technically a $500 Apple Store gift card!)
Be funny. Be dramatic. Be passionate. Make us laugh. Make us cry. Make us want to give it to you rather than the commenter above or below you. Throw in a picture, throw in a video. Do whatever you feel best expresses your verse. The iPad can help you do amazing things, and we want to help you get one!
The give-away starts right now and ends Wednesday, January 22, at 11:59pm PST. Standard iMore contest rules apply.
Tell your friends. Tell your family. Tell the world. Scream it. WHAT WILL YOUR VERSE BE?
Enter now!
Get more iMore in your inbox!
Our news, reviews, opinions, and easy to follow guides can turn any iPhone owner into an Apple aficionado
Rene Ritchie is one of the most respected Apple analysts in the business, reaching a combined audience of over 40 million readers a month. His YouTube channel, Vector, has over 90 thousand subscribers and 14 million views and his podcasts, including Debug, have been downloaded over 20 million times. He also regularly co-hosts MacBreak Weekly for the TWiT network and co-hosted CES Live! and Talk Mobile. Based in Montreal, Rene is a former director of product marketing, web developer, and graphic designer. He's authored several books and appeared on numerous television and radio segments to discuss Apple and the technology industry. When not working, he likes to cook, grapple, and spend time with his friends and family.
Whether sad or happy, depressed or elated, a search for knowledge to enhance or solve my feelings are always there. No matter the state of art, state of life or state of consciousness, an iPad is there to solve my mysteries. My mysteries are unique to me. My iPad is unique to me. I am unique to me. I am.

Like Niagara Falls, beautiful, powerful and inspiring. All these things I find in my iPad.

I've seen the Amazon commercial comparing its tablet against the iPad for a few weeks now. They do a great job comparing specs and features, but eventually they settle on the only thing Amazon seems to care about: price. And then the "Your Verse" commercial came out. It was brilliant. My kids use our iPad 2 to play games, sure, but they also make movies, draw pictures, and take photos. I've been playing around with other iOS apps on my phone and have really enjoyed making songs, editing pictures, and writing. And after the "Your Verse" video, it struck me the difference in the messages of these two companies. Amazon: Buy our stuff, so you might consume. Apple: Buy our stuff, so you might create.

I've been unemployed for 6 months, christmas was tough... Would've liked to updated my mother's broken iPad 2. #1stworldproblems is my verse.

When the intangible becomes tangible the imaterial becomes material.

One cell. One single cell. One thought. One solitary notion of a life complete yet incomplete. They don't come from nowhere. Nothing without the other. No changes, not a chance in the world without a hand, without a plan...without Love.

In a world of war, blood and tears. Where dreams are crushed, like Snooki at a frat party. Where people live their lives in agony and disparity. Where suffering covers like a fresh winter snow...An iPad gives us an endless amount of apps that capture it all. And somehow makes us smile. Oh, and Candy Crush.

To educate my children, my self, and others! Sent from the iMore App

My verse opens sitting next to my mom, now living with stage four cancer, as I show her photos of her first grandchild, on my new iPad Air, from our first ultrasound.

Just give me the god-dammed iPad! JK

Outspoken yet subtle, so very calm with our rage.
Sitting here being trapped, pure bliss in our cage.
Our cage is this life.
It passes. Makes fools of us, rewards us, and is just.
It can be happy and utterly sad. Defeating while driving you mad.
Life is a cage.
Both passionate and forgiving. Smiles and tears.
True happiness and delight. What seems to be a never ending fight.
To you I say this: Find bliss in your cage.

Say what's on your mind. You'll regret if you don't.
Be true.
Be free.
Be creative
Enjoy life.

Creating words from mere silence,
Making a masterpiece from a blank page,
give those with the vision, the tools to bring it to the masses,
and you witness the beginning of a new age. Bring forth life through the eyes of the smallest child,
show the past through the experience of your grandparents.
Don't imagine, connect with someone that has been there...is there.
Feel free, create, share, and visualize your dreams.
Nothing is impossible anymore. Technology has given everyone a voice....
this is the soapbox, the stage, the platform....to use that voice on.
Raise your voice high, far, and wide...show the world who you are.

Give me the iPad, so I'll discover what my verse will be :-)

To help my son on his path of game designer, maker of comics, cartoons, and videos.

Like the first step taken...something different!/
Like the scent of newly baked treats...fresh!/
Like experiencing new visuals and sounds...amazing!/
Like the "whoosh" you hear when the plastic is peeled off a new gadget...exciting!/
Like the first sip of a cold drink on a hot day...refreshing!
That's what getting the new iPad Air would be to me Sent from the iMore App

Over here over there, something is in the air be happy not sad why because iMore gave me a new iPad :)

I would take it to a place almost forgotten by the world and that would be to an Orphanage and let them see some of the wonders of knowledge. Than I would let them have it

Watching cars go in and out of the auction watching everyone run around crazy is something I file all the time it's actually a sight. To film that in HD and slow motion would be my verse.

My verse is inspiring inner city youth about technology and how this can enhance and transform their lives. I believe teaching the advantage of technology will help overcome their reluctance and can make changes in their lives. This would be gifted to one of the kids! Sent from the iMore App

My verse is finishing school with my masters degree in a country abroad... I miss the states... Only 3 more semesters! Sent from the iMore App

A wise man once quipped - "As you ramble along through life,
Let this one thing be your goal,
Keep your eye upon the doughnut,
And not upon the hole." I believe iPad can help one rise above the holes in life and enable one to birth new and exciting doughnuts out of the deep fat fryer of creativity. For this is the ultimate dream for all people; To create that which has not yet been created, to achieve that which has not yet been achieved, and to watch Netflix when they are at work in the Gulf of Mexico seven days at a time. Sent from the iMore App

iPad is my right arm. It's my signature move. It's my second brain, my other heart, my past, present, and future memory bank. It does what phones can't: provides an experience no other appliance, smart phone, computer, or vehicle can offer: electronic breath. It truly is...air.

would be a great way to show family and friends, pictures and video of my new born son :)

I use my iPad for reading, listen to music, watching video, surfing the web, email and some gaming. It has the power of the TARDIS, even when I'm using it to watch the TARDIS on Netflix. It will take me all over the cosmos, across space and time and even take me down to sub-atomic worlds while reading about particle physics. It will take me to unreal worlds like Westeros and Essos while reading books then allow me to escape to Margaritaville when I simply want to listen to some Jimmy Buffett and escape to where there are no worries or technology to distract me from the peace of doing absolutely nothing. And last but not least, it will travel with me when I physically go anywhere in the world. In the past, I've take my iPad to all 3 coasts in the US, Singapore, Hong Kong, Scotland (where I upgraded it to iOS7), Germany and London. There are possibilities of Argentina, Brazil and Belgium in my future. It pretty much lives up to the device that was sold to us when it was announced. It takes me anywhere I want to go and beyond - physically and virtually. So, a new iPad Air would do nice to get me there faster and lighter.

Beauty never slumbers;
All is in her name;
But the rose remembers
The dust from which it came.
- - - -Edna St. Vincent Millay

Our deepest fear is not that we are inadequate.
Our deepest fear is that we are powerful beyond measure.
It is our light, not our darkness that most frightens us.
We ask ourselves, who am I to be brilliant, gorgeous, talented and fabulous?
Actually who are we not to be?
- Marianne Williamson

I would use my iPad air to make short films of fairy tales here on The island I live on.I would get all my friends to star in them and put them on the web.From Little red Riding hood to the Frog Prince , I would shoot them .

"Generational" [fade from black] A video montage plays on an iPad of a young girl laughing, smiling... Having the time of her life. A sunny day in the tidal pools. Learning to ride her bike in front if the house. Chasing after the dog who happens to be trying to eat the water spraying out if the backyard sprinkler. Ice cream with Nana & Papa.
-
[camera cuts to over left shoulder of an older man]
[longingly he says aloud]
"I can still remember, like it was..."
"who's dat, dranpa? Is dat meee?!" Asks the wee voice of a little girl nestled under his right arm.
"Hahaha. No child. That was your Mommy... Back when she was your age." [Fade to black] [cue Apple Logo] (For my Lily) Sent from the iMore App

feeling remorse: paperwhite,
fire hdx, nexus, galaxy, transformer
hoping for fresh air apologies to Bashō

I would take mine on vacation with my family in May, we are going to Disney World in Florida. We can use it pretty much all vacation long, on the plane, in the parks, in the hotel room at night. It would serve as a entertainment device, a camera, a video camera, a virtual tour guide, and even a communication means, via FaceTime. We have two 5 year olds and a 9 year old going with us, so they would get a TON of use out of it.

Remember now thy iPad, in the days of thy youth, while the evil days come not, nor the years draw nigh, when thou shalt say, I have no pleasure in them. -- Eccles. 12

For my joy and entertainment,
My sanctity, and cool,
I would use my iPad, like an unimagined tool.
Keeping the kids immersed in the retina display, but only certain days
And a means to view all of lifes everyday updates and the latest news of the day

I'd like to figure out a way to mount an iPad's camera to my telescope and use it to help a vision impaired child in my apartment complex. That's my verse.

I am not too old to learn. I can and will master technology. My life is being reinvented. And my iPad is the perfect device to partner me to these achievements. It can take me to another universe and it can connect me to those in my own universe. It offers knowledge at the tap of a finger. It can be the canvas upon which to create my own fantasy. It will take me back in time, it will be my record of what is happening right now and I can plan the future with it. Its beauty and simplicity will inspire my verse.

An extremely simple and extremely powerful tool...The iPad air will help illustrate my feelings - "shout out" - "Happy Birthday gift" for my sister.

"Success is no accident. It is hard work, perseverance, learning, studying, sacrifice and most of all, love of what you are doing or learning to do" Sent from the iMore App

http://t.co/qFLAGXEsQp If I had an iPad Air, I would visit Stanford University. My life's verse is... "Your time is limited, so don't waste it living someone else's life. Don't be trapped by dogma - which is living with the results of other people's thinking. Don't let the noise of other's opinions drown out your own inner voice. And most important, have the courage to follow your heart and intuition. They somehow already know what you truly want to become. Everything else is secondary." ~ Steve Jobs

Success is determined by our mind in life as it controls the things we want. Success is when we achieve our goals in life and being happy about it. Success is when we embrace our visions and dreams as they come from the heart and bring happiness when we achieve them. Success in life comes at a price like anything else you encounter struggles to attain it and lose some of the battles along the way. Success is when we inspire others in life to realize their full potential. Success in life is when you are able to exercise your freedom, privileges and choices to do the right thing even when the odds are against you. Success is when you are able to get up and start all over again when you fall in your struggles. Success is when one does something no other person has done.
Success is when you wake up and spend your day doing what you are passionate about. Success is when you maintain good communication with people you meet in your life. Success in life is when you lead by example or walk the talk. Success only comes to those who acknowledge their mistakes and have the courage to ask where they don't know. Success comes to those who take calculated risks to explore opportunities. Success comes to those who do not obsess about things beyond their control. Success comes to those who day dream visions because that's how good ideas are created. Success is about doing things that make you happy without worrying about what other people may think about you. Success comes to those who accept that change is inevitable and easily adapt when change happens. Success in life comes to those who watch their thoughts, words and actions.

Recording lifes moments by means of slo-mo videos with an iPad.

iMore staff doesn't count, but I figured I'd share mine anyway. This little verse has the benefit of being based on a true story. There once was a man from Nantucket
Who brought me Mac parts in a bucket
"Please fix it," he said,
"Without it, I'm dead
"And I cannot afford to just chuck it."

Well played sir! One if my faves! Sent from the iMore App

Not the most elegant, but if I won and iPad Air, I'd take it to the ambulance station where I work. Sometimes after a long day, with difficult calls, we are physically and emotionally exhausted. It would help to have an iPad to collapse into bed and escape into a movie for a brief respite. As for my verse? It's really more like two quotes taken from Dr. Alan D. Wolfelt that has meant a lot to me in my job and personal life. They go "Companioning is about respecting disorder and confusion; it is not about imposing order and logic" and "Companioning is about bearing witness to the struggles of others; it is not about judging or directing these struggles."

I think my voice has 3, or maybe 4 primary parts.
I'm using an iPad (soon to be 2 iPads) in the classroom when I teach; this usage is slowly evolving as I continue the experiment with different ways of using it, but feedback from the students is positive, and steadily more favorable. I've worked with a couple of my students to develop an iOS app, to demonstrate simulations related to my research to K-12 audiences. And I do things like play Lego Batman on the iPad with my 4.5-year-old son. :-) I do always keep my eyes open for educational apps for him too. Although at this age, he only gets very limited time with the iPad.

Nothing fancy: I'd give it to my grandmother so that I can FaceTime her. That's pretty magical to me.

That glass surface is my window of opportunity. When I peer through it, I see a vast assortment of possibilities. If it's magical, then I'm the magician. With it in my hands, I'm able to convert skeptics into believers. The people who have been fortunate enough to witness the wonders I have performed with that device have all lusted after it. Amazingly I have come across many who though it to be overrated until they were able to see some of the things I was able to do with it by tapping into the power of the amazingly spectacular apps that are available for it. Unfortunately, my last iPad was stolen and since that occurred, I have been longing to get another one. If I could win this, it would absolutely make my year. My Verse: If a picture is truly worth a thousand words, then picture my words... We are all poems Our lines are our lives Some short, some long Some considered to be Weak, some strong Being judged by masses To be right or wrong Some of blend in Others stick out amongst The rest For worst or for best Trials & test Failure & success Some of us cherished Others balled up & crumble to a mess To where its hard to make the lyrics Filled with wrinkles, rips & edges torn But you cannot break the spirit Some of us are crying Cant you hear it? Not fully appreciated Defined ourselves by comparing to others So our self-value has depreciated Others wept Cause noone cared enough look into our depths Settling for the external surface So we feel like we've defeated our purpose Others wondering nervous Our greatest fear is that we become fuel for the furnace Some of us are earnest, honorable & truthful While others are lies, fools of ridicule, appearing unfruitful The scums, bums & outcasts Slow to believe in us, but they doubt fast The frustration & misery because our present memory Not able outlast the imprint of our past Some violent with anguish Foul & vulgar language Many unable to consent out content Cause they cant accept our strangeness Some of us well known & common Others long lost & forgotten Some ripe with potiental Others are going rotten Full of plans plottin Oh the vanity of humanity Stop the insanity One stroke of the pen, and the poem ends instantly Some us are injured & smitten But we're still being spitten Live-wires & fighters not quite ready to say "Good riddens!" Following ambitions, some with hidden intentions Some so common place, our face value has diminished Some are works that are finished, others still being written Some seek solitude, others craving attention Followers & leaders Some desire readers in order to convert believers There are those who oppose foes & deceivers Liars & cheaters Some fathering their children Others are deadbeaters Anorexic & overeaters Haters & lovers Some exposed, others undercover Itty bitty skinny minis to fat buttered flubbers Toting medal, plastic, elastic or rubber Minds of every kind, Some think outside one box only to be confined by another Sent from the iMore App

May your organs fail before your dreams fail you.

? not sure what to think of that one :/

To become a better student, inside and class and outside the class. Do more for my family. Do more for my friends. Communicate better with family. Being so far from home all the time can get a little tough and keeping in touch is so important to my family and myself.

My verse is the black...and I aim to misbehave. Sent from the iMore App

About 4 years ago I was sent to Portland Oregon for work. I extended my stay in order to explore Portland on my own dime. Portland was an amazing place that I wanted to see more of. Well that Friday I decided I was going to make the drive up to Washington in my rental car and attempt to make the summit of Mt.St.Helens instead of just exploring more of downtown Portland, after all I already live an hour away from a large city (Chicago). That night I went to the local REI store and rented the equipment I thought I would need. Picked up some grub for the hike and purchased a warmer jacket (it was February and mt.st.helens would definitely be covered in snow and ice). The next morning I made the drive up to Washington, it took me a good 9 hours to reach the summit and make it back to the car, I saw a handful of other hikers, most of which had turned back due to worsening conditions. (Which eventually let up). For photos all I had was my old LG chocolate phone and an 8 mp sony point and shoot camera. I was so proud of what I had accomplished alone and far away from home. I swore that one day I would return and bring my son who at the time was still not even a year old. After rushing back to Portland to return my equipment in time I ended up sleeping in my rental car at the airport, well about 3 hours of sleep since work called me regarding issues back at the office. I jumped on my plane and returned to Chicago the next day. Well the first thing I did when I got home was upload my photos on my Mac. Imagine my horror when I found I had the quality of the photos from my camera set to "e-mail" mode, the lowest setting possible and therefore tiny photos that I could never print or enlarge. So many photos, and none worth a damn. Anyway, this is why I'd love an iPad air. I will take it with me and it will take photos of me and my son. I will reach the summit again and maybe, just maybe, I'll be able to FaceTime our closest friends and family while were at the summit. I will have quality photos to share with friends, and they'll be so much better because I'll have my son with me.

I take it to my Acupuncture Study Abroad trip to China in Winter 2014.I would use it to record memories of the patients I treat, the foreign friends I make, the food, the culture and the scenery. Like the Taoist Sage Lao Tzu said " A Journey of a Thousand Miles begins with a Single Step."

Beneath the deep
To understand the song of a dolphin
To hear its voice and be part of a secret society
Moving effortlessly, singing joyfully, reaching out to touch all that is good and trusting
That which is the sound of the dolphins voice
Awakening to the realization I understand the cryptic voice of the dolphin gliding through my dreams.
This is my verse.

I will improve health care to disabled patients with technology

To not only embrace the present technology, but to savour the fact that we are living the science-fiction life of those who preceded us and crafting the very foundations of technologies those that will follow us. (in other words, designing apps;)

It is all about the joy of watching a nearly 2 year old grandchild
Who is in awe and wonder when hitting the home button
And laughs joyously as she finally finds her favorite app
And begins to make her own music with the buttons
Or clicks the monkey and lets him play the song
One day she will be writing her own verses
Creating her own beautiful music
Or just learning exactly why
If you have three apples and take one away
There are two
IPad

I look down in my lap and sadness falls over me. My song is as empty as my lap for it is without the solace of the connectedness to the world that the iPad air would bring me. With one I wouldn't just have a full lap - I'd have a full world.

I would take it everywhere i go..... Work, the beach, the mountains... It will be jailboken for sure and free to soar!

I am an aspiring coder stuck inside a teenager's body I think in binary; I speak through technology and all the wonderful things it does for us; I live for the future. To create, to share, to inspire, to enlighten - all common goals of the vast population of planet Earth. We live to satisfy and enrich each other's lives, and I want to be able to do that. Winning this iPad would send me on an unrivaled journey through some adolescent version of The Matrix, flying into the future - and all the tools I need to succeed are right in front of me. All I have to do is believe that no matter what my parents or my teachers or my friends say or how many times I am bullied and verbally abused because of my hobbies and personal goals, I am destined for absolute greatness. All I have to do is reach out and usher it in. Thank you for creating this contest and giving people like me a chance.

I would research places all across the world on my ipad and then take pictures and videos of those actual places.

my verse would using my brand new iPad air to take notes and help me with homework and helping me get throughout college. the iPad air would be a great help and I would be indebted to the iMore team forever for helping me with school:)

I'd like to say how I would use one to do all kinds of amazing and wonderful things, but that'd just end up being a lie. I'd use one to help run my business, mostly with invoicing. When not doing that I'd use some of it's other useful features, namely browsing online and playing candy crush. Truthfully, that's what it would be used most for, browsing online and playing candy crush.

I've traveled the world a thousand times in my mind, through my dreams both day and night. Walked the Great Wall, Climbed Mt. Everest and Felt the Hot sand under my toes in Florida. Im working to release this inner character thats seen all these places and done all these things. Like Aladdin had a magic carpet i'd wanna have my magic iPad to take me as far as my eyes can see. Through the Safari, I take notes make reminders and set dates on a calendar for all the places i wanna see and Contacts i've made on the way, and while I'm at it Find a friend i haven't seen. My verse is simple, to experience life and capture every moment my dreams become reality.

No other gadget or tablet can beat ipad. Ipad is world's most selling gadget. I love to have one on my epmty sad hands

I would take it with me and trek the entire amazon taking pictures and video of everything along the way

"Don't give it to me, I've already got one, you see." "He said he's already got one!"
"Are you sure you've already got one?!" "Oh, yes, it's very nice-a (I told them I've already got one! [LOL!])" "Well, um, can we come over and have a look?" "Of course not! You are nerdy-types-a!" "Well, what are you, then?" "I'm a geek! Why do you think I'm 'angin' 'round here, you silly blogger!" "What are you doing in the comments section?" "Mind your own business!" "If you don't join the contest, we shall enter you by force!.....Wait, WRONG SKETCH!...."

I would take a new iPad Air with me to school, work and home, keeping connected to everything that's going on, taking all of my notes, writing up my assignments, sharing photos with my grandparents, providing relaxation during a busy day of school or work, and more. My iPad is the device I reach to most of the time, and it's the device that's the best compromise between my MacBook Pro and iPhone. It just does what I need it to, no matter what. I can almost always bring it with me, too! An iPad Air would make all of this even better.

Writing is an endeavor filled with profound joy even while it holds in itself tremendous pain. Penning down narratives that move and invoke people to act is what I do. The written word exists in abundance through books and miscellany, and the World Wide Web. How much more can someone gain from having a tablet, especially one that is as sublime as the iPad Air. The lightness would aid my numerous wanderings, my explorations into the uncharted territories, to open my eyes to report. Life yields much unmined treasures that shine in the dark, and the world would benefit from such discourse. But ultimately the Word of the Lord has the answers, as it will stay on the home screen, like a beacon. The musical capabilities as are the photo editing tools and movie editing tools are crucial, much like tools in a mechanic's tool box. They fix things and negotiate difficult processes. I will need an IPad Air, to achieve, to conquer and to open up. Without it I will be all the poorer.

We live in a fast-paced world where everyone is so busy. Busy with doing homework for school, completing projects at work or doing chores at home. It's like there's always something you need to do wherever you are that it can be overwhelming at times. The world is moving so fast around us that it's so easy to forget to appreciate the simple joys of life.
Whether it's singing along your favorite song playing on the radio, a bubble bath, sleeping in, petting your dog, or watching the sunset. And maybe even finding money in your pockets you didn't know you had. And there's looking at the beautiful stars at night, seeing funny-shaped clouds in the sky, and showering in the rain.
It's important that from time to time we step back and take a moment to appreciate the little things in our lives that makes it more worthwhile.
What's my verse in life you ask? Simple. It's to see and make others smile.

It's neither here nor there, the iPad air. It's always here, it's always there. I'm always here, I'd love to be there (with my iPad Air). Since I'm always here and can't be there, an iPad Air will take me there. iPad Air will take me there, show me the world from here. I'll learn, I'll grow, I'll wonder where, but the iPad Air will take me there! Sent from the iMore App

My verse isn't really for me... more for my wife and kids at home. I work in the oilfield as a well-site geologist. I am away from home almost all of the time. As of tonight I haven't seen my family in a little over two weeks and counting... this hitch could go as long as a month or so. so my verse would be to give my wife and kids the iPad, so we could FaceTime each other every day or so. maybe then my kids could tell me to my face how their day at school was, or my wife's day at work.... it would be nice!

I am not good at writing.
But I will take the iPad Air together with me on my next trip to the ISS and will make a film of your homes from far above.

I would take my iPad to every corner of the earth as I discover myself and the world around me. My verse is: "Love is a creator of things. Love is a dedication to things. Love is life."

I would take my iPad with that awesome tripod in the ad and stand on 34th Street during a Manhattanhenge and click that beautiful sunset. Beauty in the hands of the iPad holder sounds a lil crappy but i am no poet. Guess the photo will have to do the talking

My verse is what takes us forward, what takes us to go over the hills and look at stars and strive for go there.

Long hours,
No longer filled with sleep.
Heavy eyelids interrupt me from scanning
the pages and pages of medical textbooks
Is this what becoming a doctor is? It's morning,
Time to begin my journey to the school of healing
The straps of the bag,
Etch themselves into my shoulders
But I don't give up
The trek must go on
Is this what becoming a doctor is? For this is my verse,
The path I have chosen
Not an easy one,
But what's the fun without the struggle.
A wise man once said ' there's a highway to hell, but only a staircase to heaven'.
The harder the struggle, the sweeter the prize. (Disclaimer: the first 2 lines were obtained from elsewhere as an inspiration, rest is original)

There once was a man, Steve Jobs
Who drove all the people to mobs.
For an iPhone or iPad,
he sent everyone mad!
One for me iMore? Good Gods!!

would use to play with my little boy for games.

Whether I'm a teacher, or a student.
Whether I'm a doctor, or an engineer.
Whether I'm a businessman, or an astronaut. No matter what I do in everyday life, it's the device that makes it just that much better.
It's as powerful as my ambitions, and as versatile as myself.
For work. For play. For anywhere in between.
iPad.

Life
Such a precious thing
Yet so many take it for granted
We are filled with fear
The fear of our past experiences coming back to haunt us
The fear of what will become of our future ones
Perhaps we have laid our eyes upon so much pain
That we are blinded to what's ahead
But what if we were to freeze time?
And just for a moment, our cluttered minds were reborn?
What if just for a little while we had no worries or biased thoughts
What if our minds were cleared like an email inbox full of hateful words
What if our minds were refreshed like a frozen page on safari?
And that childhood innocence we can barely remember is restored?
Because when you stop and look around with a new pair of eyes
You might just come to the realization that maybe this world isn't so awful after all
In fact, maybe it's just a little bit brilliant

My verse will be to create an save lives, as a doctor the ipad will be perfect alongside surgerys and birth. I would make the ipad part of the process of saving and making life.

http://www.youtube.com/watch?feature=player_detailpage&v=fn-fCnhL_Fg In case you cannot see the video, here is the text: It supplemented my vision when mine was insufficient. And helped me make connections with a world that had formerly passed me by. It gave me a voice when mine was too small. And a front row seat to better hear all of the insightful and stimulating voices that would have otherwise, remained beyond my hearing. It gave me a library of books with text that could be enlarged, and accommodate my vision. It even reads to me, making all of the world's treasure of knowledge something I can access. And when it is my turn to contribute a verse, I can do so, whatever the time, wherever I happen to be. My verse would be to pass on this life-enhancing gift to my mother who is also blind. Moving her from a Windows PC to an iPad may not change the world, but it would change her world. And that is a verse worth contributing.

It takes a bold person to go around the world to incredible places to meet amazing people. It takes a bold device to travel around the globe and help spark wonder and enjoyment wherever it goes. The iPad Air is absolutely perfect for traveling around the globe to exotic grasslands and water falls, and even to the deep shadow of space. An iPad wasn't meant to be kept sitting on a desk. It was built to inspire adventure and creation. It was meant to travel everywhere and be an essential part of anyone's life. The iPad Air, like many other places in this world, is a work of beauty itself. That is my verse. Sent from the iMore App

rather than make up some poem or haiku. I am a dad in the middle of a divorce. My kids all have Ipads. I do not, because I do for them first and foremost. It would just be really cool to be able to see what they see, feel what they feel, when I'm not there. A 17 year old daughter and twin 7 year old boys. My kids are my life, they hold my heart, they are my moral compass. An Ipad will enhance my life...because its another avenue that I can share in theirs.....That is my verse.

Saturday:
- My son hits a double down the right field line on a hard grounder...recorded and broadcast to my wife who wasn't able to make the game using the iScore app
Sunday:
- Matthew 6:33 is the verse we are reading in church using the Bible +1 app
Monday morning:
- You're a candle in the sun...that sh*t don't even out. Verse spit by Jay-Z as I listen to iTunes Radio on the train
Monday afternoon:
- Sharing a presentation with colleagues in London using the GoToMeeting app My verse is endless...my verse is made possible with an iPad

To sort email, read email and write email. That is my verse.

My verse is to fulfill my responsibilities, that is to be a father to my children, a husband to my wife, a son to my parents, a brother to my sisters, a true friend to my friends, and to treat others as I wish to be treated.

My 3 yr old granddaughter has been diagnosed with autism, yet she responds amazingly to our iPads. I would that she have her own.

To get rid of my nexus 7, for ever and ever....

To video the equinox at Chichen Itza, history is not a destination, it's a road we constantly travel on.

New England in autumn. Because nothing gold can stay (Robert Frost). http://i.telegraph.co.uk/multimedia/archive/02361/trip-pond_2361255b.jpg

I was trying really hard to come up with a verse.
But I missed something to come up with a verse.
I was thinking about what I was missing to come up with a verse.
And then it hit me what I was missing to come up with a verse. It is, it is, it is an iPad Air I am missing to come up with a verse! So maybe I can win this iPad Air so I can send you guys a verse!

"Here's to the crazy ones. The misfits. The rebels. The troublemakers. The round pegs in the square holes. The ones who see things differently. They're not fond of rules. And they have no respect for the status quo. You can quote them, disagree with them, glorify or vilify them. About the only thing you can't do is ignore them. Because they change things. They push the human race forward. And while some may see them as the crazy ones, we see genius. Because the people who are crazy enough to think they can change the world, are the ones who do." I would love to own a new ipad air to change my world :D

the ipad air will help create a family journal recording video of important events, expressing the random thoughts in our head, and songs that express how we feel and what we believe in. something we can look back on many years from now that will make us laugh and cry

iPad. A world of possibilities.

My verse would be helping my Mom with her original iPad as she shows of photos of Family, Friends, and her garden.

A new i-pad air?
Someone stole my old one and that wasn't fair !

Left job, now I'm staying home. 4 kids. 2 in school, 2 home all day, loving, playing, learning, having fun. Online classes at the local college, been 15 years, but I'm doing well on a 6-year-old-beat-up laptop, homework at 2 am. Husband says it's all good, but suddenly he wants a 50's wife, dinner on the table, when he walks in the door. Oh no, nope, not gonna happen. He gets the pic when I make him babysit one Saturday for 4 hours. So, looking for a boost, something to take some weight off, or a supplement. Oh, look... An apple....

To the couch to crush some candy!

An iPad to laugh,an iPad for scarf,and iPad with grace,i'll always amaze.

What will My Verse be?
The goal of the Human Race is to effect the lives of others. We are built to help, designed to combat struggles together. We are here to excel, to launch forward, to be better than our ancestors. We are not creatures of war, we are not hardwired to act a certain way.
We are not made to be solitary. We are not built to be alone, but to work as one.
My verse will not be overlooked, it will not be cast aside or ignored. My Verse will live on. My Verse will be told down through the ages, My Verse will be in history books and in classrooms. My Verse will be known throughout the expansive continents of the world.
My Verse will be unforgettable.
Not for me though.
My Verse is for the next generation. My Verse will be what parents have their children strive to be. My Verse is to have all that are writing their Verses now, and in the future to be better than we could have ever imagined. My Verse is not about me, it is about the outcome of the Human Race. My Verse is all of us.

I'd take my iPad into the local pet shelter and post videos off all the wonderful pets just waiting for a home. Sometimes all it takes is to be able to see into the eyes of a dog, cat, horse or other animal to be able to understand how much it wants and needs you to give it a home.

I would give the iPad Air to my wife who is a Speech Language Pathologist in an elementary school. The iPad one of the greatest ways to have the students communicate sometimes for the first time in their lives. So not a verse for me but a life verse for a student.

My verse comes from mine and my wife's legacy, our children and their children and their children's children. My wife and I have musical backgrounds and now our youngest son has decided he wants to create videos and music to share with others. That's what our verse will be, encouraging a new generation of the creative mind. As Robin says in the commercial and the movie, these are what we stay alive for!

The freedom to see the world, to speak to the world, to tell them my thoughts, and to hear theirs, from wherever I am, or will be.

On a dreary, dank, damp morning commuting on the London tube, the monotony is broken. The still, temporary calm of a delayed train is interrupted. The dullest of dull thoughts are subsumed by a sudden interest. An iPad is being used.

Oh, the endless possibilities...
...nah, let me just look at weird pix of cats on some obscure blogs!

Over my lifetime I have been across the United States and Canada on my Motorcycle but I would like to do it all over again this time using my iPad Air that I would win from iMore and even have the iMore logo painted on the hard bags of my bike to let everyone know who is responsible. That would be my Verse!!

I quit my job to finally WWOOF in France for a few months. I'm trying to figure out a way to keep track of all my movements and thoughts in a sort of digital journal, but I'm very hesitant to bring my Macbook. I'd love to keep track and memorialize this verse in my life with an iPad, I just can't afford the trip and an iPad. Winning this contest would really put the icing on the cake for me during this trip (then I'll have my cake and eat it too) (sorry, couldn't help it). Thanks!

I would donate it to the Witness program developed by Peter Gabriel and others to document social and political abuse throughout the world

Civil rights, civil war, hood rat, crack whore. Carefree, nightclub, closet drunk, bathtub. Outcast, weirdo, stepchild, freakshow. Black girl, bad hair, broad nose, cold stare. Tap shoes, broadway, tuxedo, holiday. Creative black, love song, stupid words, erased song. Breast cancer, common cold, HIV, lost hope. Overweight, self-esteem, misfit, broken dream. Fish tank, small bowl, closed mind, dark hold. Street fight, bloody war, instigators, third floor. Gun shots, orange house, dead man walking with a dirty mouth. Spoiled milk, stale bread, welfare, bubonic plague. Promiscuous child, broken dream, STD, quarantine. Heroin user, coke head, final chapter, deathbed. White house, Jim Crow, dirty lies, my regards. That maybe, even like Janelle Monae, I can be the next voice of my generation. That I can construct some sort of change that actually matters. Through music. Through expression. Through lifestyle. Through art. Through Apple.

I would use it as my school companion as I enter my journey back into school after being a stay at home mom for so long.

Realistically I'd get the best damn case I could for it and diving we would go. Sure I'd use it for everything and everywhere but that's where I want to take it the most.

Watched a movie on the iPad mini with retina and I could see ever nuance of Joaquin Phoenix's face as he got to know someone new in the movie 'Her'. While it might be nice to have Siri speak naturally and sound as sultry as Scarlett Johansson, I'm good with where we are right now. The mini is the brush I choose to paint the strokes upon the canvas that is my mind and perceptions how I view things shaping much of how I feel about life from day to day. So as I type this comment while listening to a podcast I smile. Knowing that every little part of what it is to own an iPad is another small pinpoint of color and light and feeling expressed in my world. Prompting me to ask: What's in yours?

To show the world that my dog and me,
Don't just sit around and scratch our fleas. To show the world my mind and Flair,
I have a need for an Ipad Air. To show the world that I am hip,
When will my gift card for the Ipad Air ship? Laptop, Iphone, Ipad, hard drive, cases, covers, stands-no matter what I get,
My Apple addiction is NEVER met. Oh no, I'm starting to feel the urge, need, and desire,
Of another Apple product that I must acquire! Please, please Imore, help me snuff out this obsession,
and help me get this much needed possession.

I would work on my script for my comic while taking care of the kids also would teach them stop motion with it Sent from the iMore App

Second verse,
Same as the first.
--H.8th

I would work on it in the car and it would make me a star. I would work on it from the mountain top and I would never stop. I would teach my little ones math with it. I want my iPad Air.

I'm going off to college in just a few months. I'm grateful that I was accepted into Georgia Tech and I hope that I'll be going there this fall. Ever since I was little I have always loved computers. And, when I was on a computer, I would always be creating something. For example, if I wasn't on Microsoft Paint, I would load up a few CD-ROM and build my own Sea World or make some wacky painting with a Disney Painting program. As I grew older the next step I took was create websites and stuff. I would use Photoshop-like programs and basic CSS and HTML code to create my own space on the internet. I am blessed that I currently attend an institution that introduced to me and allows me to learn programming. Through this programming course, I learned what I wanted to study in college: Computer Science. I feel that programming allows me to create virtually anything I want. When I'm coding, although it's stressful at times, I feel accomplished when I get what I need done. I have wanted for some time now to create iOS Apps, specifically iPad apps. In June of last year I began learning Objective C so that can make iOS apps. With this iPad I would be able to test my creations and download other apps that could inspire with me new ideas. I also think that this iPad will allow me to be more productive and help me out in college. I would like to have a tablet as my tool for taking notes in class and quick access to whatever I need.

Mine is very original...A Sailor's Lullaby to his daughter
Go to sleep
My little girlfriend
Daddy's here to tuck you in
I've been gone for quite sometime
But now I'm here
Oh I've missed that pretty little smile
And I'll stay with you for a while
Don't you know
That I'll love you
Forever more

O maker me, O maker mine
How do you define this design?
Is it the simple sophistication
Of the doctored image
Or the intricate barrenness
Of the collective individuality?
Does one really have to fear
Or not fear the end of living?
Can we not view the transcendence
With a provocative curiosity?
Must we blindly place our allegiance
Or are we allowed to open our eyes
And see life for what it really is?
Some see the beauty of the light
Some see the beauty of the night
Few see the beauty of the twine
And in it's contradictory nature
Life is a blessing to the walking dead
Unaware of the precious instant
Because few will ever realize
Perception is everything
And reality
Is the aftershock Sent from the iMore App

Finding an outlet for creativity, productivity, research, and entertainment in one convenient package—that's what my verse will be—if I win this iPad. Make it real.

Like the winds of time, challenges are abound
Those are very few and far will withstand
Here we are...

From time to time I see a smile, that lights a hundred million miles, from way out at sea, from France to Napoli, I think back and remember that time i did see, felt like forever it was could it be, like technology is here and for all eternity.

I am a lover of apple products, I really wanted to have a iPad Air.. in my country, for an iPad Air is very expensive if premises were exchanged my iPhone 3Gs is not enough money to add to it .. for me the iPad Air is a tablet with Feature future technology, advanced tablet, and the tablet of my dreams .. I really want to have it, give me a iPad Air ❤

I would use this as a notebook replacement and do office work tasks on it. I would also jam on iTunes Radio. Cheers

I wish I can win the contest from iMore at least once.

Making beautiful wedding films using iphones and imovie.

Here are mine. 1. On the iPhone, I tended to draw with my thumb. Whereas the moment I got to the iPad, I found myself using every finger. My wife is a happy woman ;) 2. It's the combination of marrying a beautiful woman three decades younger and my iPad that keeps me young. 3. iPad user - 'My wife is cheating on me'
Siri - 'I found 10 bars close to you'
<insert list of 10 bars>
Your very own personal assistant, now on a bigger screen. :)

Helping people in need with my fundraising efforts for charities is what I would do with an iPad Air. #myverse

My verse is to help humanity. To help those in need whenever they need it. I am there daytime, nighttime, weekends, holidays, winter, summer, spring, fall. When you feel ill, when you fall down the stairs, when your house is on fire, I will be there to help you out. When your mom is sick or your dad is hurt, or your grandpa has fallen on the snowy driveway, I will be there. A phone and 3 digits and I will be there as quickly as possible to help you or anyone who needs it. I will make sure to bring others who will be there as well to help you out. When you are having the worst day of your life, I will be there to help you out. Physically, Emotionally, whatever you need. I will be there to help you out.

My verse will be told with my air as I chronicle my family and our adventures. I don't need a Great Wall, temple or a statue to fill my verses in the song of life. Living is loving.

My verse would be a gift to my daughter. She is an amazing 11 yr old who loves horseback riding. She has me video her lessons with her iPhone and on the way home, she creates her imovies. She is very creative and the iPad would be an awesome surprise, especially if her story won it without her knowing I submitted it!
Thank you for the chance!

My verse is simple: to help others write theirs.

My cat is not famous on the internet. If I am selected.. I'm hoping that will change.

I am the copilot. I sit on the right.
It's up to me to be quick and bright;
I never talk back for I have regrets,
But I have to remember what the Captain forgets. -Keith Murray
I am the copilot, and the iPad helps me remember but what the pilot forgets!

I don't have an iPad, and no wonder, but if I did, I'd take it to the land down under!

It's time to attach an iPad to a rolling tripod while shooting video and catching everyone's expression as they notice the iPad rolling by. Let me be that man.

As a Doctor i would use it to help the ill poor people who cant affored a hospital expenses thanks to the medical apps...

Sometimes I lay awake at night wondering if I chose the right path in life. It unsettles me, but it allows me to reflect on the things that I have done to get where I am. Hard work. Sacrifice. A goal. A new goal. It's been a constant trudge through the unknown to get to this point in my life. But I've gotten this far, so why not go farther...In the words of the late great Steve Jobs, "Stay hungry. Stay foolish."

Just being out in the mountains and alone time. Taking images, video and audio of quiet places for others

Use my iPad to preach the gospel! Just works!

id use it to teach my toddler son, how to do math

My best friend and I who have been best friends since we were in daycare have made a bucket list. Among all the things we wanted to do the main bucket wish is going to see the Vancouver Canucks play at every NHL Arena. (We are big Canucks Fans) Yup that's right all 30 Arenas. So far we have accomplished 6 and we only started two years ago! So, if I won, I would take this new iPad Air and document all our travels to these arenas. I hope I win, Much nicer to look at all the pictures on an iPad vs my iPhone!!!

The iPad was designed for the creative. The out of the box thinkers and the innovators. It was made to bring joy and excitement to those who use it. It was made to inspire and to last. Everywhere one goes their iPad is at their side, and when inspiration strikes, the iPad makes it magical. Whether one is simply going around the block, or around the world, the iPad is always with them, ready to help take those inspirations and make them into a work of art. It is one of the most beautiful devices in our time, and it compliments anything it does. It's almost a beautiful as the world that surrounds it. Sent from the iMore App

Oh Captain, my Captain...

I'm a medical student studying the human body. While nothing can take the place of good old fashioned hard work and dedication, the ability to access the vast stores of knowledge available will further my learning. What better way to effect change than to combine mans greatest creation with nature's?

I would take the iPad to different places since I like to travel. I am from India and studying in US and I would click pictures expressing the stark contrast in the cultures yet they are the same.
My verse:
"We divided the world into countries and cultures, languages and religions. Yet there is something that connects us, that binds us and brings us together. Its the shear humanity. We all have the same heart, that tries to bring a smile to a child, the same soul, that wants to fulfill the dreams it sees. We all want to live and breath, feeling warmth, companionship and life bringing joy to everyone around us.
Life is to live and die with a smile on the face and a open heart."

I have been lending my friend iPad all the time.. It's MORE convenient then my heavy laptop like reading PDF files and MORE hmm about verse I have nothing on it but here's one from bible :3
No man also seweth a piece of new cloth on an old garment: else the new piece that filled it up taketh away from the old, and the rent is made worse.

The relevance of the iPad today reaches further than the scope of technology — it is about emotion. It is a tool of experience and experience is the foundation of all life. As an explorer my experiences are reflected on the memories of the places I have visited and the lives I have touched, no matter how slightly; I have changed them and been changed in return. That passion is the kind of silent emotion that has the power to move mountains and shape the course of history, for that is the true verse that we all write in every word and every gesture of our existence. From the cradle of humanity in wild Africa to the golden age of civilization carved on the lingering pyramids of Giza in Egypt, the iPad shall be my companion. A vehicle of memory that will echo my journey, my experience and my life for future generations through the power of photography, video and the written word. In the end that is what gives shape to emotion and it is eternal. Sent from the iMore App

iPad AIR / An Imaginable Role *** Going to go to Rotorua a.k.a NewZealand's Leisure ! Can't hold the tense of fulfilling one of my BUCKETLIST - which is - SKYDIVING !
Being able to experience it live is AMAZING , however,
Being able to capture the moment by using iPad AIR is ridiculously AWESOME !
Living through, seeing through My Skydive Moment, Past of Memories, Story of My Life.. Having a Dream, by means a Resolution,
Dare to Dream, leave you Hope,
Let Hope Count my Year,
Within iPad in my Palms,
Everday will be My Year,
My Moment to Capture.. *Hope iMore lend me a BucketLister^

What we need for our happiness is often close at hand, if we knew but how to seek for it. NATHANIEL HAWTHORNE
...Well, I'm seeking! Let's hope it IS close at hand!

I volunteer at a nursing home and currently use my phone to take fun pictures and videos of the residents. It brings a smile to their faces and sometimes laughter. I think the bigger screen would be great so they could see the videos and pictures easier.

In the very pure nature of africa,capture every moment
With my ipad , those rare animals in our parks,
Those shining savanah, ohh everything with my ipad, in the heart of africa no single moment can escape my ipad, i have the whole world in my hand, unite my people using words,actions
With my ipad

My retina may have let me down, but my iPad Air will not. It will be my eyes to this amazing world.

Picture me playing music, videos, and singing with my two daughters. One of which is deaf.

Well, let's do it in French: (to the iPad): «Dès que je vous visse, vous me plûtes et m'épatâtes!» :D

My 4 and 6 year old LOVE my ipad to make "movies" of themselves and to make little plays using their toys as actors. My verse would be "Create memories that will last a lifetime one scene at a time."

My father in law has only shaken my hand once. The time had come for me to meet the father of my girlfriend (now wife). I had paid for a trip to Vegas for the two of us and it just so happened her parents were in the area at the same time as our visit. Naturally there simply had to be a meeting. A couple of weeks prior to the trip, she told me that in meeting her parents she has a single request... Make sure to not give her father a "wussy" handshake. Apparently a former boyfriend, upon meeting her father, had given him a handshake having more resemblance to a dead fish than a man's hand. From that day forward, her father could not speak of, or be around the boyfriend without mentioning the boy's inability to give an appropriate handshake. Naturally I did not wish for history to repeat itself. I immediately began hand excercises. I purchased a pinch strengthener and added in a daily routine of finger stretches. I studied the art of handshaking and practiced on everyone I met for the next two weeks. By the time we landed in Vegas I was confident that I had mastered the art of the firm handshake. The day of the meeting arrived. Her parents picked us up from the hotel. The two of is sat in the backseat while her father drove us to where we would be having lunch. And I finally got my first look at the man who would later become my father-in-law. He was not particulary tall but it seems to me that he was as broad as two average men. He had a very full mustache that curled up into handle bars, so thick and large you could not see his mouth. When he spoke, besides his voice, you could only tell he was speaking by how his mustache wiggled. As a man who has never been able to grow a mustache, I immediately felt inadequate. It was a quite ride and so my girlfriend and I forced the conversation by making small talk on the way to lunch about the weather and the activities we had been doing during our trip. Her father was a quiet man, which was a bit unnerving. I knew from my girlfriend that her father had grown up on a farm, spending his youth plowing fields. I also knew he had spent the majority of his life as a fire fighter. The man had literally run into burning buildings for a living. With a sigh of relief, we arrived at a local Vegas buffet. We all exited the vehicle. We walked towards each other, I was mentally preparing myself for what I knew was bound to come. This was the moment I had practiced and prepared for during the last two weeks. It all seemed to happen in slow-motion and he offered me his hand. I took a deep breath, mentally prepared myself by recalling all I had learned about handshakes. Flexing my hand twice before extending my hand in return, I then grabbed his hand in a vice grip a crocodile would have be proud of. He immediately says, in very flat and even tone, "you're breaking my hand." My assumption in hearing was that he was mocking me, so I redouble my efforts and squeezed again, putting all my heart and strength into the effort. Once again the same words are spoken, however this time the tone resembled that more of a little girl than a fire fighter. "You're breaking my hand!" Suddenly I realized that this was not a joke and he was seriously in pain. I immediately released his hand and apologized. Little was spoken between us for the rest of the day. After lunch we walked around the casino shops during which I later find out from my girlfriend's mother that the day before her father had fallen on his hand. Being a stubborn man, he had refused to go to the hospital or to have anyone to look at it, basically just shaking off the fall. Not a big deal, especially for a man who ran into burning buildings for a living. That is, not a big deal until his daughter's new boyfriend decided to show him how firm his handshake was. He has never spoken to me about that day. Since then I have married his daughter and he has never spoken an ill word towards me. Neither has he ever offered me his hand again. And to be honest, I am a little fearful of the reaction to offer him mine. I would like to win the iPad Air as gift to this man in hopes that it will motivate an initiation of a handshake and a chance to redo the smallest big mistake of my life. My verse A firm, hearty handshake gives a good first impression, and you'll never be forgiven if you don't live up to it.--
P.J. O'Rourke

Currently, I have the iPad mini with data. It goes everywhere with me. One day I was running late and walked out of the house without it. An acquaintance noticed and said they have never seen me without my iPad.
It's time for an upgrade and an iPad Air would fit the bill.

I help underprivileged children at a private boarding school. Almost every one of the kids were sexually abused when they were younger. I would use the iPad to enrich children's lives with the educational Apps and fun interactive games. Having a computer is great but seeing how the children respond to a bigger touchscreen device is amazing. Touch is absolutely the future for this upcoming generation and being an apple fanboy is like to see apple be the standard at the school. Sent from the iMore App

With My Daughters' imaginations, We can go Anywhere
Thanks to our brand new IPAD Air

Mind for imagination
Tools for hands to design
I am God

A developer device?
A tool that brings my ideas to the world?
A way to provide for my family? All of them are true.

Dreams are bigger than your bedroom. Take your dreams with you, wherever you go. Let the dreamer inside triumph. Transform your world. Inspire future dreamers.

To have and to hold would be a gift I cannot behold upon myself till the end and be true to thee!
anger_family @yahoo dot com

I'd love to say I'd use it for monitoring surf while in Fiji, or keeping a journal while on an Alaskan cruise, or even navigating the Tokyo subways BUT in actuality I would end up using it to take, store, retouch, and share photos and video of my daughter, the love of my life...and I think that is a completely worthwhile endeavor. I'd be very grateful if you picked me.

Non, rien de rien
Non, je ne regrette rien! Brings to tears to my eyes every time, because Piaf clearly regretted some things in her life, but she found love and all was right with the world!

What can't you do with an iPad? ^ This is my verse :)

It may not seem like such an amazing place to take an iPad, but I would bring it into my classrooms an lecture halls. I am studying Computer Engineering because it is my passion and I want to be able to solve the world'a current and future problems using computers. That is my verse, and I believe an iPad I the pen I would write it with.

born into the black and white world
hearing angst world wide
colors captured in a box
then words, numbers contained
industrial design, quality engineered
tools sized down
cordless, disks, cellular, tactile
iDevice
beauty #my_verse

I would carry it around in my and film different events in my life over the next year, something daily, until I get a new iPad next product cycle and everything could begin again.

My verse would be to record everything I see down and archive everything I would do.

The 3rd gen iPad, it's a treat
The 4th gen iPad, it's a beast
But I will bet a silk pajama
The iPad Air's a kickass mama (ala The One-l lama by Ogden Nash)

Don't try to always acquire more and more... What you lack, seek it in what you already have !

Basically to fulfill the pupose its creation.That's to come as an undefeatable conquerer for the extreme gaming, texting, watching movies and never ending apps list. To in simpler terms squeeze every drop of its performance in utility and have a mind bogling experience............
so...................have extreme fun................extreme ipad air.........................

My kids are my verses. If I've left them with a passion to learn, the ability to dream, the drive to reach for the stars, and the peace found w/ loved ones, those are verses worth leaving. An iPad would fit into the mix by providing opportunity to do activities together around the house and on the go. Reading books, playing games, taking pictures, making art, etc.

An iPad air to replace my ipad 2 would be fantastic!

Blinking cursors make the present pregnant with futures folding out inside some kind of magic door. The screen, a magic mirror. Children get to know and remember their grandparents across gulfs of time and space. The horror and beauty of the world gets reflected back to us in pictures; a war, a wedding, catching a wave on some far away beach. And I type my verse into the universe, but maybe just for me to see.

Born of sin...
Of wretched kin.
But dared to dream…
A hallow scream. Beaten, shattered, and abused…
But my soul escaped without a bruise.
Always praying, without cease…
My only dream, a dream of peace. Until one day, my hope's rejoice…
God did hear my feeble voice.
He sent two angels in a hurry…
To deliver me from worry. Two shining lights that set me free...
And granted me a long reprieve.
Now I know, though once deferred…
My cry did not escape unheard. Now I look back upon past strife…
To those who hate, but gave me life.
I hope they too can one day see…
Just how great this life can be. For two angels did care to bother…
Thank you for my adoptive mother and father. -Jordan

My verse is being able to make my classroom even more epic, even more vibrant, even more poetic. As an English teacher, I'm given the opportunity to teach my students how to live according to their verse. With an iPad Air, I'll be able to do exactly that. It will give me the ability to make the hardest concept a relatable visual for a struggling learner. It will make my classroom world more technological and easy to maintain. It will give me the ability to record my students sharing their poetry, their verse, and show them the results of success. It will connect our technological world, the world that students know, love, and live in, and bring the literary world back to life for them. It will show the world that technology and literature can coexist, and that the iPad Air is the bridge that brings these two magnificent worlds together. This is my verse.

My verse to this world is going to put as many families in the best financial situation as possible between myself and my team. There are so many people inadequately educated about money and my goal is to make a difference to families all over the United States. My contribution to mankind itself, financial education to all individuals at no cost to the family and saving as many families financial futures.

I recall when I was but a young boy, my father told me that a computer with the same processing power as the human brain would be the size of a battleship. Today, 3 decades later, a machine with the same capabilities would probably be closer to the actual size of the human brain. Our forefathers would be amazed, and possibly startled, if they could see the technology we have available today. Autonomous aerial vehicles, interconnected computers, devices with unbelievable computing power that fit in our handbags and even our pockets, cell phones that answer our questions with a human-like voice, they're all part of the the fast-paced progress we're experiencing. Should we be any less amazed? The iPad Air is but one of many devices making our world a better connected, more informed society. My iPad Air would go nearly anywhere I go. It would help educate my young children, be the tool to enable the consumption & communication activities of their parents, and even allow me to be the first to find the Bible reference during Sunday morning's sermon! We indeed live in exciting times! This quote by Mr. Clarke is a favorite of mine: Any sufficiently advanced technology is indistinguishable from magic. -Arthur C. Clarke

If had won the iPad Air I'd sport my Apple pride. I'd have so many "Apple's" in my bag that airport security think I robbed Motts. I'd start a travel blog. Since I travel for work a lot what better than to do. It'll have things like where to stay, eat, tourist attractions local culture and other stuff. Trust me these things are needed. I booked a hotel in Ohio, and the hotel had scum in the tub. With my blog that won't happen again. Sent from the iMore App

My verse is pictures, my verse is photography. With an iPad Air (and a camera connector), I would be able to do more than preview my photos out in the field, I would be able to process them

Since iPad Air was released, world think, what to do with. There's so many ways to use it. My way is taking photos, editing them, recording video, making music with garage band and enjoying beautiful retina display and iOS 7.

IMore ,IPaD, "IMe". IMe = "The Lucky IPad Winner from IMore."

I haven't done theater in about fifteen years, and I miss it a lot. I'd use an Air to study sides for my next audition, and to learn a dialect if the part called for it.

Let your creativity show,
Tell everyone you know,
Let it ooze from your imagination,
What happens is completely your interpretation,
Video the happiest, saddest, funniest of times,
If you really want you can put it on re wind,
Let the music flow through your veins,
Inspire,
Passion,
Deepest desire. The verse of a 13 year old girl. In love with creating.

Roses are red
Violets are blue
Please pick me
Or I will forever haunt you.

As a network administrator, being able to keep an eye on network switches and servers is crucial. The iPad has apps that let me do just that from places I've never imagined I'd be able to. I've worked on servers from bars, hotel rooms, even from the side of the road in my car! I just bought a lightning to console cable to allow me to directly console into switches and routers if I can't SSH/Telnet them. The iPad is quickly becoming my go to network management device!

ok here is my comment, give me ipad air

I've never had an iPad and my daughter LOVES to draw. She's almost two and I think she'd enjoy drawing with the iPad more than anything in the world. She loves mommy and daddy's iPhone and I'd love for her to have the opportunity to create with more real estate!

If i had an Ipad , i will use it to program PIC and use it for Electronics education

An iPad air would be nice!

The iPad air,
A hunk of metal that has emotions,
An inanimate object that gives life,
Art that has function

My verse is inspired from one of the most inspirational movies i've seen: An iPad keeps a hard day away,
Some day, some way, it helps bring a smile today,
But some days comes life who hits hard,
Ain't nobody going to hit you as hard as life,
It doesn't matter how hard you get hit,
Its about how hard you can get hit and keep moving forward,
Thats how winning is done! ---------------------------------.a
-------------------------------.aaa
------------------------------.aaaa'
-----------------------------.aaaa'
-----------------------------aaa'
-----------------------------a'
------------.aaaaaaaaaaa. .aaaaaaaaaaa.
---------.aaaaaaaaaaaaaaaaaaaaaaaaaaaaaaa.
-------.aaaaaaaaaaaaaaaaaaaaaaaaaaaaaaaaaa.
------.aaaaaaaaaaaaaaaaaaaaaaaaaaaaaaaaa'
------aaaaaaaaaaaaaaaaaaaaaaaaaaaaaaaa'
------aaaaaaaaaaaaaaaaaaaaaaaaaaaaaaa'
------aaaaaaaaaaaaaaaaaaaaaaaaaaaaa:
------aaaaaaaaaaaaaaaaaaaaaaaaaaaaaa:
------aaaaaaaaaaaaaaaaaaaaaaaaaaaaaa:
------aaaaaaaaaaaaaaaaaaaaaaaaaaaaaaa.
------aaaaaaaaaaaaaaaaaaaaaaaaaaaaaaaa.
------`aaaaaaaaaaaaaaaaaaaaaaaaaaaaaaaaa.
-------`aaaaaaaaaaaaaaaaaaaaaaaaaaaaaaaaaa'
--------`aaaaaaaaaaaaaaaaaaaaaaaaaaaaaaaaa'
---------`aaaaaaaaaaaaaaaaaaaaaaaaaaaaaaa'
-----------`aaaaaaaaaaaaaaaaaaaaaaaaaaaa'
-------------`aaaaaaaaaaaaaaaaaaaaaaa'
---------------`aaaaaaaaaa''aaaaaaaaa'
-----------------`aaaaaaa' `aaaaaaa' Took a few tries, Seems right now :)

As business and centuries have changed
Our educational system remains the same
without providing a necessary change to
arrange the discovery of passions at school. Some, like me, think school can be cruel
While others believe that I am a fool
But that's never stopped me
Or anyone that has a magical key iPads for all!

"When you move, you move my world." What will my verse be?
Simply being a dad and be there for my baby.

Ipad the room, out there mangroves pumping up
the putrid air, life goes on. At the zoo they
still throw the animals dead meat, the big cats are bred in labs where they lock the albino
freaks away. Ipad the kitchen: where are the books,
who reads the poems? I take a drink, ribbonfish swim across my pages, I shake my head but they swim on –
in low flocks, chromium ribbons, they fly under
the river herding up the poddy mullet, rippling the surface, as the tawny frogmouth knows.
The books have gone, the spoonbills wade in
with whitebait skipping ahead of them Excerpt from Robert Adamson – Creon's Dream (amended to suit)

Thanks for opportunity......i hope to win 1.....great blog..compliments

To travel to our orphanage in Haiti and complete the adoption of our second daughter. Kids bond very well over iDevices :)

There once was a man from Nevada
Who's iPad was old, like the Spanish Armada
He said with a grin
While claiming his win
Thanks iMore for the iPad Air, it's better than Prada

I love my Retina mini, but am intrigued by the Air,
Winning one from iMore would only be fair.

I'm mainstream because being hipster is too mainstream.

Magic! Sent from the iMore App

"Let us go forth, the tellers of tales, and seize whatever prey the heart long for, and have no fear. Everything exists, everything is true, and the earth is only a little dust under our feet." - Yeats

Today's technology opens amazing and wonderful opportunities and creative possibilities, it should not be feared but embraced. We all have within us amazing abilities that I believe are only enhanced by today's technologies. I would hope that winning this iPad Air would open some of those new doors to creativity and knowledge that I have yet to discover on my own.
Thank you iMore for this wonderful opportunity.

Inspiration come when you least expect it ... Be ready! Sent from the iMore App

There once was a man from Nantucket
His D.....

What amazing place would you take it?
I would take it on a exciting ride through my imagination. What amazing thing would you do with it? I would discover true self. I would be creative using all the apps and tools masterfully created by experienced designers. Such as i Movie, Garage Band, Elements, Sketch Book Pro, Barefoot World Atlas and other excellent apps and tools for learning, creating and discovering. What would your verse be?
My verse would be..
"Let your creativity show,
Tell everyone you know,
Let it ooze from your imagination,
What happens is completely your interpretation,
Video the happiest, saddest, funniest of times,
If you really want you can put it on re wind,
Let the music flow through your veins,
Inspire,
Passion,
Deepest desire."

Making memories
Memories with family
Memories with friends
Memories are life
Memories are part of you
Memories will be there when you are gone
Memories will be in the heart and passed on
Making memories

"The fog comes
on little cat feet.
It sits looking
over harbor and city
on silent haunches
and then moves on." - Fog by Carl Sandburg

A family of eight scattered accross the states,
6 sisters 2 brothers a mom and a dad,
Missing out on life's precious moments,
A phone call to hear a voice is just not enough,
Birthdays, holidays, or just to say hello,
Missing the faces and seeing them grow,
No longer only just a voice on the line,
Getting together means so much more this time,
Join us for holidays, birthdays, and more,
Seeing their faces on the Air makes it a little easier to bear.

Pane of Glass with Class ,Which is so portable yet productive , enhances our chances with no compromise .Hoping This is not only a device which I desire but what I deserve too ..hope I get it :)

When your dreams need a home

I don't have anything especially memorable to say but I'd use a new iPad Air to teach my kid English because half of his family is in the States and right now he says wicked cute things to them over the phone but in French and, well, they have no clue what he's talking about and it's kinda sad because he's so excited to tell them about the imaginary wolf that's about to come around the corner that they all need to escape from by following him. So, yeah, I think it could be helpful to teach him English.

if i had that iPad i would be happy forever the place i would take it would be Narnia to take a photo with extraordinary animals and creatures and i only need a iPad as nothing as could match as Apple is great so i could survive forever on 1 Apple which is the iPad, fingers cross hope i get it and thank you a lot i more

I need to get my granny an iPad
Her resistance to new tech is quite sad
She won't even do email
When I strangle her I'll be in jail
Stop asking me to go online or I'll go mad

I will learn from the past and look around to understand the present to build the future. I will read iMore to become Apple's CEO

I'm terrible at poetry, that's true.
But one things remains the same - I probably suck less than some people do. - Paul Dunahoo P.S. I'd use the iPad for writing, just like I use my current iPad mini. Do you mind if I get an iPad mini 2nd generation instead?

MORE is the word we use to ask a request for another song, to fill an empty glass for a drink, to satisfy a mind for inforamtion. More is the word we used to think for more features to be added on the next IOS model devices and iMore article is what we read for informative and reliable articles.

I would take it to a Microsoft store and show them what a cool, innovative product looks like!

I cant put to words all the things I could do with an Ipad Air, but I do know that I want to feel like a BOSS when I walk into a Starbucks holding it. Whether I use it there or not, I will keep up with the world and make my place in it too

I'd take it to stone henge at night and watch the stars over an almost forgotten artifact to show it's true beauty just like the iPads.

I will use it to create funny stuff to make people laugh and feel goodie good...:-)
Comics, stories, British fart jokes...
Hmm I wanted to leave a video, but can't see a way to do it...I'm an excellent driver...

My verse:
"In such a sad world, with my iPad, I will educate others about the harsh and hard dangers that people face each day;
Not knowing how to spend their little pay.
Showing them the hardships of natural disaster and civil war;
Which tear countries apart and affect the poor.
The disadvantages of no education and the harsh truth about global warming;
Just remember... It's all just outside your door. With my iPad, I won't be able to change the world but I'll certainly be able to improve it."

The Ipad is the ultimate revolutionary gadget of all time. I like reading. I prefer not reading on my computer, because that makes whatever I am reading feel like work. I do not mind reading on my iPad and its portable so i can read whenever I want. There's no doubt: The iPad is a beautiful, extremely well-designed device. I love photography and traveling and what better than to take my Ipad Air for company while on these trips. I would love to go to Greece and Paris with my ipad air. If I get an Ipad Air i'd feel like i've got the whole world in my hands. The Ipad Air is the future brought to the present

To continue my medical education as an osteopathic medical student.

Worth a shot. Sign me up.

As I grow older and my world becomes smaller, my iPad opens the world to infinite experiences and endless possibilities. It's the Fountain of Youth.

Years ago I spent my summers guiding canoe trips down rivers in the NWT. I have loads of slides, but missed out on a much more comprehensive documentation of what went on during a trip. Videos of the paddling, meal times, songs and reflections, real time uploads of a trip's progress, panoramic images of the vistas are examples of a how I'd use an Ipad Air on a solo trip I'll do next year.

An Apple product for myself. I can never find the wife's Mini and when I do it needs charging.

What a perfect companion to an iPhone and MacBook this would make! And this is the reason I recommend others follow you on Twitter...

On 10/21/13 my wife and I were vacationing on the Dutch side of St. Maarten. All of a sudden I literally collapsed cracked my head open the ambulance came did EKG etc. I felt it was a one time thing;it wasn't . On 1/8/14 had open heart and I'm recovering nicely. The reason why I opened up(couldn't help it) is because do you really know what you are,how fortunate you are and all that is important to you until dramatic events occur. The place where the change of life occurred is my "2" second home-family that really matters! They supported with us thoughts,prayers&hope. I would love to take a million pictures,create videos etc. with the "Air".

Give a new iPad and then will tell you.

I have had the first 3 generations of iPads and had to sadly sell them in order to pay bills. I have had the mini in the past and loved it but not as much as I did the reg sized iPad. During my times with the iPads, they always went everywhere with me and we're never left at home as well as to take videos of my daughter and pictures as well for the times I was with her. Currently serving in the Army, I consider the iPad my right hand man and a very useful tool that I am currently trying to get others converted to. I currently have a son on the way due in March and the iPad Air would be heavily used to capture each and every moment possible on it between videos and pictures as well as take it everywhere I may travel whether it be overseas to Europe or to other states with the iPad air at my side.

There ain't no Coupe de Ville hiding at the bottom of a Cracker Jack box.

out of work for a year, love all things apple, just need a break and a boost to help me to keep going :) Thanks, love all your posts

Life goes on.
Make the most of Life.
Live for those that sacrificed and past on to the other side.
I will make you proud.

Help the needy before yourself. I have lost a family member recently, it would make me very happy to finally get an iPad. I have wanted one for years.

I would take the Ipad Air on a nice little adventure out with day of grandkids. For one it would keep them all quite and content playing games or watching movies and then for the other thing I could take pictures of all those "special moments"

After the epic fail of the PlayBook and HP Touchpad I would let the iPad show me its verse. Let it take me around the world and through space and time all whole sitting on my couch. Let the iPad show me what the true tablet experience is suppose to be.

My verse is about passion..
"iPad Air... I want you... I need you... I love you... I'm spent..."

win at last, win at last, lord almighty i'll win at last.

I recently retired from the ARMY after 21 years of service. I was a Blackhawk mechanic and crewchief. I served in various combat locations throughout the world, Somalia. Bosnia, Iraq, and Kuwait. Non combat locations included Korea, Germany, Belgium, and Stateside bases of Fort Campbell Kentucky and Fort Carson Colorado. I spent most of my career doing MEDEVAC support. During my tours I have transported countless Soldiers, Airman, and Marines. I am a father of 4 sons and I have the responsibility of telling my story to my kids so they can tell their kids and so on. My history and that of my fathers before me should be handed down and the history preserved. I would take the opportunity and use the iPad to make a video diary of my exploits and experiences, forever giving my family the ability to know what I have been through and allowing my kids their kids and even their kids to get the story direct from the source. Technology is the current and next step in the life that we as kids did not have. It is a great new world where almost anything is possible and I am very proud to be a part of it.

From a retired Army spouse, thank you for your service. How you plan to use the iPad is a wonderful thing. Seeing and hearing from an ancestor is one of the greatest legacies you can give them, outside of the values and courage you displayed in life. Praying you'll achieve this desire.

Thank you for your comment. We all have to stick together it is a small community.

If I got the iPad I would use it to further my music creation with GarageBand as I am a budding young 12 year old drummer just starting out in the world of musicians. This new iPad would allow me to record new beats and rhythms and allow me to share my music with the world through YouTube and other music sites. I really hope that I win the iPad.... if I do be sure to look around on YouTube for my drum covers and other beats! God Bless you all!!

The perfect gift for
My wife's birthday coming soon
Happy she will be!

There once was a prince wearing paper socks
Who lived all alone in a cardboard box
And his only friend was an iPad Air
The prince says he "found" in a bar somewhere One night, someone barged through his paper door
Took the iPad back to the Apple store
The prince stood there in the rain, all alone
with no iPad left and a dripping throne No words could describe all the pain he felt
and all the therapies he underwent
So my story ends in a morbid way
since it's not a fairy-talish cliché...

Two years ago I sat on a train headed towards Toronto. It was morning and I was headed to work. The woman in the seat beside me leaned back slid her sleeping mask on and tuned out. I sat there my iPad 3 unlocked and then came the first words of a story I spent the rest of the year writing. It was the greatest feeling and for two hours every day I disappeared into the world I created. I started with the Notes app and after losing paragraphs a few times I switched to the Pages app. At the end of 2012 I wrote the last lines of the first draft. I was proud of what I had created and intended to start editing after the holidays. But I never did start editing and then I ended up selling my iPad 3. Selling the iPad 3 didn't stop me from editing it just wasn't calling to me. So now it's 2014 and I'm starting to edit my story again. So here's where an iPad Air comes in and my two hours a day can again become an escape into a world I created. My verse will be more than... Sent from the iMore App

As a technology trainer for people with vision loss and blindness I Experience day in and day out the benefits of the iPad. I could tell you stories about clients being able to do things independently for the first time using a few apps on the iPad. Or I could tell you about the mother who was able to read with her daughter for the first time without her older daughter doing the reading while all three of them listened. I could tell you about the proud grandfather chatting with his granddaughter over face time after she graduated kindergarten in Australia. Most of all I can tell you that this one fully accessible device makes it possible for the people that I work with to continue living full lives independently. This one small device replaces so many specialized tech and it is so easy to use.

Your uses for the iPad made me smile. What a blessing you and it have been in their lives.

Because I write. Because I draw. Because I play, and I sing. Because with iPad, I do it all.

Give it to me, blackberry fucked me up with the (never released) BB10 update for the playbook,...

My verse(s):
1) You say it's your (8th and 10th) birthday...
2) Let's get ready to ruuuuuumble (on the soccer field, the baseball diamond, the basketball court)...
3) I think I wanna marry you (on the beach this summer)...
4) School's (not) out for summer (so let's get cracking, Students!)...
5) All the world's indeed a stage and (my sons) are merely players (regardless, any show they are in is my favorite show)... My verse is recording as many, "Hey, Mommy look at this" moments before they grow up. It's helping teach my students the power of media and how with their creativity, the possibilities are endless. It's documenting my loved ones, and their creations, and their sweet voices which will soon deepen and replace "Mommy" with "Mom." It's capturing my wedding on the beach this summer. My verse is made by the ones that make my heart whole: my kids, my fiancé, and my students.

In a world where people are cold, dark and harsh; I found love. I found warmth. Most importantly, I found innocence. I found all of these things in a little girl. The bravest, most robust human being couldn't measure up to what this gentle angel was.
She died on Christmas Eve. I remember thinking nothing could be more suitable; a gift to God would be an understatement. I had the grandest pleasure of witnessing her final days. Seeing her strength and love for her family was foreign to me. I grew up an orphan, was lucky enough to find parents. But having parents is different from having someone you called a mother and a father. They did their 18 years of duty and please don't get me wrong, I appreciated every inch of it. But this little girl had it different. There was genuine care and love. Not from her parents, but from her. It can almost be explained as if she was conducting an orchestra, no one fighting her, just playing along in unison. But it was clear she was the conductor. Maybe this was all due to her condition. You see, I'm a janitor in a hospital. So my visions of this little girl are only similar to vignettes of my passing by. She had no hair, she should of looked weak, and she should have looked frail and pail. She didn't. You have never seen someone more vibrant in your life. She had leukemia. She was in her final stages. This was evident. What wasn't evident was that she would teach me more in a week than I would learn my entire life. It took me a couple days to figure out something special was occurring in room 0925. Day after day I did my rounds, saw Doctors in and out of the room. Balloons and gifts engulfed her surroundings. But one gift changed my life. One gift. Before I got to my rounds on her floor on day 5, she was gone. The room was grey and ordinary. Nothing special. Nothing vibrant. Nothing innocent. It made me think how quickly things can change. It made me sad that I never met her. I went in to mop and sanitize room 0925 on day 5 sad, but working here, you get used to people leaving. This was different. The happiness on that little girl's face sparked my life with light. It didn't seem fair that she was gone. It didn't seem fair that we never spoke. But sometimes that's how life is. It just leaves you with unanswered questions. Working in a hospital for a while, I should have known better. But the energy that little girl gave off was so rich and pure. It was a breath of fresh air I couldn't resist. Not all was lost. While cleaning her room I found something of much significance. Something I would have passed by any other day, in any other room. A business card lay peacefully behind a chair. Sure enough the address was richly printed on the front.
My decision to go the address was a simple one. Up until the moment I first saw her, my entire life was idle without being conscious of it. I had to go to this address. Call it selfish, call it what you like. When I arrived at the address, I was shocked it was a private home. I don't really know what I was expecting, but there was a moment that happened to me in that driveway. I like to call it a moment of clarity. I guess when something special occurs in anyone's life, theres always a pinch me moment. You always must take a step back from it. Let your feet hit the ground. I mean that's life. That's reality. So here it was. Do I let life put another stop sign in front of me to obey? Or do I leave my own path in the woods? I was too tired of stop signs. The reason I am writing you isn't because I put my car in reverse. I walked up those steps and knocked on that door. Each knock was a sound of optimism. I waited and waited, studied the door and waited more. There was no answer. For a moment that door seemed like my life. It stood as still as static. Waiting for something to occur was all too familiar in my life. Ironically, the door was unlocked. Letting myself in was a simple enough choice. Pictures of the little girl surrounded the house. The environment was calm, dim and peaceful. Silence echoed and soothed the air. I was wondering where everyone was, there were so many cars in the driveway? Suddenly, a knock on the door intruded my silence. I looked back quickly. I was in shock to see the little girl standing in the doorway. She smiled at me gently and continued to slowly walk up to me. I felt a urge of rush accompanied with infinite questions. How is she OK? Is she healthy? All these obvious questions seemed so irrelevant. So fake, compared to the reality of her footsteps. She handed me a letter, it read as follows:
"This is a private letter to you. A letter from me to you. It's not important who I am or Where I live. I could be your grandmother. I could be your son. I could live across the street or on the other side of the world. But maybe just maybe I caught you at a time in your life where the magic has left. Maybe you needed to hear about optimism and innocence. Maybe this letter was specifically written for you. On the other hand, maybe you have already written this letter to someone and have grown weary of life. Maybe you need to be encouraged. You need to believe that the world around you doesn't define you. Maybe you just need to hear, no matter who you are, that life is beautiful. That life has treasures. That life has miracles. And most importantly, and so vital for you to understand, life is what you make it." I put the letter down and looked for her. It was no coincidence she was gone. She didn't need to stay. Her purpose was fulfilled. Whatever it was, it was complete. I took one last look at the interior of that house. So calm, so peaceful. I exited softly and drove my car pondering what I just experienced. The next day at the hospital, I started to notice a difference in myself. I was more open to people. More open to help, more available to talk, more apt to listen. I started valuing people instead of evaluating them. I started living life with my arms open. A change had struck. A real change. Years have gone by, but not a day passed I didn't put that letter in my pocket. I assume it's only suitable that you know the truth. Today I am in a hospital, but not for work. My time isn't long here. I lived a long life. Some good, some bad. But it seemed a unison belief my time was limited. When the nurse asked me what instructions I had regarding my death. I only requested one thing. I handed her the letter and told her softly "read it and pass it to a stranger." She smiled and accepted. My verse is starting fresh with an iPad. And seeing the world for what it is, which is in fact, What I make of it.

This is the most beautiful thing I have ever read. You deserve to win, man.

I would take it to Grand Canyon National Park and record audio and video of the canyon's rivers and ponds.

I will learn. And teach. Then hope to learn more. With knowledge in my store, I can create evermore.

The above first try doesn't feel write ;), and I see no limits on posting (shame for that lack of foresight which created this fair loophole!), and I couldn't help but improve on it and be more honest to the writer that I am. Though surely this must be the last of my revisions, alas. 'I will write. And edit. Then hope to write more. With a breath of Air in store, I can write evermore.'

I m a single mother who has been working all of my life, just to have half of my checks seized by bill collectors. For the past six christmas' I haven't even been able to buy any of my daughters a single gift and I can tell that it hurts them but they try to act cool about our situation.
So what would I do with the new ipad, i would give it to my daughters and see if they can try to capture images of the world from their little perspectives. Maybe then, I can finally stop feeling like such a lousy parent and see smiles on my little angel's faces. ♥ God Bless Everyone and Good Luck to all♥

I'd use the iPad for app developpment. So assuming I will become a millionaire by selling those apps, I'm gonna buy a jet fighter and use the iPad to navigate me to the most amazing places. :)

Love the world like you love your iPad and the world will love you back. Your story is as important as mine because it's important to you. Getting an iPad for myself isn't my goal. Giving one to my wife is. I could spend hours talking about the women I am lucky enough to be married to. All the things she's done to better herself and make me a better man. Truth be told I have my Macbook Pro, I really want her to have an iPad. She had an iPhone 3Gs and when it came time to upgrade I tried to convince her to go with at least the 4S, she opted for the 4 since at the time it would be free. I love my wife and even though she doesn't think she needs one, it would make me happier seeing her enjoy something bigger and faster than a iPhone 4. I don't deserve one much in the same way I don't deserve her. Thank you iMore for giving me the chance to talk about two things I love. My Wife and Apple.

Oooh, that's an easy one!
Shakespeare's 17th sonnet... "Who will believe my verse in time to come,
If it were filled with your most high deserts?
Though yet heaven knows it is but as a tomb
Which hides your life, and shows not half your parts.
If I could write the beauty of your eyes,
And in fresh numbers number all your graces,
The age to come would say 'This poet lies;
Such heavenly touches ne'er touched earthly faces.'
So should my papers, yellowed with their age,
Be scorned, like old men of less truth than tongue,
And your true rights be termed a poet's rage
And stretched metre of an antique song:
But were some child of yours alive that time,
You should live twice, in it, and in my rhyme." Accompanying video: https://www.imore.com/e?link=https2F2Fclick-100048...

To capture a scarlet setting sun,
Or my child asleep, at peace, sucking his thumb.
Lost in dreams where images of the mind,
Find
Order from monsters and memories as the soul unwinds. To frame a field of yellow daffodil
Or the final beautiful days of a friend so ill
So their face, their voice, life and frame
Remain
Forever etched-accessible to remember and proclaim.

Everybody wanted to have apple products, because their products are branded, quality, and beautiful in and out of their units especially ipad air.... I wish to have these ipad air on my birthday. I hope apple products will grant my wish to win these ipad air... God Bless.

The human mind is so shallow- yet so deep.

Everybody wanted to have ipad air... I wish that i could have these ipad air also on my birthday... I hope apple's CEO or ADMIN will grant my birthday wish to have these ipad air... Tnx and i love you apple products... God Bless

Fifteen.
Her life in front of her
The sea behind her.
White whisps in the wind
Surround and guard her.
Sporadic sirens try to wake her
Or reassure her that life continues.
Tears hang in the humid air
Which are shared by the knowing.
This life behind her
A new one dawns.
Fifteen. Written by me in Kalutara, Sri Lanka after visiting a Budhist cemetery. There was a decorated grave of a fifteen year old schoolgirl who had recently died.

I would use the Air to record Nature's Earth, Fire and Water,
Proclaiming Creation's glorious beauty.
All of life recorded-from roaring wave to sunsets red, from a daughter's
Dainty first steps and school Nativity.
An apple applied fruitfully every day to feed mind, body and soul
Instructing, playing, remembering and creating to reach our goals
Realising our dreams when all elements are in play to make us whole.

https://www.imore.com/e?link=https2F2Fclick-100048... My verse :)

With me to a volcano's rim filming bubbling lava grim
Or to Icelandic geysers shooting high.
To these places with the Air I'd go, or even fly
Through clouds in a microlight framing geese in flight.
With me to my inner mind's eye noting my thoughts within.
Or to record my voice singing high
To these places of creativity I'd fly
Along life's highway bright my Ipad would see me right.

My verse is in the film industry. I'm a passionate burgeoning filmmaker and I know an iPad can help. There's so many amazing apps on the apple market that make film making just that much easier; slating, storyboards, blocking diagrams. iPads are so much less cumbersome than laptops so I can just whip it out when the inspiration to write a new script strikes. The lightness of the iPad Air is so important to me too, the less weight I have to load up and carry over tremulous terrain the better-- believe me, film equipment isn't light! On top of all that it can help me with learning film making techniques by helping me out in school.
And the retina display! <3 It means so much to a visual person like me.
Please help me pursue my dream of a verse with the perfect shot.
Thanks!

Adventure, capture I would take my iPad to FaceTime my family in the greatest moments of life to share with them the beautiful world that God has made for us !

What would my verse be..
Will, what is a verse, truly?
A bunch of words that rhyme
Or try's to cause a heart to flutter
But this isn't my verse... My verse is to win...
To take my iPad and record sins...
To go to Vegas and record...dunno...spins?
My verse is to to win! To take the magical device to record a rat
In Orlando or someplace like that
Or see my special need kids dance
a verse to to win for that circumstance! What this verse needs to end
Is $500 in Apple Ends
But of all it needs to be
a winning ipad in places all over to be.

I'd love to take an iPad, and a water proof case, scuba diving down into The Great Blue Hole in Belize to record and share for posterity the otherworldly underground world of this submarine cave. It's a place few people in the world will ever reach, and I think it would be special to share the experience with others who can't be there.

Every five or so races in Real Racing 3 I have to restart my iPad 2 to get things running smoothly again. Don't you know a NEED when you see one? ;-)

i would take it to the dutch north sea - a silent place
iMore and an iPad Air - until i breathe noMore

I speak a language that was old when stars were young, that will survive past your daughters and your sons. Burning internally this is not for peons, we speak art for eons.

I am adding a new verse to my story, recovery from a medical poison. I have Raynaud's and the a drug prescribed to me changed my life, in a lot of ways. After being ill for years and going to different specialists that could not find out what was wrong with me. The drug that should have been helping me, was causing pain, exhaustion, weight gain, and a list of other symptoms. I'm finally getting back to the old me and an iPad would definitely help me utilize workout videos, inspiration, and healthy recipes. I can finally write my own story again. I have hope again. Live life and create a new verse everyday!

always set my priorites first and unfortunately can't afford an iPad air. would love to have one. bills and saving for a house comes first.

It's not where I would take it
But where it would take me.
From the arctic polar bears playing with dogs
to the antics of antarctic penguins
From the sounds of the rain forest
to the sand blizzards of the desert
All my preschoolers would experience
the guided places of trailblazers before them.

Googling "new iPad commercial" brought me here... I love the fact that you are are doing a giveaway like this in connection with such a beautiful spot. Three months ago I was in rural Thailand, one of the most breathtaking places I've ever been, shooting a personal documentary about a young woman with a powerful and heart-breaking story, it broke mine anyway. It was during this filming that she introduced me to her always smiling nephew, X (short for Keartisuk Sukhrach), and this kid... When he smiles, you smile. He's thirteen but looks younger. After hanging out with him for a little while I noticed a makeshift drum set behind his family's hut which he'd made out of trash. After much coaxing the shy guy played for me, which I captured on a cheap video camera. http://www.youtube.com/watch?v=PALlvO8SQtQ It's been really cool to see some bands from Red Bull Records drumming up their support for him on drummingkid.com. I hope I'll be able to surprise him one day with a real drum set one day but until then perhaps he'll settle for GarageBand on an iPad Air. The powerful play goes on and you may contribute a verse. The powerful play goes on and you may contribute a verse. This verse isn't an original one by me but it's worth a read. "Life's most persistent and urgent question is, 'What are you doing for others?'"

My verse? Well.
The iPad is essentially a small, compact, miraculously powerful computer. A computer is a silicon organism, a mind woven from threads of electricity and the human ingenuity. It forges a powerful link between the chemical cells and the electric nodes of the human and the computer, allowing the two to come together. As a writer, I can store my craft, my self, and my soul in the iPad, where it will keep it perfectly preserved, forever. The iPad is the bond between my story and my soul, the medium for my story to escape into existence.

How happy! How sad. How very very bad. The edge of this thing isn't even matte? It's completely flat which means: no hat.

"If wishes were fishes we'd all cast nets,"
(Dune)

The iPad... Nearly four years since it changed the entire world,
The iPad changed the way we write a simple word,
The iPad is just one of the greatest inventions of all time,
When we had an iPad, we changed our lives. Year after year, the iPad just got better.
Letter by letter,
Our iPad is now part of us,
We can't discuss. Games, productivity,
Books, utility,
Work, reference,
We can entertain ourselves
and at the same time we can work on it. iPad Air, so many uses.
No excuses.
4 letters.
Thousand uses,
Thin as a pencil,
Light as an iPod.
But powerful as a Mac. In the happy moments,
In the sad moments,
In the depressive moments,
In the bright moments,
The iPad is the best device to cheer us out.
No doubt. Hey, What will verse be? Change the world with words.

I want to do more of this with my time, I just don't have the right equipment for it. (Had a stop motion lego video I created but it was marked as spam, sorry iMore!)
This kind of thing would be insanely fun to do on an iPad and I would love to be able to make some people smile with more elaborate stop motion work with my little time traveler. I don't own an ios device but I have done my research on this kind of thing and a combination of "Lapse it" and iMovie would probably fit my needs. If not, I could export it to my Mac and edit it there. Not only would stop motion video recording be awesome but I'm also an avid gamer and ready to accept the growing space that is mobile gaming. I've always loved handhelds since my childhood but the Playstation Vita left a sour taste in my mouth with its lack of content. I am ready to embrace mobile XCom, Baldur's Gate I & II, and FREAKING KOTOR! I just can't find this kind of mobile gaming experience elsewhere. Moving on, I'm about to leave for college in a few months and I have a confession to make... I don't know how to cook. The iPad Air may just change that. I don't expect to become a world class chef through its utility and countless cooking apps but I would love to expand my horizons farther than a grilled cheese sandwich. As a depressing side effect of moving away to college I will no longer be within close proximity of her. Again, thanks to an iPad Air, the pain may be less to bear (brace yourselves for melodrama). She is being provided a Macbook of some description at Northern Michigan and it will obviously include Facetime, something which the iPad can most definitely handle. It would be nice knowing we wont have to deal with google hangouts unreliable quality or far worse, skype. Note taking and studying/web browsing are a given with this tablet and I would definitely make use of its capabilities. I am starting a Computer Science major and I already have a number of CompTIA certifications meaning I need to stay on top of technology. RSS Feeds, twitter, reddit, etc on the iPad Air would make this so much more convenient to absorb than my phone. To be honest though I'd keep up on that stuff regardless of an iPad in my hands. I fully intend to take advantage of all the utility of an iPad if I had one and hopefully make my mark on the world, whether an app I develop (through iPad or not) or content to make people happy (good home cooked meal anyone??). I suppose my verse would be
"Be proud of the things you've won,
Be proud of the work you've done,
Be proud for that next red sun"
Thank you for this opportunity iMore, -Anthony

I see the best use of my child's success to be the ability to create and exercise his imagination with amazing apps and stories through books on the iPad. Help him create and grow as a child and help him realize his full potential with the proper tools for the future.

The new iPads are basically everything I wanted the earlier versions to be. It honestly wouldn't be an exaggeration to say there hasn't been a day since they released that I didn't wish for one. I know I can't live up to the My Verse ad creatively...but I can say how much it'd mean for me to win one after a couple of rough years and failed medical career. After using an original N7, I think I'd cry of joy the first time I opened the App Store (where tablet apps aren't the exception) or surfed Safari or received an iMessage or didn't have to worry about plugging the iPad to watch video. I know it's a luxury and not a need, but iMore - you could not make someone happier.

In the voice of Nacho: "I Wanna Wiiiiin!!!"

All he took was one bite of you dear ipad and he couldn't separate from you anymore.
From reading novels, to research on cancers, to diy homemade healthy options.
From facetime with my nephews miles away to playtime when he visits them.
Handy in capturing precious moments in their school, and even on the hills back home to record plowing of the fields until sunset.
A reliable recipe book during cooking session with my mom to a songbook during singing-with-guitar session with his pals.
Apple ipad, my Dad is over 65 and has retired, thank you for always keeping him company side-by-side.
And you will be to me just the same as I run, ride, smile, cry and even decide in this journey of life!

Light on your hands but as productive as a desktop..............
Actually more..................

$500 gift card?? Holly Sit, I can buy 500kg fresh apple with that.. Mother-Father!!!

I am starting my own business and this would be PERFECT. Thanks for having this contest.

Sharing memories one tap at a time :P

Comes like cold wind in the middle of summer
Keeps driving me crazier when it comes over
Miss you when you're with someone else
Miss you if I love myself
They say that just 2 weeks you're gone
Know that you loves me but leave me alone
Don't wanna think about only you
Fever! I love you but I hate you, too!!

"There is more happiness in giving than there is in receiving." Acts 20:35 My wife and I try to live our lives by this scripture. We volunteer full time as Bible teachers, and support ourselves financially by cleaning offices at night. An ipad would help us greatly in our ministry. We could put the Bible in sign language on it to teach ones who are deaf or mute. We could carry many reference books and different Bibles to see different translations for research. Our ultimate goal is missionary service in a foreign land. It would be wonderful to be able to have an ipad to carry everything we need on one device. And our anniversary is in march, so it would be great timing for a nice surprise for my wife :).

As a Soccer Coach I would
DoMore, BeMore, CreateMore with iMore!!
Amazing Places: Traveling with my Soccer Teams
Amazing Things I would do: Capture and Create Team memories through Video, Photos & Apps with the ipad Air
Here is our Verse Video: https://www.youtube.com/watch?v=401FKgWsRWM

Follow your bliss and the universe will open doors where there were only walls.

I Just Wanna Take I Pad Air To The World Tour Starting With Fiji... I Just Love The Beauty Of Fiji!!! My Verse Is Fullfill Others Need!!! I Am A Enjoyer Wanna Enjoy Each and Every Aspect Of It!!!

I'm not a poet or a photographer.
I don't dance or sing (anywhere outside of the eyesight or earshot of my two daughters anyway). Currently, I'm not much of a doer of anything. I spend 10-14 hours a day sitting in a classroom or a library. I study the world's most intricate puzzle. I've dedicated my life to the greatest machine on earth, controlled by the most powerful computer known to man, and the art of maintaining this machine so that it can do all of the things my mind and body aren't trained or practiced enough to do. To enrich humanity in a way that's beyond my capacity. I'm a medical student, and my verse will be to one day save lives. Not only save lives, but hopefully improve them. The future of medicine is embodied in devices like the iPad. It is reaching out to those who can't help themselves in ways physicians haven't previously been capable of; to monitor patients in ways previously unthought of. Brilliant engineers and scientists work every day to develop cheaper, more creative ways to test for disease and monitor treatments. New technology is coming out every day that will improve patient care, while making it more affordable to receive that care. The iPad, and devices similar to it, are making many of these technologies possible. It provides physicians with the tools necessary to step into the future of medicine and write the verse behind the verses that make life worth living.

The trees bow
wind blows
the water turns to mist
my iPad Air becomes my
viewfinder to the world

I would take my iPad to college with me when I start my first year of college in the fall. It would be so helpful to have an iPad for homework, studying and also downtime. It would also come in handy next year when I study abroad in France. I would use it to take pictures, find places to visit, and also help me out when I am having troubles understanding the language.

I want to be able to dream big (as in my avatar image). I want to take amazing photos (on my feature phone, not the iPad!) and edit them on the iPad. I want to write as much poetry or work as I want on the go, on the bus, or in the park, regardless of if I have any paper. I want to compose music on GarageBand, with as many instruments as possible. I want an all-purpose device that I can chill with. I want something I can call my wife on, any time, anywhere. I want an iPad Air.

IPAD Air is my dream , it will help me in every way , i will use it to teach poor people , will use to capture all my memorable moments, will show to my all friends that this is my first great achievement which i got as my birthday gift which i haven't recieve ever. if i win i will feel the most luckiest person in the world because i can't afford to buy it , so its my big wish to win from imore :) it will be a great pleasure for me if u choose me the winner :) IPad Air and imore rocks every time :)

I am only one, but I am one. I cannot do everything, but I can do something better. And I will not let what I cannot do interfere with what I can do. I do with my iPad.

If you have a chance to seize a moment
that you know will be memorable, take a picture of it.
Always think that next time may never be the
same.

Everything has a story. Whether its a fable woven from the darkest and deepest corners of our conscience, or a short heart-wrenching sentence,
Whether its written in the most mystical detail that pulls you in, or painted with the most beautiful colors,
Whether its shouted at the top of the world, on the apex of humanity, or whispered in the poorest of places in the shadows of the greater,
Everything has a story. Through our lives we have gone up and down a roller coaster built for us by the world and the company we keep, but the world around us has its own secrets.
Every mountain can whisper to you the secrets of humanity, the way we built up from caves to cities, from individuals to multitudes.
Every tree can sing the chirps of the birds that fluttered past, fleeing from haunted pasts, or searching for a fireside home.
Every eagle can shout the vast sky above our heads, the clouds that drift along the horizon, covering the last rays of sun. But unfortunately for us, we cannot speak mountain, so we shall not hear them.
Nor can we speak tree.
Nor can we speak eagle.
We only speak among ourselves, to one another. And so we must create our own stories, in place of those who cannot. And this has been the source of the very imagination we carry on our shoulders everyday.
But how do we express the ideas in our mind?
How do we sow the seeds of glory and pride gifted to us from the earth itself? In all truth, we can use anything.
But it takes fame to portray this and find carriers for your story.
Or does it? With the Ipad one can create in seconds, and share in even less.
And with the Ipad, so can I.
And so I will.
_______________________________________________________________________ My Entry :)

I would take it to lectures and take notes on it. Maybe even read on it in a school café. That's as grand as it gets.

some people don't believe in winning in this type of event.. but why not ? sometimes you just gotta role the dice and you may win it.

"no ordinary moments"
~ Millman, Dan

If I had a new iPad Air, I would take it with me on my trips around the world, and take pictures of the scenery that I will come across dozens of times, pictures that would depict the atmosphere of the town/city and the environment of the city. Also, I will use it for my multimedia needs, such as creating dynamic models for my company, so that my clients will have a better product and idea to expect from me. Finally, once I am off work, I will us the iPad as a personal assistant, recording the ups and downs of my life, the journeys and adventures of my everyday encounters and reflect solitarily on past experiences. Since I am a avid photo-taker, a person that reads the news everyday, meets clients at work that I am happy to work with, and also a natural fitness enthusiast, this device can be my future on-the-go gadget, and it will be a great benefit for me due to the apps I can use for each of my activities, and apps that I can use for personal and social purposes.

SOME people WANT it to happen,
some WISH it would happen,
OTHERS MAKE it happen. Be intentional

The hill by house to record my son sledding. To record the memories for me & him. My verse "don't forget life is fast & fun"

There once was an iPad Air
That iMore wanted to share
I wrote 'em a rhyme
When I had the time
Me winning would only be fair

My verse is a map. I create perspective. I turn data into information and information into knowledge. I share a different viewpoint and shape the way we think about the world around us. I invite you in. I inspire the explorer in all of us.

One item on my bucket list is to visit every continent. Having the large canvas of the iPad in such a light package would help me to relive and share these moments years after I've experienced them.

I would like to say I'd use an iPad Air to do amazing things, but, truth be told, I would use it to learn on the go. It would empower me to do that wherever I may be, thanks to its thin, light design.

hi i am hard of hearing my english as well i would like love ipad air this video amaze world all world natural and ipad air videoplayer flim maker screen i wish had ipad air with me would be travel around world can be video photoshop and i hope wanna ipad air. Wink!

My verse will show the darkest place, the mud, the veil, the storm. You must go through when you can't go around. So you can hear although there's no sound. Again, you'll see the colors, …the patterns and the dawn. The uniqueness of your journey illuminating strong.Designed, yes YOU! …you're wired for returning back to joy. Despair to hope and bitterness melts. The power of verse can help it be felt. The power of a story once hidden is at work in you.

I would sit on my amazing couch and play amazing candy crush wile ignoring my kids and wife.

The Ipad air is the future and I think that apple has created one of the best devices so far. My father is a business man and we as a family travel alot. Having the 'ipad air' will make my journeys even more enjoyable. This year we're travelling to Greece and what better than the ipad air to take with me. I will be able to capture every moment with that beautiful 9.7 inch retina display. Also the iOS 7 feature is a gain as we can even multitask with that. Moreover I read alot and being able to read books online or on ibooks will be much easier than carrying the whole Dan Brown series with me. And how can I forget the most important thing, Candy Crush. Where better can you play that game than on the ipad air? Having the ipad air is like having the whole words in your hands in just one touch.

If I won a new ipad air I would use it in my elementary classroom! The kids would love to use it to help with their reading, writing and math practice! I would also use it with my projector so I'm not stuck at the laptop and I can move around the room!! Oh how I would love an iPad in the classroom!

The iPad Air will help me become more liberated in my use of tech - I want to ditch my laptop and go iPad only - use technology less and live more.

I'm a medical student. Which means a lot of debt, a lot of hard working hours, and lots of stress. I've used an iPad throughout medical school: taking notes in class, studying, reading, etc. I'm in my third year and I still use the iPad in the clinical setting. Whether it be looking up diseases, showing patients anatomy and procedures, or watching a quick show on netflix if I have a break. I am helping improve myself and training to help others with the iPad. It has been an invaluable tool in the medical field and will only get better with time.

I developed iPhone/iPad called "Handy Bible" as a bible study app. With this app, I can have tons of bible translations, commentaries, dictionaries, maps, etc with me. I can do serious bible study anywhere, anytime....

It will stem the tide of (and likely halt) my conversion to the dark side (aka Android)

My passion in life is to change the world through technology. I'm currently an undergraduate studying to get a B.S. in computer science which will equip me with the necessary tools to innovate and create world changing technologies that change the way we live our lives. The iPad is a truly revolutionary device that I've always envied and lusted for. The possibilities with iPad are limitless. Receiving this iPad will help me get one step closer to getting my degree and hopefully changing the world through technology! (P.S. I enjoy watching MacBreak Weekly when you are on Rene. Love your insight and view on the world of Apple. Keep up the great work!)

I live in Lviv. It is old and very beautiful city. I hope you will give me iPad. I will shoot on it video about Lviv and everybody will able to enjoy the beauty of city where I live.

The iPad is great. Perfect for going to iMore.com
^This my verse

To the tune of 'What do we do with a drunken Sailor?' What shall I do with a splendid Ipad?
Where will you take an Apple Ipad?
How will I use a sturdy Ipad?
From earlair in the morning. Air Air and on she goes.
Heh Heh the batt'ry flows
On On everyone knows
To dusk from early morning. Put it under water and film sleek dolphins
Put next to a Nexus and make it jealous
Flash it round at work to get all the fellas
Earlair in the morning. Air Air and on she goes.
Heh Heh the batt'ry flows
On On everyone knows
To dusk from early morning. Send it out to outer space with Mr Branson
Take a picture of me so I look handsome
Record home arrival of just born grandson
Earlair in the mornin' Air Air and on she grows.
App App she never slows
Bring Bring your ipad pro's
To dusk from early morning. Sail it in a canoe up the twisting Nile
Recording alligator and crocodile
Take it as a map on a country mile
Earlair in the mornin' Air Air and on she goes.
Heh Heh the batt'ry flows
On On everyone knows
To dusk from early morning. Dangle it near Note users-they'll turn traitor
Paint, draw, write, speak and be a creator
Play RISK and I'll be a virtual dictator
Earlair in the mornin'. Air Air and on she grows.
App App she never slows
Bring Bring your ipad pro's
To dusk from early morning But where will it take this curious mother?
Which of life's mysteries will I uncover?
The world's oyster I'll soon discover
From earlair in the mornin' Air Air and on she grows.
App App she never slows
On On everyone knows
To dusk from early morning.

The world through young eyes
The world through old eyes
The world is what I want to share
Not just because it is there
But because there is so much to see
For the beauty of all to be
I want to capture the world
To capture all the swirl
That makes up the human conditions
To see what makes us come to admissions
Of why our view
Is the time for something new

I would add the iPad Air to the other iOS devices that I have to use them as part of a multi-camera shoot I intend to produce at the Gibson Guitar Beverly Hills showroom in LA to showcase student talent and vocalists from schools around the area. I would log , edit and distribute through the iPad as well. But maybe some MacBook Pro /iMovie /FCP editing in addition, depending how robust the editing software is on the iPad Air.

I want an iPad air because I want to do explore and do research on Africa and all it's AMAZING animals. Us human beings are beginning to destroy the population of animals causing extinction and I want to help stop this by giving these animals their environment they need and the care they need to survive... That's what I want to do with an iPad air... Also make hilarious vines and go on iMore to see great stories that editors and publishers at iMore create to make my Apple life the best. Thanks iMore for the contest!

Be excellent to everyone.

What do I know about this world?
If I were to be given something good, where can I take it; what can I do with it?
It would perhaps take me a mile of adventure, or just a meter of a sentimental talk to create a memory that would last a lifetime. I can take pictures of me, with my family, or with friends, and who knows if someday those would also paint a smile on my face, knowing that I had my share of some good pasts? I can read a book or write a note, and they can be more than enough to satiate my boredom or cravings for new thoughts. Indeed there's so much you can do with an iPad air, which makes me realize that it's not I who can take it somewhere, but it itself is the one who can take me to places far and wide, anywhere! In this world and a lifetime that keeps on struggling with limitations, who knows what a man can barely or ultimately do with his life? It's either so much or so little; an eternal regret or satisfaction.

If i have an ipad i would do things that i have never did in my life i would download as many app as i can to play on this over describe tablet. The best tablet the thinner and the one that have the best software, and the best store. I would like to have one like that and every one in the would have this
Awesome tablet.
Thank you iMore for giving us this chance to describe this tablet.

What will My Verse be?
The goal of the Human Race is to effect the lives of others. We are built to help, designed to combat struggles together. We are here to excel, to launch forward, to be better than our ancestors. We are not creatures of war, we are not hardwired to act a certain way.
We are not made to be solitary. We are not built to be alone, but to work as one.
My verse will not be overlooked, it will not be cast aside or ignored. My Verse will live on. My Verse will be told down through the ages, My Verse will be in history books and in classrooms. My Verse will be known throughout the expansive continents of the world.
My Verse will be unforgettable.
Not for me though.
My Verse is for the next generation. My Verse will be what parents have their children strive to be. My Verse is to have all that are writing their Verses now, and in the future to be better than we could have ever imagined. My Verse is not about me, it is about the outcome of the Human Race. My Verse is all of us.

I have no verse
and I refuse to believe that
I can change this
I understand that this may be surprising, but
"I can conquer anything"
is a lie, and
"I have no meaning"
so in 50 years I will confess to my children that
they are not the most important thing in my life
my boss will know that
I have my priorities straight
because
social status
is more important than
my future
I tell you the truth:
once upon a time
teens had a future
but this will not be the case when I grow old
this is a quick fix society
I have been told that
in 25 years, I will be remembering the anniversary of my divorce
I do not acknowledge that
I will be a part of a country of my own making
in the future
a "man with no verse" will be the norm
no longer can it be said that
I care about my past, present, and future
it will be apparent that
I am apathetic towards my future
it is foolish to presume that
I have a verse And all of this will come true unless we choose to reverse it.
-now please read the poem backwards, starting at the end.

So many tablets...so little time.

I would scream my lungs out if I won this one.. as it would be my first "i" device..
This is my verse... i stands for iconic (style), ideal (gadget), incredible (features), innovation (at its best!), insightful (technology), innate (feeling), invariable(standard), important (for everyone), inexplicable (how can u define such a beauty which is a beast!),inspiring (your creativity), incarnate (of a genie!) all this invented (by apple) available in the "iPAD" and "iPhone".. and how i wish if i could own one.. :) I am a bookoholic, so it will come with me everywhere..
will also use it to educate/entertain my lil 2 yr daughter who is a gadget freak already!
Hope I'll be able to surprise the apple of my eye ( i ) as well.. ;-) PS: Tried to attach a photo. couldn't..

I could not stop myself from adding this line to my thread..
if you really understand how much i desire the iPAD Air, you would certainly know that i deserve it.. :D
i love iPAD

My life revolves around 4 things. Family, pet animals, music and Dota 2. I currently don't own a tab. I like the iPads but they are way too pricy in India. So if I could win this it will make me real happy.

My verse will determine my future. My verse will be auspicious. My verse will be positive.
This iPad Air will bring me one step closer to eternal happiness in life. It will give me joy from entertainment. It will blow my mind up because it is so wonderful; so much that my brain will be splattered everywhere. Zombies will come from the luscious smell. You could do so many things with an iPad. You could make a movie! You could edit photos to look better and appeal to your liking. You could watch movies and listen to music endlessly. Being one of the most awesome devices ever, the iPad is a must have. It isn't ratchet and crappy. It's like a work of art to me! To be honest, I prefer iPads over Android tablets. Give me the chance to make something wonderful with this piece of technology. My verse is me. http://www.youtube.com/watch?v=oJgHJOb6Le0
Here is a video Alex & Sierra, one of my favorite musical groups.

iMade a little animated video poem in honor of this contest. It's on YouTube at: http://youtu.be/IaAb53QbeWU Text transcript:
"The place to take...
...an iPad Air
...is up in the Air" The animation was created on a MacBook Pro using LightWave 3D and edited on Final Cut Pro X. The music is a simple Garage Band Loop. Cheers, and thanks for all these great contests, Meni

if i had the new ipad, it would go wherever i went, i would use it to document all aspects of my life, oh and to access my many ebooks and emails.

if i had the new ipad, it would go wherever i went, i would use it to document all aspects of my life, oh and to access my many ebooks and emails. Hope am within time;)

The best tablet from the best editor, would be a great giveaway.

I am a wife,
who feels much strife.
My darling mate,
just cannot wait.
He craves an IPad,
which makes me mad.
He talks about it at every chance,
even when I let him in my pants.
So please send him one,
my story is done.

What would i do if I have an iPad? Tbh, bring a computer to school is too heavy for studies, especially when you have to read lots of books. Having an iPad would help me carry less books, less weight but with almost the same function as a mac. I would be able to have fun when having free time :) Also, it saves printing and paper on my music score! Also, I will have a long summer holiday after May. I can bring my iPad and take down every step I've been to and every wonderful scenery I've encountered! That's what I will do with my iPad, music study photo entertainment!

My verse would be my 2 year old son facetiming my twin sisters 3 year old son [his cousin] for the first he would be soooooo amazed they hardly see each other and for them two to video chat via facetime would be the cutest thing of the century! Thank you I hope you bring my verse to life!!!!!!!!!!!

I will carry the iPad Air gadget with me in the pursuit of peace,as I travel and interview the remaining, elderly veterans of the second world war. Through their stories and with their voices I will capture the true reason for which they fought. I will share with the youth of today the significance of their victories and the hope of every last one that the world will someday know true peace. A verse from a chapter of history that must not be forgotten.

I'm a bit confused. The winner was just announced but I thought the contest didn't close until tonight (Wednesday 11:59pm)? Just curious since I just submitted my iPad Air Verse video poem (http://youtu.be/IaAb53QbeWU) and I think I'm now suddenly too late. Oh well. Congrats to the winner:)

The Gravity of The Times demands Apple. If Newton had an iPad we would have our fling cars

Odd, on my first read on this site the iPad Air contest is to end at 11:59 p.m. PST today, but I see they've already selected a winner - Delroy Nedd1. Did I miss something ... like the contest?

If I had this device I would make it standard equipment in my disc golf bag as I travel the country playing every course I come across. It would be a valuable asset to my game enabling me to shoot video of the courses as I play, and sharing the images with my spastic plastic friends who love to hammer the courses as much as me. As there are so many happy things I could do with the iPad Air, what I really like is that it's not much heavier than any of the discs in my bag, and what's a game of disc golf without a little 'Air.'

I went to the sink to dye my hair.
Hubby calls in, "let's win an iPad air!"
"What's the game? How," I inquire, as I check the date when this dye will expire...
He says, "Need to write a creative verse."
I got dye on the floor and started to curse...
Ok, I check the clock.
30 minutes till my hair will rock.
Mine as well try to win a new Air.
So that we can take pics of my beautiful hair.
But with three kids, we won't get to fuss.
They take over everything we want for us.
Even still, we'd love to try!
Did this verse make you laugh?
Did this verse make you cry?
Times up. My rhyming is done.
I hope we win, love to have one! https://www.dropbox.com/s/gkzvjy5p6g2hmzk/Photo20182010...

As a veteran dealing with PTSD personally, I have learned that remaining physically active, being outdoors and talking about it have been the most beneficial forms of "treatment". I plan to start a group for veterans with PTSD exploring the wonders of nature and staying active. I would like to creat a video of my and other veterans experiences on this journey to regaining some sense of normalcy in life. My verse would be a doorway to recovery for other veterans. A compilation of support from others who know what we're going through. Knowing you're truly not alone in this fight is huge in my opinion.

As a child, I showered in the rain with my cousins in the Philippines. As an adult, I later helped to build them a bathroom with running water. My verse is my path-bending life mission to destroy the cycle of world poverty… to leave this world better than when I was born into it.

I would take the iPad to Nigeria, I would record me starting a business. I would record the high and lows. I would then turn the video into a documentary.

God willing, I would take this gift that Steve gave us back to Russian orphans and children and let them share their verse with the world... Seeing their beautiful, smiling faces again would be great joy!

To Robin the romantic, to poets dead in the dirt
For my mom who cancer cursed, for those without words.
I contribute a verse
To those who come after, for inventors who dared first
In honor of those who took a chance, disruptive rebirth
I contribute a verse
I'd go to Africa, Antarctica, then the "Air" beyond the Earth
Waterproof my words during dives, new feats, now firsts
I contribute a verse
For loved ones gone, those experiencing hurt
Whether stylus on screen, words drawn in the dirt
I contribute a verse (Inspiration of my entry: After losing my mom to cancer, I vowed to live out her legacy and finish her dream trips and also started a charity specializing in shark dives bucket list adventures for cancer survivors. I would buy a waterproof case and take my new Air on adventures to my 6th/7th continents, on future shark dives, and hopefully to space, where I hope to send a survivor one day.)

Missing my sister and brother-in-law, who are on their "no strings attached" retired grand adventure, something that this retired military spouse could never afford to do. While they're traveling around the world for a year or two, I would love to have a way to do some "facetime" with them, since they have an iPad. To be able to talk "face-to-face" so to speak, and to see where they're staying, would be so much better than just reading their travel blog. So a small part of my "contributing a verse" while here on this earth, would be to continue to be a presence in my sister and brother-in-law's lives, even while they're half-way around the earth. The gift of an iPad Air would make that possible. Thank you for your consideration.

A search for knowledge is fine and all
Though a endless trek for knowledge may be harmful
Wisdom is essential
Though not my only pursuit
I have a passion
A passion for writing is my game
My fingers dance a long the retina display
And my imagination moves
Technology and the arts
A truly magical mix

Receiving a iPad Mini will certainly make my day easier but it will definitely elevate me to another level because I would take it to my most private places such as the Cemetary to remind of my mortality, to Rock Creek Park and to the hospital ward that delivers babies to remind me of the rebirth of life, and how beautiful it is, to New Orleans Mardi Gras to enjoy life at it's fullest so there, now I wait for my iPad Mini

I could do everything having an iPad Air. Apple products are the world's best technology period.

What is my verse? My verse is exploring the world Filling my endless curiosity
Filling my mind
Finding my purpose
Gathering my future
making my tomorrow. But for today is today
We can only hope for tomorrow...

This may I will be going to Paris, France on a trip for school. I do not own a camera nor do I have a computer that is small enough to take with me. I would love to win this Ipad so that I may remember this trip in detail through pictures and notes. Thank you for this opportunity.

Looking in the mirror I see
nothing but a dead, lost,
lonely soul...waiting to be
found. Find me. Please.

My father abandoned me when I was born,
my brother and sister both dead and forlorn,
and when saddened and flat from lifes iron stamp,
deep dark depression from the world's horrid cramp,
and all that I want at the end of the day,
is my mother's happiness that is so far away,
so as you can see my life' s deep despair,
one bit of happiness from an ipad air,
that is my verse that I have to pay,
is all that matters at the end of the day.

I would love to start my Apple Experience with a brand new Ipad Air. I really love it. I would take photos of every people I see during the day so at the end of the day I would understand how many people we keep in touch with every day... I love this Ipad. I would love winning it. I cant afford it, I live in Albania so I would be really really REALLY happyyyy to win it.

With the new iPad Air, the possibilities would be endless. Everywhere I would go it would go with me. I saved for months to buy my first iPod touch and it was stolen . A few years later I bought a new iPod touch 4th Gen. It also went missing. I have had my iPhone for over a year. I saved for 8 months to buy my iPad mini and having it about 9 months, my Grandson droped it and shattered the screen :(. When Apple came out with the iPad air I was up at 7 am to see how great it was. From the moment I first saw it I have wanted one so bad. My Verse. " if I won an iPad air, it wouldn't change the world but it sure would change my life. "

This would be my first iPad. Where would i take it? Everywhere. Yes, I would specially take it to take pictures of my grandsons. All three of them are in sports etc and I would love to make a memoir for each of them. I would make collections of memories for them that when I'm no longer on this earth they can look back at what their Nana made them so they to can share with their own children. This would be my first iPad and I know I'll have fun with it. I have a older camera a Kodak Z950 and it's about to die so I'm ready for something new. I would call my iPad Nana's Toy!! Thanks

I just noticed that the dead line was last month, I guess I'm out in winning a iPad. :(

"When the things were dark, the night was awake
for a missing title, I was waiting for a new iPad Mini"
It was the tab which brought life to my grandfather. When he was suffering from cancer, it was my first response was" Bring me my iPad " as I was to contact the doctor.
On other day, when my morning was getting too late, I used the iPad to wake me up for the most important meeting. What else if I get an iPad , I will link it with my heart. It would help me in my science experiment. Who knows, it may help me bring an invention to this world; for this world. Rest I will think when I get it in my hands. Will I?

I m a poor guy from Nepal and cannot afford to buy Apple Ipad...So If only I could have got it from somewhere, then I would use it for numerous purposes like capturing golden memories of my life in pics and vids, teaching aid for my students back in Nepal..Plz if someone is generous enough to grant me Ipad, I would be able to utilize it for various beneficiaries purposes ; not only for me and my family but also for those students back home,...Thank you

Having an iPAD is like .. "Entire world in your hands" .. equipping with best of the technology "that can ever be" .. like empowering you "more than ever possible" .. for you to reach out to your dreams .. "like you are there already" ... LIVING YOUR DREAM.

Companion in work
Companion in play
Lets go outside
Siri what's the weather today?

Technologize yourself and move ahead for a new generation!
Grab your opportunity,modify yourself with the new iPad Air!!

Reach for a star, and hold it in the sky
Don't let it fall from it's fix within the nigh
Yet if it were to fall, pick up the broken parts
Mend them together as if a broken heart
Seal the cracks with the truest of love
And place the star again in the void from above
Treat it as an angel, not simply a broken star
The way we use our love, determines who we are

Wow I wonder how to win something I never win nothing

WORLD has been changed .. everyone didnot think to make products like this. but sir steve jobs develope knowledge to develope such thing . which makes our life very much comfortable and good.
i have a iphone 3g .. and i imagine at night if i will be the member of apple company than i can easily get new products and do something great,..
If i will get this ipad than first I will take a great pic our nature and edit it with great app which works on iso 7
and used it for my study i am very much interested in music too
so i want to make my own videos with
the help of great app such as garage band,.. BUT SIR STEVE JOB IS VERY MUCH GREAT ..I HOPE APPLE WILL BRING NEW PRODUCTS IN FUTURE.

i am a kid who is bullied and kids always saying i dont have a phone or a electronic

I love apple since I was a child I always see my aunt playing ipod,apple cellphones and others gadgets that is brand of apple
and I also liked its features

I am 13 years old and i would like an ipad to help out with school work so this is why i am entering this contest.

Ipad Air- The Power of Lightness A ton of advanced technology. In just one pound. Desktop-class architecture. No desktop required. Do more in more places. It comes ready to work and play. Beautiful designs. Beautifully integrated. Make Ipad Air even more Brilliant! :D :D :D

Inspire, unite, excite. What will your universe be? - Patent pending... :P

I will take my ipad anywhere and every where

I am a college student, and my life is only beginning. I don't know myself well yet, but I know what is important to me. I love being outdoors; I love my parents, my two sisters, and my brother; I love drawing and making art; and I love Apple! I have an iPhone which I use in every aspect of my life, but it has it's limits. An iPad Air would help me break out of that box. With an iPad, I could read my textbooks online and take them on the go with me. I could use apps to enhance my photography, like Snapseed and Photosynth. I could talk to my family via FaceTime. I have wanted an iPad for some time, but have been unable to afford one. This summer, I have the incredible opportunity for an internship at a National Park. I had saved up money to buy an iPad so I could share my experiences with those I love. That was before I found out my financial aid next year will be less than half what it usually is due to my older sister graduating. My parents cannot support me even though I am attending a state college. Now, any money I have must go towards tuition, and "luxuries" like apple products are out of the question. My verse is one of potential. I'm still trying to find out what I'm capable of, but I will never know if I am not given a chance.

Had been longing all my techlife to own anything Apple/iPad-Apple things are really useful, I noticed. I can't imagine how much my life would grow with it. Give me a chance and I'll show the world how to truly use it!

I have been wanting a ipad for a long time I am a writer and I am writing a story about how my grandmother and uncle were shoot a few years back but my computer no longer works and my grandmother wants to read it she is very set on it she wants everyone to know her story and the pain it caused her and my uncle the effects of the shooting took its toll on them both my uncle list his legs and his love.of spits and my grandmother has ta

"Perhaps you have found yourself getting bored doing the same thing day after day. You wake up in the morning, go to work, come home, eat dinner, watch TV, then go to bed. Boredom has set in. Your weekend routine is different, but overall each day seems pretty much the same. Life is boring." I had seen people use not just ipads but other electronics like smartphones to do things they want.Well I want towrite stories and see the world and make videos.I like to write stories about different things.I also like to write fanfiction.Yes,I am one of those people who sees something or reads something and tries to make a different story out of it.Also I want to be able to role play my stories or my friends stories.My friend and I like to write stories and fanfiction.Its something we love to do.We also want to do our own anime when we grow up.Also I like seeing the world even if I can't go to that place I like to read about it and see videos.If I had and iPad I would do many things with it.Thing I Love.I will share it with my friends Wadad Kantor and Andrea so they can also create things and do new things instead of following the same routine each day.I want to be able to publish the stories my friends, and I write and for people who like to read new thing to be able to.

Id take it everywhere from the mountain tops to trips to the ocean...

I'm am mother of three. Married for 14 years to my handsome husband, Chuck. We have had many struggles through out the years. Mostly financial troubles. We've had and lost many different jobs which caused us to move several times. We are finally in a stable place in our lives now not so much financially, but we have a home. Our children have thrived. Still don't have much. We have had to learn to live very frugally. Raising three girls is expensive. LOL! Our girls are teenagers now and have excelled in school and in sports. Education is so important. My husband wants to become an Equine Dental Provider. He has been an apprentice to a veterinarian for 5 years to learn this skill and will be attending school in October to become certified by the state. This certification will allow our family to become financially stable and will ensure that he will always have a job because he will be able to work for himself. The iPad Air would make it possible for him to take detailed pictures and send dental charts to horse owners. It's light weight would make it easy to carry with him anywhere including horse barns, stalls, and clinics. Instead of trying to keep up with stacks of paper work for each client, it would all be kept conveniently on the iPad Air. No more documents getting carried off by the wind that might spook a clients horse or getting dirty from the dusty stalls and horse barns. Think of the trees we could save when all the documents and charts could be sent to clients by email. It would be a must have tool in this profession. My verse is a productive one. My verse is to struggle, learn from those struggles and become productive.

My verse would be... I would take it everywhere I go even the bathroom(eww I'm just kidding) I would treat it and take care of it as if it were my own child. Then use it to play destructive apps(games)!!!! Jk please pick me I loveeeeee -Apple-

To teach, to create music , to inform here and in other lands the potential they already have inside. To train how to get the song in their heads into the heads of others. To show a culture that is different then their own through photographs , history, and music . To teach that even if you face a disability you can still create and leave something of value behind to touch and inspire others.

My verse will be to discover new things and have fun doing it and not just be lazy like other ppl and not do it. I love learning and reading and discovering new things and I think that this iPad and I can can do all of this together

I love to get my hands dirty,
Whether its in a garden or a car,
Remodeling a room, or cleaning a bar,
I love to get my hands dirty,
Usually with eraser scraps, or pencil dust,
Drawing a gown, or an architectural bust!

I really need this Ipad I have no phone and computer I have to travel to the library. every day to do my homework and chat with my family I don't get to see ever. if I have the Ipad then I can solve all my problems at home and my antisocial life with my family that lives in a other part of the country my mom cant afford plane and drive to see them please you have to give me that I pad I share it so we can get are stuff done i haven't worked for years plzzz help meee

I love apple company and i am great fan of apple products but i cant buy it and i m poor too.I dont have no mobile ipads or tab. so i wnt this ipad.

I would try to cheer childrens become their hope and share thecnology. I try yo be optomistic but with low resourses all i can do is hope that i will win the iPad so i can help.

My best friend is battling cancer . The best gift I can give her is an ipad. I all I want for her is to smile and forget about the pain she is enduring.

All I wanted was an ipad,something unique I never had. We all think about what we could have,not realiesing what we already have. Theres people in the world in worst situations than you that dont even have a shoe and think about tommorow realising they dont even have a clue, so guys and girls to day is the day to make a change and be gratefull for what we have gained.thanks
See yaa

my verse would be seeing the world in the eyes of the beholder, because I love photography and just relaxing and going around taking pictures of amazing sights, and all the amazing things that my friends and family do, because things like that warm my hearts, and when you don't have something to take photos with, it becomes very hard to snap these precious moments.

I have a new Grandbaby! Taking Pictures & Videos of him are my favorite past time! However my Iphone's memory is forever filling up! I hate that my videos get cut short or I have to keep picking pictures to take out of my phone to free up storage. There are so many more memories to catch and I can't think of a better way then with an IPad Air!!!
Thank you for reading !!

I really would like a Ipad air to do my homework on for middle school.

I love to travel. I have been to many great places like Costa Rica, London, Puerto Rico, and many many other places. If I could possibly have this IPad to entertain me on the flights, take pictures (Im a photographer), and much much more. I have always wanted an IPad air. It is so light, and easy to use. And yet right now i am using my money to help my kid get through college, and I am also donating a lot of it to charity. Please can I have this IPad. I am going to give it to my younger son for his 13th birthday. I am planning to take a trip to Spain soon and take my son with me. I plan to see the great art there, and explore the culture. With the IPad i could put all the pictures in the Icloud, and share them with the rest of my family through family sharing. Thank You!

how can i have an ipad air?

Never say goodbye <3 the new thin look of the iPad!!!
because saying goodbye
means going away
and going away
means forgetting
-Peter Pan

thy shall give me the IPad
-Thyself :) haha no, just kidding. THAT IS MY VERSE!!!

all memories can be taken with wonderful pics when you get home you want to display the precious memories that u took well I want my iPad air to do that so everywhere I've been I no longer have to feel like I cannot hold any more memories :)

Wishing this contest was still going so I could win an iPad for my Mom who was diagnosed with ALS the end of January. The "play" of her life has been powerful even as she loses her strength, however, I am afraid that soon she will no longer be able to contribute her "verse" when she loses her ability to speak. It's not as glamorous as some of the uses of iPads that I have seen, but I would like to have one to use to record her voice and use as a communication device so she can continue to contribute her unique verse to our lives.

I have never had an ipad, iPhone, iPod or computer. I dream about them every night wishing I could have one so I could be popular. I get bullied at school for being poor and not having one. I just wish I could have one even for a day. I am using my only friends computer to do this verse I wish I could have something technology so I could live in the modern era. Thanks for your time imore.
From Troy

I plan to take many camping trips around Texas and the south this year with my soon to be wife. We also want to travel the world to places off the beaten path. Our mission ( much like Walter Mitty) is to see the world, things dangerous to come to, to see behind walls, draw closer, to find eachother and to feel. I want to get her i ipad to record these events as well as serve as a source of fun for relaxing nights under the stars to watch movies on. This is why i would GREATLY want(but not need) an IPAD. Thank you

I think Apple is better then kindle fire.so that's why I want an IPad.

If I had a new iPad Air I'd take it to Algeria because I go to the Mediterranean Sea and I love to take pictures of it as the sun is setting and I love to take pictures of my memories if my family there. This would be my verse, my poem, my life's dream..!!

No other gadget is as cool as iPad.I just love.Apple is the best ever company.

My cousin has a mest up heart so I want it so that if it gets better I can give him something to learn things on I hope I win to give it to my cousin

Hi imore
PUTTING A SMILE ON A CANCER CHILDS FACE!
I have recently started my new charity called Shining Ayaan. This charity is for children with cancer in different countries
I have recently visited a children oncology department where the kids didn't have a playroom.
I am building a small playroom in the ward for the children. I am gathering loads of toys and also would love to have a iPad in the ward.
Please I would be so grateful if I win this iPad.
Thank you for listening to my story. Also please do visit my webpage kashifazizmustafa7.wix.com/shiningayaan
Regards Mrs Aisha Kashif

Yes i would like to win the ipad air it's would help me for my class study en watch Robin Williams movies