What you've been waiting for: You can now buy a $10,500 diamond-encrusted iPhone. You're welcome.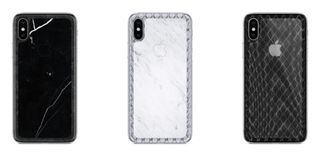 Have you ever looked at your iPhone X and thought "Wow, this really isn't covered in enough diamonds?" Or maybe you peer down at your boring, dumb, diamond-less iPhone and think "Wow, I really wish I spent $5,277 to $10,500 on this?"
Let's get real: everyone's had these thoughts from time to time, which is why it's so incredibly awesome the Luxury accessory maker Hadoro has come out with marble, gold, or diamond-encrusted, iPhone Xs.
The same company used to offer some cute, modest enhancements for your Apple Watch that would have cost you around $17,000 (hey, real gold ain't cheap, baby), but unfortunately that's no longer an option.
But lucky you! If you wanted an iPhone that screams I LOVE THE ROYAL COUPLE OH MY GOD THE WEDDING WAS EVERYTHING then you can pick up this 24-karat iPhone X for a cute $4,000 #cute
Get the best of iMore in in your inbox, every day!
Cella writes for iMore on social and photography. She's a true crime enthusiast, bestselling horror author, lipstick collector, buzzkill, and Sicilian. Follow her on Twitter and Instagram: @hellorousseau
Thank you for signing up to iMore. You will receive a verification email shortly.
There was a problem. Please refresh the page and try again.