What's changed in watchOS 2 on your Apple Watch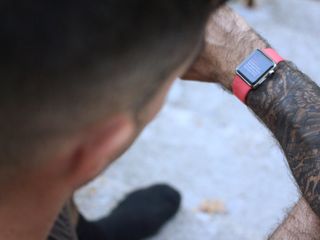 You've skimmed Rene's review, but you want the good stuff, the fancy stuff, the stuff you can use RIGHT NOW. Okay, iMore readers: You got it. Here are all of the cool features of watchOS 2, simplified.
New clock faces
Photos are the watchword (ha ha) in watchOS 2, with the Apple Watch getting new faces involving Photos, Photo Albums, Live Photos, and Timelapses.
A Photo face involves a single photograph and the time—no complications, sadly—while the Photo Album face captures an entire rotation of images shown at random every time you wake the watch.
There are also six precreated Timelapse faces, which display a 5-10 second timelapse of Hong Kong, London, Mack Lake, Paris, New York, and Shanghai.
Custom complications
One of the coolest features of watchOS 2 is custom third-party clock face complications: With custom complications, you can view upcoming flights or hotels, your next pill dosage, whether it's going to rain in a half-hour, or how long you've been working out. (Better yet—you can virtually travel through time while checking this information with the flick of your watch's Digital Crown.) There are a bunch of apps out already with great complications, and we'll have a guide up soon of our favorites.
Complications also get new colors, including Rose Gold and Antique White to match new iPhone and Apple Watch models, and "Multicolor", which assigns a different color to each complication on the clock face.
Travel through time
Not only are custom complications rather fabulous, but if built correctly, they can travel through time. Not with a DeLorean—I don't think an Apple Watch can go 88 MPH or create 1.21 gigawatts of energy—but with a different object that begins with D: The Digital Crown.
Turn it left or right and go 24 hours back or forward in time. This affects any complication with intervals built in, including the Calendar, third-party weather apps, car chargers, and more, and it's a great way to see what your day looks like at different points in time.
No hoverboards, though.
On the nightstand
If you're one of those folks who charges their Apple Watch horizontally on a bedside table, you'll love Nightstand mode: Enable it in the Apple Watch's settings, and whenever your watch is plugged in and on its side you'll get a large green horizontal clock face with date and time in bold.
Set an alarm, and you can even use the Digital Crown and Side Button as snooze and off buttons, respectively.
Do a little bit more with Mail
You can reply to people's emails on the Apple Watch now! With dictation! Just firmly press on the display to trigger the contextual menu, of which "Reply" is the first resulting button.
Unfortunately, this replying prowess doesn't extend to Siri: Ask Siri to compose a reply, and she sends you back to your iPhone.
Add multiple friend groups
Gone are the days of 12-person-only sketch fests: Now you can add hundreds of friends, each grouped into their own little twelve-person circle. (It's like organizing a wedding party, but you don't have to worry about whether someone in that circle is going to get embarrassingly drunk! Win-win.)
You can add these friends from either the Apple Watch app on your iPhone or on the Apple Watch itself, under settings.
Multi-color sketches
Want to draw a properly-colored BB-8? Dark Knight? Pizza slice? watchOS 2 makes that possible with multi-color sketches. Just check out some of Rene's masterpieces!
New emoji
There are at least ten new 3D animated emoji present in the Apple Watch's reply screen, including three emoji faces with sunglasses, head wounds, frowning faces, double fist bumps, and so much more.
I'm particularly partial to the two sunglasses variations, though I've heard good things about the sarcastic-looking faces, too.
More Apple Pay for everyone
watchOS 2 and Apple Watch get the same Apple Pay improvements as iOS 9: The addition of store cards and loyalty cards, support for Discover Card, and more.
If anything, these improvements on the watch are even more valuable—paying with features on your watch is a much quicker way to get through checkout lines.
Transit is here for the watch
Want to get away by bus, train, or automobile? The Maps app in watchOS 2 lets you do all of that, helping calculate estimated times, tapping you on the wrist to get on or off public transportation, and the like.
As with iOS 9, transportation is limited to certain cities to start; just 8 to begin with, but hopefully more to come soon.
Grooving to a new tune
The Apple Watch has a newly-redesigned Music app for watchOS 2, bringing shortcuts for starting Beats 1 radio, My Music, Playlists, and viewing the Now Playing screen. There's also a new button called Quick Play, which randomly serves up either shuffled music from your library (with no Apple Music subscription) or a randomly selected playlist or artist collection based on your tastes.
Additionally, the Now Playing screen has been reconfigured to provide even easier controls for favoriting music and adding it to your library, as well as controlling volume.
And last but not least: All the Apple Music goodness for Siri on the iPhone has come to Siri on the Apple Watch, allowing you to ask about top songs from the 1980s to your heart's content.
Superpowered Siri
Boy, does Siri get an upgrade in this version of watchOS: Not only can Apple's personal assistant talk to Apple Music and HomeKit now, but it's much smarter about messaging: Instigate a text message via Siri and you'll send it off automatically unless you press a button to cancel. So much better than the previous "tap up to five times in tiny target zones to try and send a message. Or cancel. Who knows?"
Apple has also fixed a personal peeve of mine: Siri dropping your query if you drop your wrist and the screen goes off. Instead, Siri continues to work in the background, ensuring that all your messages, map commands, and tip questions will be taken care of.
Full-powered apps
Not only do we get the option for native apps with watchOS 2 (those are apps that run directly on your watch, as opposed to apps that run largely on your iPhone), but those native apps can do lots of fun stuff: access the heart sensor and Digital Crown; get Wi-Fi without the iPhone present; add custom complications and glances for you to choose from; and use the Taptic Engine to create vibration patterns.
There's a lot of potential greatness for app developers to play with, and I for one can't wait to see what they come up with.
Wi-Fi for the Apple Watch
Represented by a little cloud icon where the "disconnected" icon might normally be, watchOS 2 Wi-Fi allows your Apple Watch to automatically hop on any network you've previously connected to via iPhone. It gives you more flexibility when you're on the go, whether that's running third-party apps native to the Apple Watch or checking the weather before you step out of your local brunch place.
So much more
Like with iOS 9, there is too much. We must sum up. So, in closing, here are some other cool features that you might spot while out and about with iOS 9:
The Activity app lets you check your weekly summary at any time.
Third-party workout apps can request sensor data and write to the Activity app, increasing your ring data.
The watch now supports FaceTime audio calls and Wi-Fi calling (if supported on your local network).
Notifications include inline text replies from any app—third-party or otherwise.
The passcode screen has larger, more square buttons, making for easier touch targets.
Siri can pull up Glances.
AirPlay button in Glances allows you to switch between Bluetooth headphones and speakers.
You can now select to leave the screen on after a wake tap for 15 or 70 seconds.
You can manage custom complications from the Apple Watch app.
Workouts save automatically when you end them.
You no longer have to mirror Airplane mode on the iPhone and watch—there's a setting for that.
You can create up to twenty pre-written replies in the Apple Watch app, under Messages.
Activation Lock now exists for the Apple Watch on pairing, preventing it from being operational if it falls into the wrong hands.
And for even more, check out the review's full breakdown of all that's new in watchOS 2:
Questions?
Anything we missed? Let us know in the comments!
Get more iMore in your inbox!
Our news, reviews, opinions, and easy to follow guides can turn any iPhone owner into an Apple aficionado
Serenity was formerly the Managing Editor at iMore, and now works for Apple. She's been talking, writing about, and tinkering with Apple products since she was old enough to double-click. In her spare time, she sketches, sings, and in her secret superhero life, plays roller derby. Follow her on Twitter @settern.