Siri on Apple Watch: The ultimate guide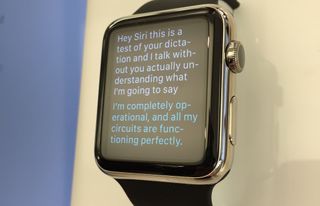 Typing on an iPhone is fine — typing on an Apple Watch, less so. Wrist-sized screens don't do so well with digital keyboards, after all. But lucky for us, you can use pre-built text suggestions, dictation, and Siri to accomplish the majority of the tasks you'd otherwise complete with traditional text entry.
Watch Siri may not be quite as full-featured as iPhone Siri, but your digital assistant can still do a bunch of tasks — and chat with its iPhone buddy when otherwise at a loss. Here's a quick overview of what Siri can (and can't) do on the Apple Watch.
What Siri won't do
Before we get started on all the cool things Siri on your Watch can do, here's what it can't: work offline. Though you no longer need your iPhone on and within range of your Apple Watch for Siri to work, Siri still needs a data connection, whether through your iPhone, Wi-Fi, or cellular, in order to function. Without one, Siri flashes a mournful "Siri not available."
Getting started with Siri on the Apple Watch
There are a lot of things you can do to customize your Siri experience on the Apple Watch to your liking. From getting set up to turning off Siri's voice, here's how to get started with Siri on the Apple Watch.
The Siri watch face
Since watchOS 4, the Siri watch face has offered an experience for the Apple Watch that's akin to the Today widget view on the iPhone. A series of intelligently ordered and updated cards for information like weather, news, appointments, and third-party apps are organized in a scrollable list and surfaced as Siri thinks that you'll need or be interested in them.
No more "Hey Siri"
Apple Watch now has a "raise to speak" feature for Siri, allowing you to issue a spoken command to the digital assistant without saying "Hey Siri." This is great for issuing commands for everything from music to controlling your smart home devices, as it reduces the mental steps necessary to complete a task, and allows you to speak to Siri a bit more naturally.
Settings, glorious settings
"Hey Siri, turn on Airplane mode."
Watch-based Siri is just as good at turning things on and off as iPhone Siri. You can ask your Watch to disable or enable Bluetooth, turn on Airplane mode, and even enable or disable accessibility features like VoiceOver. (Siri won't turn on Power Reserve mode, however.)
Time, dates, and alarms
"Hey Siri, what time is it in Kilkenny, Ireland?"
Siri is great at knowing what time it is — whether you're curious about the current time in your hometown or a city halfway across the world.
"Hey Siri, turn off my alarm for tomorrow at 7 a.m."
Your voice-based assistant can also turn alarms on or off, as well as set new alarms (including repeating alarms).
"Hey Siri, set a timer for ten minutes."
Need to boil some pasta or do some exercises? Siri can take care of any of your timing-based needs.
Communication is key
"Hey Siri, call my mother."
As on your iPhone, Siri can place calls for you if your recipient is in your Contacts list.
"Hey Siri, send a message to Rene."
You can't send Digital Touch, heartbeats, or animated emoji using Siri, but plain jane text messages work well enough. After you dictate your message, you'll even have the option to either send it as dictated text or as a voice memo.
Siri and productivity
"Hey Siri, create an event titled Pool Party for next Sunday."
Siri can handle making new calendar events for you, pulling up the next event of your day, and it can even add reminders to your lists — despite the fact that there's no official Reminders app for the Watch.
"Hey Siri, image search for Batman."
Siri will perform Bing image searches and Wikipedia queries on your Watch, but if you want detail beyond the initial response box, you'll have to pick up your iPhone.
The exercise machine
"Hey Siri, start an Other workout."
Don't have a hand free to tap on the Workout app? Siri is happy to start a workout for you, no fingers necessary.
The Watch maparium
"Hey Siri, show Philz Coffee on the map."
If you want to view a place, town, country, or street, just ask Siri and it'll make it all happen.
"Hey Siri, get me directions to the nearest gas station."
"Hey Siri, get me transit directions to the Cartoon Art Museum."
Siri on the Watch can be a great asset while you're otherwise occupied, pulling up directions that you can then use either your Watch or iPhone to navigate.
Music to my ears
"Hey Siri, play 1989."
"Hey Siri, what's the top song from 1989?"
"Hey Siri, shuffle all my music"
Siri on the Apple Watch gets all the Apple Music action of the iPhone. You can ask it for the top hits of a certain year, ask it to put on playlists and records alike, and even get it to shuffle or like your music.
Open my house
"Hey Siri, turn on my lights."
"Hey Siri, open my front door."
Siri on the watch can take any HomeKit command the iPhone can process, whether that's lighting, thermostat changes, door unlocks, or drawing of blinds.
Keeping in touch using third-party apps
"Hey Siri, send a message with Telegram."
"Hey Siri, make a call with Skype."
Just like you can with the built-in Messages and Phone apps, you'll soon be able to send messages and place calls with your favorite third-party Apple Watch apps.
Send quick cash
"Hey Siri, send $10 to Emily with PayPal."
Make a quick payment or request some money with apps like PayPal and Venmo.
Get where you need to go
"Hey Siri, book a ride with Lyft."
Car-hailing services like Uber and Lyft will let you book rides without you needing to take out your iPhone.
Your workouts your way
"Hey Siri, start a workout in Zova."
Start, pause, resume, and end workouts in something other than the built-in Apple Watch Workouts app. This category is notable because one app, Zova, has already been updated with Siri support on the Apple Watch.
Finding photos
"Hey Siri, show me men's fashion pins on Pinterest."
Once apps like Pinterest, Vogue Runway, and Pikazo are updated support the Apple Watch, and Siri along with it, you'll be able to drill down and find specific photos in specific apps, like "birthday decorations on Pinterest" or "photos of my girlfriend in the style of Picasso in Pikazo."
Miscellaneous calls
"Hey Siri, open the Weather app."
"Hey Siri, open the Dark Sky glance."
"Hey Siri, what's the tip on $90.06?"
"Hey Siri, define corpulent."
Whether it's music to be played; apps to be opened; or stocks, sports scores, and weather information to hear about, Siri's got you covered. Just ask what you want to know and it will attempt to meet your needs as quickly as possible—and if it doesn't, you may well at least get a funny joke out of it.
Working with third-party apps
Siri on the Apple Watch works with third-party watch apps, and particularly well with categories like fitness and task management. Here are some of the best third-party watch apps with Siri integration.
Best Apple Watch apps with Siri integration
Siri in watchOS 6
In watchOS 6, coming in the fall of 2019, Siri on the Apple Watch expands its capabilities in two major areas. Siri on your watch will now be able to identify songs, as well as perform web searches.
Apple occasionally offers updates to iOS, iPadOS, watchOS, tvOS, and macOS as closed developer previews or public betas. While the betas contain new features, they also contain pre-release bugs that can prevent the normal use of your iPhone, iPad, Apple Watch, Apple TV, or Mac, and are not intended for everyday use on a primary device. That's why we strongly recommend staying away from developer previews unless you need them for software development, and using the public betas with caution. If you depend on your devices, wait for the final release.
"Hey Siri, what song is this?"
If you're listening to music on your Apple Watch or you just hear something while out and about, your Apple Watch can now identify what you're listening to with some help from Shazam. And this can happen even if you've left your iPhone at home if you have an Apple Watch will cellular connectivity.
"Hey Siri, do a web search for the best Thunderbolt 3 hubs."
Siri can now perform web searches directly on your Apple Watch. What's more, you can open the links and read them on your Apple Watch, thanks to the tiny web view that has been included in the Apple Watch since watchOS 5. It's not the best web reading experience you can find, but it's surprisingly functional on such a small screen.
Updated June 2019: Updated with information about watchOS 6, as well as additional information about existing Siri features on Apple Watch.
Serenity Caldwell contributed to a previous version of this article.
Master your iPhone in minutes
iMore offers spot-on advice and guidance from our team of experts, with decades of Apple device experience to lean on. Learn more with iMore!
Joseph Keller is the former Editor in Chief of iMore. An Apple user for almost 20 years, he spends his time learning the ins and outs of iOS and macOS, always finding ways of getting the most out of his iPhone, iPad, Apple Watch, and Mac.