TV app, new emoji, new screen effects, SOS — What's new in iOS 10.2!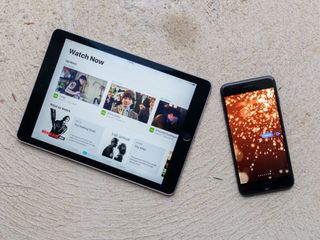 With iOS 10.2, Apple has introduced some substantial additions to the iPhone and iPad experience. Among these changes are the new TV app, brand new emoji, and a new screen effect for iMessage. There are also a number of smaller, but still important, tweaks that make the overall experience better.
Once you download and install iOS 10.2, these are the notable additions and changes to be aware of.
Tune in to TV
Just as tvOS 10.1 has done with the Apple TV, iOS 10.2 has added the new TV application, which is now a central hub for the shows and movies you watch on your iPhone and iPad. Your media apps like Hulu, NBC, and ABC, if they've been updated, will send your viewing data to the app, allowing you to pick up where you've left off.
New emoji!
iOS 10.2 brings new emoji that were created as part of Unicode 9.0. The new emoji include Clown, Bacon, and Selfie, and more than 70 additional characters, giving you a variety of new ways to express yourself.
Celebrate with Messages
Messages now features a couple of new screen effects for your iMessage conversations. You can now send your messages with the Celebration effect, in which sparks shoot out across your screen. There's also the new Love effect, which sends a Heart balloon as part of your message.
The little things
There are some smaller changes that come with iOS 10.2 that many will find very useful.
Among these new changes are the Preserve Camera Settings options, which will keep your most recent settings for camera mode, photo filter, and Live Photos the same in the Camera app. Previously, you'd have to reset the Camera app every time you opened it. Find this new feature under Settings > Photos & Camera > Preserve settings.
The Music app has made a couple of tweaks to its user experience that should make everything more enjoyable overall. First, the Shuffle and Repeat buttons are now substantially larger, and are now just a short swipe down on the Now Playing screen. Second, star ratings have returned, so just head to Settings > Music and flip the switch next to Show Star Ratings, and press firmly on a track to view and change its star rating.
While the TV app is the new central hub for TV shows and movies on your iPhone and iPad, that doesn't mean that the Videos app has been abandoned. The app now has a widget, which you can use to continue your binge of a TV show or pick up where you left off with a movie.
Apple's SOS feature, previously introduced on the Apple Watch, is also now available for iPhone owners in India.
Any questions?
If you've got any questions about the new features in iOS 10.2, don't hesitate to post them in the comments.
Get the best of iMore in your inbox, every day!
Joseph Keller is the former Editor in Chief of iMore. An Apple user for almost 20 years, he spends his time learning the ins and outs of iOS and macOS, always finding ways of getting the most out of his iPhone, iPad, Apple Watch, and Mac.
I hope iOS 10.2 fixes the iPhone 7 bluetooth problem with my tiles.
The Bluetooth has capped the amount of tiles that can be connected to 2 tiles at a time, instead of all 6 of my tiles. I didn't have this problem with my iPhone 6 running iOS 10.

I REALLY hope that the updates my bluetooth issues with my 3rd party Motorola Roadster speakerphone this time around. Still way too many audio hiccups.

Had heard of the new "SOS" feature coming to 8.2. Really disappointed it is only offered in INDIA though. :( Sent from the iMore App

Cannot find the (Emergency SOS menu) on my iPhone 7 Plus. it is not showing up. Is anyone else having this Issue ?

When will that be coming to the states? Sent from the iMore App

Hopefully this fixes the notification sound for different apps as well.

SOS is India only. It appeared in iOS 10.2 beta 1 (and maybe beta 2). Then they removed it from most countries. I'd heard that this was due to a high number of false alarms. I'd expect to see it back later, but with perhaps a different trigger, or a way to stop the call if triggered accidentally. Sent from the iMore App

Thanks my Friend. I was just about to Restore my 256 GB iPhone 7 Plus.
U know what, i just spoke to a iPhone Rep @ Apple and she said that (Emergency SOS) was still in this iOS 10.2 release. (Proves how much these so call "Tech Geniuses" really Know)

Well, it technically *is* in the release, you just can't see it or use it :-)

Is the new TV app limited to portrait orientation on iPhone Plus models, aside from watching a movie?

Can't find the star ratings switch in settings>music. Does it only appear if you have music downloaded on your device? I stream from Apple Music so there is nothing local.

I do not have the TV app on my 10.2.1 iPad Pro. I cannot find it on the App Store. I cannot find it in the app list on iTunes. How do I get it back? I tried a restore last night and it is still not there. Help?