What's in Serenity's fall Apple event gear bag?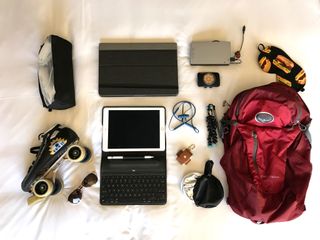 I've been fortunate to attend quite a few Apple events since my first WWDC keynote in 2014, but this is the first time I'll be heading down to Cupertino — and fitting, as it's also the debut of Apple's new Steve Jobs Theater.
My excitement over seeing Apple Park in person aside, I'm packing a pretty similar bag to my travel kit for WWDC: 13-inch MacBook Pro, 10.5-inch iPad Pro, extra battery packs, a tripod or two, charging cords…
… and my skates, as yet again I'm coming directly from a roller derby tournament. (Also, after my WWDC experience, I don't think I ever want to go to the San Jose area again without a pair of skates on my feet to get me from place to place.)
Here's what I'm bringing to Cupertino on Tuesday!
Osprey Daylite Plus Daypack

(opens in new tab)

: I already brought a pretty hefty backpack on this trip for my roller derby gear, so I wanted to keep my tech needs light and nimble — and one of Osprey's hiking backpacks, the Daylite Plus, is a perfect fit. I've been loving traveling with Pad and Quill's beautiful Cascade

(opens in new tab)

backpack, but it's not practical along with my other luggage.The Osprey is a small but versatile bag: It's rugged but stylish, and built like a hiking backpack with all the right vents to keep air flowing to your back as you wear it. The Daylite Plus easily fits my MacBook Pro and iPad Pro together in its main compartment and laptop sleeve, with plenty of room to spare for additional chargers and other miscellany.
13-inch MacBook Pro with Touch Bar

(opens in new tab)

: I love writing on my iPads. I do. But while you can cover an event with only an iPad, I prefer to have all my tools at my disposal. (Also, with Astropad's Luna Display prototype, I have instant wireless dual displays. It's The best.)I'm covering my Mac with Pad and Quill's Cartella Slim

(opens in new tab)

, a fabulous protective book covering that also keeps it from looking like an easy theft target — or getting lost in a crowd of fellow Mac-toting journalists.
10.5-inch iPad Pro and Pencil

(opens in new tab)

: I don't go anywhere these days without my 10.5-inch iPad Pro. It's a great backup writing machine, but I also use it for sketches, a second monitor, cutting video, and in places where it's tricky to pull out a Mac.
iPhone 7 Plus

(opens in new tab)

: How the tables have turned: I brought the 6s Plus along back in 2016 largely as a dumb pipe for iOS betas; twelve months later, the Plus model is my primary phone, thanks largely to Portrait Mode and its superior battery life. (Fun fact: It's not in my gear picture because it took the gear picture.) I'm currently using Twelve South's Journal

(opens in new tab)

folio case for both protection and a wallet option, so as to further cut down on the number of things I have to worry about.
Steel Apple Watch

(opens in new tab)

: I can't go anywhere without my trusty Apple Watch. It not only helps me keep track of northern California's strange weather patterns and pay for things, it also allows me to stay in the loop while walking without ever having to take out and stare at my iPhone.
AirPods

(opens in new tab)

: These have become my everyday headphones carry, and for good reason — I can use them to listen to something without much muss or fuss, and having them attached to my bag with the Lunies keychain case makes them even easier to grab at a moment's notice.
Beats X

(opens in new tab)

: Where the AirPods are all about convenience, the Beats X provide the sound isolation I occasionally desperately need on a plane. In trying to pack light, I opted not to bring my beloved Bose QC35 headphones, so the Beats X are essential in making sure everything stays quiet even in the loudest environments.
Mophie Powerstation XXL

(opens in new tab)

: While I expect Apple to provide plenty of power and Wi-Fi at the event, I also know how draining covering an Apple event can be — for my gadgets, of course. That's why I travel exclusively with Mophie's largest Powerstation: The 20,000mAh battery offers more than 7 full charges for an iPhone or up to two charges for an iPad, giving me plenty of juice for those low-battery nights. I've paired the battery with Native Union's 10ft woven Belt Cable

(opens in new tab)

, so I can charge in almost any situation without worrying about cord length or fraying cables.
Anker Multi-port USB charger

(opens in new tab)

: When you're traveling, every extra USB cord and wall plug takes up space in your bag — and adds to the stress of tech-packing. Anker lets me centralize my device charging with a single power brick that can charge a USB-C gadget (or an iPad Pro with a Lightning to USB-C cord), two iPhones, another iPad, and my Apple Watch.
Time Porter

(opens in new tab)

: Twelve South's portable Apple Watch charger and band storage is the best thing I've found for charging my smartwatch on the go, and it gets extra marks for being able to hold my many, many bands.
Joby GorillaPod

(opens in new tab)

: Whether I get to film a new iPhone next week or Rene obsessing over Pokémon, my trusty GorillaPod mini-tripod is so small, it can easily hide in my bag until it's needed. I've been using it a ton with Studio Neat's new adjustable Glif, another product I can't live without.
Pocket Reflector

(opens in new tab)

: I didn't have a ton of room in my bag for iPhone photography gear, but the Pocket Reflector is small enough and useful enough that it becomes a must-pack in event situations. The light reflector folds out into a 12-inch circle with white and silver light bounce options, and you can hold and position it just about anywhere.
Manfrotto Lumimuse LED

(opens in new tab)

As with the Pocket Reflector, I carry the Lumimuse because you never know when you might have to shine a light or two on a portrait or hands on. It's a nice little hand-sized LED spotlight that can optionally be mounted to my Gorillapod to provide stabilized light.
Roller skates: I packed them as part of my tournament gear, but they just so happen to snap nicely to the front of my Osprey pack. Skating Apple Park's campus? Don't mind if I do.
Sleep mask: In case I need a few Zzzs on planes.
Sunglasses: In Cupertino, it's actually sunny! Who knew?
Hand sanitizer: Because no one wants to get sick during an Apple event.
Water bottle: I never drink enough water while I travel, but having a water bottle handy allows me to at least guilt-trip myself about it.
The event starts at 10am PT/1pm ET on Tuesday, September 12, and we will be covering the entire event live. Stay tuned!
Get the best of iMore in your inbox, every day!
Serenity was formerly the Managing Editor at iMore, and now works for Apple. She's been talking, writing about, and tinkering with Apple products since she was old enough to double-click. In her spare time, she sketches, sings, and in her secret superhero life, plays roller derby. Follow her on Twitter @settern.
I don't know what it is but I always love a good gear bag post.

Same, it's interesting to see what people carry and why they do.

That's a 9.7" iPad Pro right? Or is Ren testing a new Logitech case? :)