Where does Apple go from here?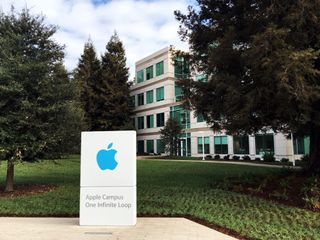 Today Apple is valued as one of, if not the, most valuable companies in the world. And with good reason. I recently took Amtrak's Acela Express train from New York to Boston and pretty much every person I saw was consulting some electronic oracle or another, all with fruit company logos on the back.
It is said that after conquering all the known world, Alexander the Great wept for there were no more worlds to conquer. In a world where the Apple eco-system has permeated the hearts, minds, and wallets of people everywhere, what happens when everyone has an iPhone or iPad?
Apple turned 40 this month, and while the company's history has been well chronicled, for me its story has just begun. As Apple's value grows north of half-a-trillion dollars, the question becomes one Jed Bartlett was especially fond of — what's next?
I don't like to predict what Apple might or might not do on a given Tuesday in San Francisco. Those that do make such predictions are almost always more wrong than right. I will venture to say that Apple must seek new opportunities in new markets.
If you just screamed TELEVISION! — not so fast. The entire TV business is worth about $30 billion dollars. That's it. Assuming Apple takes all of it, that's hardly the type of growth Apple needs to fuel the future. That's the kind of money Apple's keeps under the mattress for a rainy day purchase or two.
It wasn't that long ago a popular mantra in business was that no one got fired for buying IBM. A decade ago, Microsoft was viewed as nearly invincible in the digital age. Today's technology industry is moving at a pace never seen before. Companies with literally no revenue and less than a dozen employees are purchased for billions of dollars or more.
It is in this world that Apple must build a future of continued relevance, must create new products, platforms, and services.
Some say it's just not going to happen. They say it just can't happen. I prefer to think a little differently.
I see a company that in the past didn't look where the road might take them — it paved whole new roads. That company, Apple, didn't just create product and technologies, it created ones we didn't know we needed until we saw them.
That's why predicting what Apple will do next is almost impossible.
I've already begun the discussion in this column. I'd stay tuned if I were you...
Master your iPhone in minutes
iMore offers spot-on advice and guidance from our team of experts, with decades of Apple device experience to lean on. Learn more with iMore!
I've covered the personal technology beat for more than two decades at places like Gartner, Jupiter Research and Altimeter Group. I've also had the fun of contributing my $.02 on the topic at Computerworld, Engadget, Macworld, SlashGear and now iMore. Most recently I spent a few years at Apple as Sr. Director of Worldwide Product Marketing. On Twitter I'm an unverified @gartenberg. I still own some Apple stock.