Where's Print to PDF on iPhone and iPad?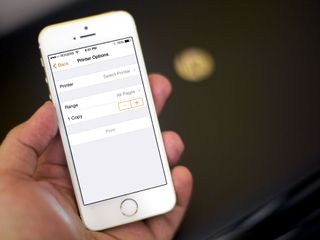 When Apple introduced AirPrint to iOS, they made it incredibly easy to send files right from your iPhone, iPod touch, and iPad to any compatible Wi-Fi printer in the vicinity. Unfortunately, what Apple didn't do was bring Print to PDF (Export as PDF) along for the ride. At least, not yet...
One of the great features of OS X on the Mac is exactly that — the ability to export almost anything and everything quickly and easily to a PDF file. It's something I've mentioned in the past when discussing OS X Mavericks features that'd be great to see in iOS 8. It's my understanding Print/Export to PDF was in the pipeline years ago, but simply never got polished and pushed out.
Apple's engineers already put in long hours and tremendous effort, and there's an opportunity cost to everything. Working on feature A means the same person or team can't be working on feature B at the same time. Priorities. Trade-offs. Focus. That's how software development works. It could well be that Print/Export to PDF wasn't considered a priority, or something that enough of Apple's customers would use or benefit from. Or it could simply be sitting in the queue, patiently waiting its turn in the tentpoles.
Either way, I'd still like to see it in iOS. Sure, there are screenshots that can capture the pixels on the display, there are Share sheets that can grab content as-is and send it on its way, and there are Print to PDF apps in the App Store that offer some form of the same functionality. But the ability to take any page of text and images, in any app, and quickly, easily, turn it into a PDF? That's be the kind of magic we've come to expect from Apple.
See something, make something, want it wrapped up nicely and neatly? Tap Share, tap Print, tap PDF, store it up on iCloud or Share it by any of the usual methods. That'd be a great bullet point on Keynote. If you think so too, please join me in letting Apple know just how much we'd appreciate Print to PDF in iOS 8!
Get the best of iMore in your inbox, every day!
Rene Ritchie is one of the most respected Apple analysts in the business, reaching a combined audience of over 40 million readers a month. His YouTube channel, Vector, has over 90 thousand subscribers and 14 million views and his podcasts, including Debug, have been downloaded over 20 million times. He also regularly co-hosts MacBreak Weekly for the TWiT network and co-hosted CES Live! and Talk Mobile. Based in Montreal, Rene is a former director of product marketing, web developer, and graphic designer. He's authored several books and appeared on numerous television and radio segments to discuss Apple and the technology industry. When not working, he likes to cook, grapple, and spend time with his friends and family.
Yes! That and quick reply to texts... (Off to read more about jaikbreaking iOS 7 - contemplate doing it, then chicken out. Rinse. Repeat) Sent from the iMore App

That interactive notifications were built for OS X Mavericks gives me hope we'll see them in iOS too :)

Lol... hold the fort Rene!! :-)

that would move iOS closer to exposing a file system, something I don't think Apple would ever do. So, No!

It's already done, and it wouldn't require anything file-system like at all. Tap a button, generate the PDF, choose how you want to share it, and you're done.

I see what you mean (making pdf a common format like photos and videos). I'm just not sure Apple wants to latch on to PC methodologies with iOS.

But then it would make sense from Apple's point of view to include an "Open as PDF in" option to the general share menu and not to put in the AirPrint functionality. Of course the existence of such an option would still be up to each app, but it could be in all system apps.

Yes, yes, yes. Saving to a PDF should not have to be a 3rd party function.

I couldn't agree more Rene. Been using 3rd party apps to make up for it but it's really aggravating.

I use Printopia to get around this and I love how it works. The only drawback is you have to be on your own Wi-Fi network. Get with it Apple, add native print to PDF!

yeh, i was looking for this feature like for a year. I really want it. In the meantime, i'm using PDFmyURL as a temporary solution

Are there any current third party apps that can convert to PDF while retaining the actual, underlying page formatting? I used to use Adobe's CreatePDF until they killed off the service. I have since tried literally dozens of third party apps, and they all routinely botch up the formatting, especially when trying to convert Word docs containing any sort of special formatting. My guess as to why this is the case is that these apps perform the conversions directly on the device, and in many instances these Word docs don't show up properly using the iOS's built-in viewer either. I think a "true" solution would have to perform the conversion in the cloud, just like CreatePDF did. Anyone know of anything like that?

Google Chrome for iOS can print any page to PDF and store it in Google Drive. The Google Drive app can then be used to open that PDF in the Dropbox app, which'll store it in your dropbox.

I agree with you 100% as well Rene. I have tried several PDF printers and all are cumbersome. Having native capability would be fantastic!!

It's been a year when this was last posted. Have their been progress to have native printing on IOS?

I started the year by looking at going paperless, and PDFs play a large part of my developing plan. While I don't print much from iOS (maybe half a dozen pages per year), I am starting to think in terms of PDFs. I could see iOS becoming a larger part of my PDF workflow if this feature was added. It might save me from breaking out the laptop at times. So please, Apple, add this (and iMessage quick reply, darn it).

I think Pages do that very well, I have a lot of documents there and sometimes I want them to be a PDF file so I just shared the file via email and Pages ask me how I'll like to send the document, as a Pages, Word, ePub or PDF document. I now you do need to download an app, but now that it's going to be free for all new devices i think it's a very good way to have that "Print to PDF"

Exactly that what I also need, print to PDF or an serious up to date Acrobat app from Adobe, not into all the apps on the app store, but all what i need is print as PDF from anywhere :(
the problem is hard to wish with APPLE, but no choice, can't be far away from iphone !

The iOS5 'Print To PDF' App used to do exactly this back in 2011 until Apple disabled it and removed it from the App Store - so it is certainly able to be done! See www.imore.com/apple-pulls-print-pdf-app-store for how it was done back then...

Yes! I used this a lot before it was pulled.

Yes, please. iOS having its own Print to PDF feature would mean more accessibility and better integration with other apps. Plus, it's one less app I need to have on my device.

Print to PDF and the ability to attach files to emails on the native email app would let me get a lot more done away from my MacBook.

Agreed. File systems are in place already through third party's. Dropbox,Box,Evernote. Allowing these to be integrate with the mail.app would be all Apple needs to do. A simple setting in the mail settings to allow the mail.app to have access to these would be all that's needed. There are plenty of third party apps that do this already.

This is one of the features I miss most when I'm using iOS.

All for it! Sent from the iMore App

this is the one feature that would make my iPhone even more perfect than it is right now.

Definitely a useful feature - though quick text replies, custom 'open link in' menu, clipboard memory and quick hotspot on/off would be much more useful on a day to day basis IMO.

I do a lot of conversion to PDF especially of billing. And when I need to do it I have to rely on app or my mac. It would be great to see this featured in iOS 8!

in the meantime was are the best apps & (free apps) for the web to pdf & email to pdf?

PDFmyURL is easily the best for web to PDF. It doesn't really advertise with the IPad features or anything, but they make it very easy to save webpages as PDF with the settings you want. Site's at http://pdfmyurl.com

While this would be fantastic as a native iOS feature, you can get a taste of it now. Just jailbreak and search Cydia for Printify. It's $1.99 and does exactly this. It's one of my favorite tweaks.

Yes. Printify seems to do the trick, thank you for letting us know. I wonder why it isn't more famous in the jailbreak community.

Would be great. I know there needs to be a landing point for the PDF, which would be iBooks. However, in my opinion, iBooks would need to have a little more functionality for that use. Maybe once iBooks is revamped a little our dreams would come true. Using 3rd party PDF software is a small hassle, but do-able.

I tried iBooks and Dropbox to save a web page (online banking receipt ) and like the 'share to Dropbox' option better . I have Hazel running on my Mac . It watched the Dropbox 'watched' folder and then processes the file I put in there based on predefined set of rules. It automatically grabs odd files, renames them, and loads them into Evernote for me. I would not know how to do that with iBooks.

writepdf is worth a go too

If I rate the features I would like to see added to iOS, this is near the top of my list. I have been able to work out it, but it is a must have .. for me.

I've always been frustrated that this feature is missing. I must have 5 or 6 PDF apps that I use as work arounds.

Not that I print much from my iPhone or iPad but this would be a very handy feature.

Absolutely, Rene; with such strong PDF support in the Mac, lack thereof in iOS 7 really feels like something is missing. Apple should provide native Print-to-PDF support, without a doubt. Perhaps it just goes against Apple's grain of not creating a file-centric object; but PDF files are something we expect in this day and age. Please Apple, give us this PDF feature.

I'd like and use this function. Bring it. Sent from the iMore App

I have a convoluted way. Handyprint and Dropbox/Samba/afp Share
Set up Handyprint to print to PDF and store to a Dropbox Folder.
So you print using the normal iOS methods, and then access through Dropbox.
If you want to keep it homely or you don't like Dropbox, then any iOS samba/afp client will do, i use iFiles, just redirect handyprint to a shared folder of some description.
handyprint:
http://www.netputing.com/applications/handyprint-v5/
ifiles:
http://www.ifilesapp.com

Ok that would be nice. But what I really would like is someone that would make a portable printer that I could use out on the job. This is the one thing that android still has the advantage on you can use bluetooth .

I''d love to be able to print to pdf, it's been a basic mac feature for ages and ages now.
They could dump it in your iCloud space for the Preview app (or something that connects to the desktop). But I'd prefer an "Open in..." option so I can stick it in a receipts folder in Box or DropBox. I'd also like to be able to define a printer as mine and be able to send to the print queue when I'm not home; to be clear I don't need it to print when I'm not home, I just want to send it to the queue and when I get home have it come out of the printer (like my Mac does). This is a Post-PC world you know, they need to give us a few new features to support that.

Printer Pro from Readdle is spectacular for this. Print as PDF to Dropbox, give it a URL and it will turn it into a PDF, or, my favourite, copy & paster from a "text" receipt (like iTunes) in mail and it will convert that text into a shiny PDF for your accountant.

Beter buy an Android phone. Print tot PDF is native in Gmail app!

Save PDF to iBook is already in iOS and it works really well and organizes your PDFs in the iBooks App which you can use to further Share, etc...

yes to the yes, yes. this should have been avail since, like 2010. this, and print to ("open in") dropbox.

Here is my app for iOS 8 where you can print page to PDF from any browser (Safary, Chrome etc.) directly.
https://itunes.apple.com/us/app/printability-print-safari/id919157552?at...

I can't believe there is not a comprehensive solution to this. The Safari solution will help... and I thank you for the tip, but I should be able to print anything I can print to AirPrint to PDF. Grrrr....

Well we are almost there. In iOS 9 we will have Save PDF to iBooks, from most share sheets. But still no share sheet in Mail, which means no Save as PDF. What's so annoying is that the PDF we can send to iBooks then can only be printed or emailed (not saved to iCloud Drive, until you email it to yourself and then Save the attachment.) And what really drives me crazy is there is a fantastic new Print Preview screen in the AirPrint menu (even in the Mail app), which is basically a PDF Quicklook image, but it won't let us save that PDF!
What is it about PDFs that makes Apple limit the functionality of creating and saving? Is it a privacy concern?

iOS 9
- Make sure iBooks app is installed.
- Tap share, Tap iBooks. Its now a pdf in iBooks Want to send it somewhere?
- in iBooks tap share & choose where to send it. Printer Pro app also allows doc's to be converted to pdf's

I was playing around on the email print menu and if you do a peek and then pop you get a share menu on the preview! You can then save as a note or save to iBooks.

You, sir, are a fantastic genius. Many thanks! OMG - I JUST TRIED ON MY IPAD - you can pinch-to-zoom on the print preview and get the EXACT SAME INTERFACE WITH SHARE SUPPORT!! 😃