Which cord cutting service should you get?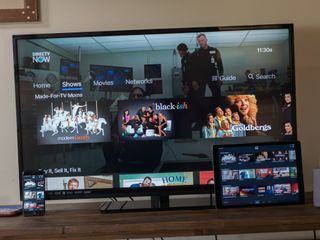 There's been a lot of talk about cord cutting and live TV subscriptions lately. Services that offer live streaming of broadcast and cable channels are really hitting the mark when it comes to content. Many traditional cable package subscribers are switching to an alternative way to watch the shows they love. If you're on the fence, and are thinking about switching from traditional cable packages to "cable lite," we did the research and have some thoughts on which one you should spend your hard earned cash on.
(opens in new tab)
Why would you want a live TV streaming service instead of cable?
The decision to cut the cable cord can be very difficult for some. On the surface, it seems like these live TV streaming service options cost almost as much as cable, but don't even offer as much content, whether you want all of it or not. I can't say that cutting the cord is the right decision for everyone, and I can't decide for you. There are pluses and minuses to both options.
Cable subscriptions can be very convenient. When you go all-in on a package deal that includes internet, cable, and phone, the overall price is discounted from what others might pay for individual services. Plus, you only have to pay one bill instead of three.
However, there are a few conveniences with live TV services that free you from the restrictions that cable providers have.
Live TV services let you stream all available content from one app across multiple devices, including mobile. So, you can open a single app to watch a show on your Apple TV and then switch to your iPhone for the bus commute, and then to your iPad or even computer while you're at work.
You don't have to download six different channel apps and sign in to each of them. When there is an update, it only happens in one app instead of a bunch of them.
There are also no equipment rentals. You don't have to add an additional box to your living room to watch pay TV channels you can already sign into on Apple TV or Amazon Fire TV.
With live TV services, you pay for what you see. There are no annual contracts to sign or hidden fees and taxes. If you subscribe to a service for $39.99 per month, you pay $39.99 per month. You won't be dinged with a cancelation fee if you decide it's not right for you.
How much does cable cost, anyway?
The numbers vary drastically, depending on what you consider paying for cable to mean. It can be as low as $9 for single-app subscriptions to services like Starz or HBO. But a traditional subscription package, according to a recent report from the FCC, expanded basic service rates average about $69 per month, not including taxes, fees and equipment rental charges. Fortune noted in September of 2016 that, when you take into account hidden fees, rentals, and taxes, the average is closer to $103 per month.
Those great advertisements you see on television aren't highlighting the additional costs that get folded into the final price. With streaming live TV services, you pay for what you see. You don't have to rent a box or pay some strange tax you've never heard of, and you don't have to call up your cable company every year, threatening to leave if they don't let you keep that promo offer you signed up for.
If you've been contemplating leaving cable behind and becoming a cord cutter, there are five major live TV streaming services you can check out that offer pay TV content at a lower price and with no contracts.
The five best streaming live TV services you can get right now
I should probably point out these streaming live TV services are all very similar when it comes to the content they offer. There are a few exceptions, which I note, and your location is important to consider for some options, like sports channels. But, for the most part, they offer much of the same content.
Price, viewing variety, and DVR options are what you should consider when making your choice. Here's what each service offers.
What content do you get and how much does it cost?
Hulu with Live TV includes around 50 channels. Local channels will be determined by your location, but cover the major broadcast channels CBS, NBC, Fox, and ABC. It also includes some of the big pay TV channels, like A&E, Bravo, Food Network, FX, History Channel, CNN, Disney Channel and Disney XD, ESPN, and Cartoon Network.
Live TV doesn't include AMC, Comedy Central, Nickelodeon, Starz, and Discovery Channel.
It also includes Hulu's basic on-demand content, which is a massive library of shows that are available the day after they air or shortly after a season is finished.
You can subscribe to Hulu with Live TV for as low as $39.99 per month, but it can add up to more than $70 if you add on additional features, like additional DVR storage, commercial free viewing, unlimited screens, and Showtime.
What are the sports options?
Hulu with Live TV includes Big Ten Network, CBS Sports, ESPN, ESPN 2, ESPN SEC, CSPN News, ESPN U, FoxSports 1, and FoxSports 2. Depending on your location, CNBC has a couple of sports channels, too.
Does it have a DVR feature
The base price for Hulu with Live TV comes with 50 hours of DVR show and movie recording and playback. You can't fast-forward through commercials with the base package, but for $14.99 per month, you can upgrade to 200 hours of DVR cloud storage and have the ability to fast-forward through commercials with recorded content.
What can you watch it on?
Currently, Hulu with Live TV is available on iPhone and iPad, Android devices, Apple TV (4th generation), Chromecast, and XBox One. The company has noted that more devices will be supported in the future.
Who it's for
Hulu with Live TV is perfect for people that are currently without cable of any kind, but want to add live streaming TV to their entertainment experience. It is a comfortable upgrade from your currently existing Hulu subscription. You get all the same on-demand content you had before, plus a lot of live streaming content that you can ultimately watch on-demand, too, thanks to the DVR cloud storage feature.
What content do you get and how much does it cost?
Sling TV offers a range of content through three tiers of subscription options and a la carte add-ons.
The base package, called "Orange," comes with 30 channels, including some of the major cable channels like AMC, CNN, Cartoon Network, Comedy Central, Disney Channel, ESPN, Food Network, Travel Channel, and Lifetime.
The second tier package, the "Blue" package, includes a lot of regional sports channels, plus a few extras not available in the Orange package, like Bravo, CNN, FX, and a few more. The Blue package does not include ESPN, Disney Channel, IFC, Travel Channel, and a few others.
That's why there is a third tier, the combo package, which includes both the Orange and Blue content.
You can add on additional package channels for sports, comedy, kids, news, a variety of language channels, and lifestyle. There are also four add-on package extras that include four popular package channels for the price of two. Packages range in price from $5 to $10.
Sling TV also offers the premium channels HBO, Cinemax, Starz, and Showtime for between $9 and $15 per month.
Sling TV starts as low as $20, but can add up to quite a bit if you add on additional channel packages. For example, if you subscribe to the Orange and Blue combo package for $40 and add the sports add-on for $10, the News add-on for $5, and HBO for $15, your monthly cost would be $70.
What are the sports options?
With Sling TV's orange package, you get ESPN, ESPN 2, and ESPN 3. You can add on a few additional ESPN channels, NHL Network, NBA TV, and a few smaller sports channels.
The Blue package includes local and regional sports content from FoxSports 1 and 2 and Comcast. It also includes NFL Network and NBC Sports. You can add on the Sports Extra package, which includes NFL's RedZone, NBA TV, NHL Network, and a few more.
Does it have a DVR feature
It does, but only on certain devices. DVR support is only available on Apple TV, Roku, Android TV and Android devices, and Amazon Fire TV.
Sling TV only offers 50 hours of storage for $5 - there is no upgrade tier - but you can keep the recordings as long as you like. Some channels, like ESPN, ABC, and Fox, don't offer support for DVR recording at all.
What can you watch it on?
Sling TV is available on Amazon Fire TV, Chromecast, Roku, iPhone and iPad, Apple TV (4th generation), Mac, Android devices, Windows devices, Xbox One, and a bunch more. Basically, only PlayStation 4 is not supported by Sling TV.
Who it's for
Because Sling TV is the most flexible live TV streaming services, it's the perfect entry-level option for people that have never paid for cable TV and don't like the idea of paying a lot for a monthly subscription but do like the idea of an à la carte channel picking option. No, it's not true à la carte, but it's as close as you can get from content providers right now.
It's also the perfect "downgrade" option for current cable subscribers that are tired of paying a lot of money for channels they don't want. Through a variety of add-on options, you can get really close to having the exact channel options you want at a significantly lower price.
See at Sling TV (opens in new tab)
What content do you get and how much does it cost?
DirectTV Now starts at 60 channels, including AMC, Animal Planet, BET, Bravo, Cartoon Network, Comedy Central, Discovery Channel, Disney Junior and DX, FX, History Channel, USA, VH1, and more. Three of the four major broadcast channels are included: NBC, ABC, and Fox.
Notably, DirectTV Now includes some Viacom channels that aren't available on most of the other live TV streaming services, like Nickelodeon, MTV, and Spike TV.
There are four tiers of subscription services. The "Live a Little" package includes 60 channels for $35. The "Just Right" package includes 80 channels for $50. The "Go Big" package includes 100 channels for $60, and the "Gotta Have It" package includes 120 channels for $70.
You can add on HBO for only $5 per month (the cheapest a la carte price for HBO), Cinemax for $5, and Starz for $8.
What are the sports options?
The lowest-price tier includes ESPN 1 and 2 and some regional sports broadcasts. The rest of the tiers include Big Ten Network, ESPN News, ESPN SEC, and ESPN U, as well as Fox Sport 1. The third and fourth tier include Fox Sports 2 and NBC Golf.
Does it have a DVR feature
Nope. DirectTV Now, instead, points you to its on-demand content. You also can't fast-forward or rewind live TV content. You can only pause it.
What can you watch it on?
You can watch DirectTV Now on Amazon Fire TV, Apple TV (4th generation), Android devices, Chromecast, and iPhone and iPad. You can also stream content from the web on Internet Explorer, Chrome, and Safari.
Who it's for
DirectTV Now is a good option for AT&T customers because the company offers some pretty steep price cuts for using its Unlimited data plan. The total package goes down by $25 per month through credits used toward the $90 AT&T Unlimited data plan. That makes the lowest tier of DirectTV Now only $10 per month.
See at DirectTV Now (opens in new tab)
(opens in new tab)
What content do you get and how much does it cost?
PlayStation Vue has four channel package tiers starting at $39.99 per month. The base Access tier includes 45 channels including AMC, Animal Planet, Bravo, Cartoon Network, FX, TBS, USA, and more. The Core tier adds about 15 more channels and ups the regional and national sports content. The Elite tier includes 90 channels and really fleshes out the full pay TV channel content. The Ultra tier includes the 90 channels from the Elite tier, plus HBO and Showtime.
You can add on the "Epix Hits" channel pack for $4 per month and the "Español Pack" for $5 per month.
You can also add on HBO, Showtime, Cinemax, Machinima, Fox Soccer Plus, and Polaris individually. There are two combo channel packages, HBO + Cinimax and Epix Hits + Showtime.
What are the sports options?
The lowest-price tier includes ESPN 1 and 2, Fox Sports 1 and 2, and some regional sports broadcasts. The rest of the tiers include Big Ten Network, ESPN News, ESPN SEC, and ESPN U. The third and fourth tier include Fox College Sports and NBC Golf.
Does it have a DVR feature
Yes. You can save an unlimited amount of hours to your DVR storage, but content will only be available for about a month. Plus, most channels include the ability to pause and rewind live TV with some restrictions on certain channels.
What can you watch it on?
PlayStation Vue is available on PlayStation 4, PlayStation 3, Roku, Apple TV (4th generation), Chromecast, Android and Android TV, Amazon Fire TV, iPhone and iPad, and Amazon tablets. You can also stream content from the web with Firefox, Chrome, Safari, Internet Explorer, and Microsoft Edge.
Who it's for
If you're a heavy PlayStation 3 or 4 user, Vue is a great choice because you don't have to switch to a different device to use it.
Because of its huge selection of channels, both basic and premium, it's the best option for cable subscribers that are ready to cut the cord, but still want a lot of pay TV content.
What content do you get and how much does it cost?
YouTube TV is an upcoming live TV streaming services from YouTube. It includes the major four broadcast channels ABC, CBS, NBC, and Fox, as well as, pay TV channels like AMC, Bravo, Disney Channel, ESPN, FX, IFC, Sundance, USA, and more. It also includes a subscription to YouTube Red Originals (different than YouTube Red).
YouTube with Live TV costs $35 per month and includes six accounts. Which means six different people can have six different log in credentials, but have access to all of the live TV content.
You can add on Showtime for $11 per month and Fox Soccer Plus for $15 per month.
What are the sports options?
It comes with ESPN and ESPN 1, Fox Sports 1 and 2, The Big Ten Network, ESPN SEC, NBC Sports, CBS Sports, NBC Golf, and some regional broadcast sports content.
For $15 per month extra, you can add Fox Soccer Plus.
Does it have a DVR feature
Yes. You can record an unlimited number of hours across all six accounts and your saved content will be stored for up to nine months. You can fast-forward and rewind through Live TV (with a pause to catch up, of course), though you can't fast-forward through on-demand content.
What can you watch it on?
YouTube TV is available on iPhone and iPad, Android phones, Chromecast, and Android TV. Support for more devices is expected later this year, but you'll also get a free Chromecast after your first monthly payment. So, even if it never comes to Apple TV, you can still watch it without having to mirror it from your iPhone or iPad.
Who it's for
YouTube TV is a great option for families or households with roommates who want to watch their own content. You can stream live TV on three devices at the same time, so it will be easy for everyone to feel like they've got their own content, but they don't have to pay for it individually.
Right now, YouTube TV is limited in availability to only Chicago, Los Angeles, New York City, Philadelphia, and San Francisco. It's going to be a while before it's available in all areas. You can sign up to get a notification email when your city is supported.
Your thoughts?
Have you tried all of the live TV streaming services and decided which one is right for you? What did you ultimately end up choosing? Let us know in the comments.
Get the best of iMore in in your inbox, every day!
Lory is a renaissance woman, writing news, reviews, and how-to guides for iMore. She also fancies herself a bit of a rock star in her town and spends too much time reading comic books. If she's not typing away at her keyboard, you can probably find her at Disneyland or watching Star Wars (or both).
@Lory Hulu's Live services with the add-ons should add up to $62.98 (includes the two add ons they offer at a combined price of $10 instead of $30 if purchased individually).

I'm glad I got rid of Comcast TV. I now have DirecTV Now, and am also an AT&T Unlimited customer. The $10/mo net cost is about what "regular" TV is worth to me. Plus AT&T gave me a free AppleTV.

Has anyone created one "channel chart to rule them all!"? My eyes glaze over trying to look back forth between reviews like this to see what's in each tier on each provider - Idealy someone would make a cool app so you could click through channels/features you want and exclude services or tiers that don't offer it

Here is the problem with streaming TV that no company has decided to change. The problem is with the package setup. You have to buy these packages to get channels and if the lower tier package doesn't have what you want, you have to buy the bigger package. I really only want to watch about 15 channels yet not one single package has all the channels I want so I would have to spend as much as a cable or satellite provide to get all the channels I want. So if I was going to pay for TV I would just buy tv from my internet provider and get a discount. The problem is the package setup still. This is why I will never pay for TV until I'm able to buy an al a carte style package where I pay a dollar or two per channel and I can just pick whatever channels I want and pay for that. When someone decides to do this, then I will probably pay for TV again. Otherwise, There is nothing Im missing that justify the cost.

Totally agree with your comment. That's why I'm still on FIOS with my Tivos. Local Sports are another big problem that haven't been solved yet. The other two subjects are the quality of the streams and also the difference in $$ for your internet. Most companies give you a better rate with the cable, internet, and phone. When you remove the tv, they jack the price of the internet. Although, from the sounds of it I don't think they will ever get to the point you are suggesting.

Turn off the tv. Go0 do something with your life. Cord cutting services and cord cutting is oxymoronic.

Yea, unfortunately since most of us get our Internet via the cord, it's pretty hard to cut the cord. They've simply raised the price of internet access more than enough to compensate for any loss of revenue on the media distribution side. But, yea, I've probably only watched a few show episodes over the last 2 or 3 years, and I don't think I've missed anything. We have Netflix and watch movies together (as a family) from time to time or maybe rent one if it isn't available on Netflix. It's amazing what you can actually do if you spend some of that time more productively. And... given the state of anything I've run across (like while traveling in hotels that have cable), I'm probably retaining more brain cells by avoiding it!

It's no accident that media conglomerates buy the whole pipeline, as Phil Schiller said "Competition my ***" or something like that ;)

I have Playstation Vue and it's $30 not $40 per month..

I have PlayStation Vue also and it is $40 a month if you live in one of the areas where you're forced to subscribe to the local channels through them which I am in Los Angeles. Wish they had an option to not have to do that as I have an over-the-air antenna

Our internet is still through the cable company because...small town in middle of almost nowhere there aren't a lot of high speed internet options. However we have not had cable in years. We have Hulu and Netflix and CBS All Access. We are still paying less than we did when we had cable. We have kids so watching "prime time" TV wasn't feasible unless we had DVR which adds to the cable bill.
We don't mind not watching live TV. Watching next day for most things is fine and waiting until other things hit Netflix is acceptable as well. Hello! Binge watching is fun! haha We have never been big sports watchers so that isn't an issue. We aren't big on watching the news either.
We can enjoy the shows the want...when we want. We can go out and enjoy lovely weather with the kids and have plenty to entertain us when the weather is bad or we are home sick or just don't feel like being out and about.

To me, the 2 biggest issues with internet TV are not having a guide grid showing everything that is playing at any given time and live sports. With cable or Sat TV, you can flip around to different channels from different providers instantly. With internet TV, you have to know what you want to watch, load that app, find the show in that app and play it. If you then want to watch something else, you have to exit the show, then exit the app, then find the app you do want to watch and go through that whole process again. For example, there are college football games on. a Big 10 game is on ABC, an SEC game is on CBS, an ACC game is on ESPN, a big 12 game is on Fox Sports 1 and Notre Dame is on NBC. With cable or Sat I can just enter in a channel number to switch between games. With internet TV, I need the apps for ABC, ESPN (granted Watch ESPN might have a few of these games), Fox and NBC. A real pain in the ****. To me, game flipping and channel surfing is still worth the money for cable. Until these internet TV providers can offer the same, I am sticking with cable. IMHO.

For me OTA is a must have (I understand because of your location that may not be an option). My setup of an AppleTV/HDHomeRun tuners and the app Channels with the DVR option is the best of show.

Don't forget to read the small print. When we cut the cable tv and switched to streaming services we also lost our unlimited data. If you're streaming a lot you can blow your internet cap like we did our first month.
Thank you for signing up to iMore. You will receive a verification email shortly.
There was a problem. Please refresh the page and try again.