Why would you use Android in an Apple ecosystem?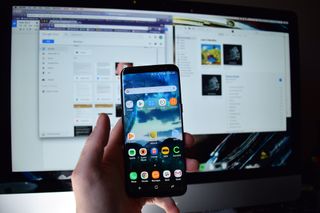 The line between iPhone and Android has long been firm and clear, but it's very slowly starting to blur. Google's working on an Assistant app for iPhone. The G Suite of apps is available for iPhone and iPad. Macs, at the end of the day, are just computers that can communicate with all manner of devices.
Still, why would you use Android with an Apple ecosystem? Wouldn't it be better if everything worked together? Maybe. But I use a Samsung Galaxy S8 with an iMac, iPad, and Apple TV.
Here's why you might want to get a little Android in your Apple.
Cost
First and foremost, price is one of the biggest motivators when it comes to purchasing tech. Apple's devices come at a premium, especially when you consider the Android alternatives.
While iPads are arguably the best tablets on the market, there are decent tablets you can get for a fraction of the cost. When it comes to smartwatches, again, Apple Watch is probably the best available, but there are cheaper Android options.
And when it comes to phones, forget about it. There are a ton of excellent, inexpensive Android phones available. Hell, even some premium Android phones, like the OnePlus 3T, are available for half the cost of some iPhone models (the OnePlus 3T is $439).
Choice
There are so many more android devices available from so many more brands. If you like the idea of choosing your phone or your tablet or TV box, Android affords you that luxury. I switched back to Android phones because I simply got tired of the cookie cutter experience (among other things). If I get sick of my Galaxy S8's UI in a few months, guess what — I can change its look and it's like having a new phone (in essence).
G Suite is superior to iCloud
Come at me, bro! Kidding, chill out. I think Google's suite of apps is better than iCloud. That's my preference (and the empirical truth! JK), but it might ring true for many folks. You get 15GB of free storage, Google's apps work on just about any platform with a web browser, the interface is pleasant and relatively simple to learn, and you can communicate with each app via Google Assistant (again, coming to iOS in the near future).
Many Apple users are perfectly happy with iCloud, and that's dynamite. Just know that if you do decide to implement an Android device, you have an excellent alternative. And if you have a Gmail account, then you have G Suite. (Yeah, yeah, yeah, Slides sucks compared to Keynote.)
Gmail: Everything you need to know!
Best of both worlds
If you're like I was and just kind of sick of the same old Apple, then adding an Android device (be it a tablet, phone, or Android TV box) might just be the very thing that keeps you using Apple products. Having the best of both worlds might keep you from wondering what you're missing and completely jumping ship.
You can also get many apps that are specific to each platform on the other. There's an Apple Music app for Android, Google apps for iOS, and more.
AirDroid
Yeah, Android devices don't always play well with Apple devices, but AirDroid makes life a lot easier. It lets your Android phone or tablet interact with your Mac in almost the same way your iPhone does. You can even send and receive SMS, and you can mirror your Android device's screen onto your Mac. It also makes transferring files from your Android device to your Mac way easier.
The best part is that it's free.
Hey, it beats Windows
Shots fired. mic drop
Master your iPhone in minutes
iMore offers spot-on advice and guidance from our team of experts, with decades of Apple device experience to lean on. Learn more with iMore!
Mick is a staff writer who's as frugal as they come, so he always does extensive research (much to the exhaustion of his wife) before making a purchase. If it's not worth the price, Mick ain't buying.