What to expect at the Wizards Unite Fan Festival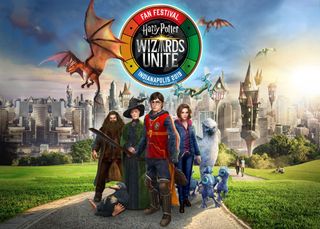 As the first Wizards Unite Fan Festival in Indianapolis draws closer, we're getting more details on what the lucky attendees could be seeing, including which special activities they can participate in. With Dragons, prizes, and a threat clock that could signal an emergency, the guests are sure to have a busy time.
Let's have a look at what we know right now.
What about some dragons?
If you're a Pokémon GO player, you'll know that regional Pokémon are a sought after commodity. Niantic has obviously learned from this and decided to introduce regional spawns in the form of dragons to Wizards Unite. It makes sense, since dragons are known to be regional in the Potterverse. There are currently four regional dragons:
Common Welsh Green (Europe)
Peruvian Vipertooth (Americas)
Chinese Firebolt (Asia)
Antipodean Opaleye (Oceania)
These dragons will all be available to catch at the fan festival, but once it's over they'll go back to being regional. As there is currently no trading system it may take a long time for you to get hold of them if you don't attend the festival.
The dragons aren't going to be a normal Foundable either, but an Oddity instead. That means you'll need to battle them the same way you fight werewolves in the Fortresses, which sounds way more fun than endlessly casting spells until they depart.
Global Challenge
If you are going to the event you can help those of us who can't make it by unlocking a global challenge for us all. Centered around the dragons you can help us unlock a special event. Portmanteaus that match the Dragon colors will also be available accross the world. The Portkey inside will take you to the forbidden forest to collect Dragon Eggs!
So if you attend and help catch 150,000 Dragons you will unlock a three-hour event that will unleash the dragons on the world. The cool thing about that is it ties into the amount of Dragon eggs your region has collected.
This means that if you lot are successful the rest of the world will have the opportunity to catch Dragons from outside their regions! This is a really good idea because the lack of trading means you are unlikely to be able to get a region-locked Dragon outside of this event.
The grounds look beautiful
The fan festival is going to have a lot of interactive things for you to do. Niantic laid out all the details in an email:
The Greenhouse that you can see in the picture is a mock-up of what the actual building will look like. It's a great idea to have a place for people to relax and recharge, both physically and electronically, although you probably already have a Harry Potter battery pack at the ready.
I love the idea that the landmark flags will be in the physical world and that they will match the digital world. One of the best things about these fan festivals is the crossover between the real world and the game. I am really looking forward to seeing the pictures from the actual event.
The Threat Clock
The threat clock is also getting a physical manifestation and with it, players will receive Special Assignments to complete in-game. According to Niantic, when the threat clock reaches emergency, cool things will happen. I just wish they would tell us what those things are!
Promotion from sponsors
We've already seen that AT&T and Niantic are partnering to bring fortresses to all AT&T stores in the U.S. but now the two companies will be working together for the fan festival, too.
Not only is AT&T working with the Wizards Unite team, but so is Simon Properties — they run shopping malls in case you didn't know — and it looks like you can win some awesome prizes from them while you're there.
Final thoughts
As you can see, there's a lot happening at the Wizards Unite Fan Festival and there's more to come. I think I'm looking forward to the dragons the most though. I can't wait to get my hands on one! What are you most looking forward to? Sound off in the comments below.
Master your iPhone in minutes
iMore offers spot-on advice and guidance from our team of experts, with decades of Apple device experience to lean on. Learn more with iMore!
James is a lover of all things new and shiny. From 3D printing to Nintendo he stays current with all the technology that will lead us into the future.