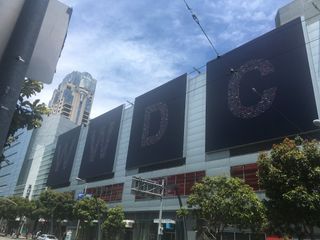 Apple's Worldwide Developer Conference kicked off this past Monday with the company's annual developer keynote. Though the world might feel differently, the conference isn't meant for press, analysts, or the mass-market user. All these groups have an interest — perhaps even a small stake — but they're not the target audience. Developers are going to be using the APIs, code, and documents released Monday to build their livelihood for years to come; we're just outside observers.
That said, here are some thoughts and analysis I have "on the day after," and what the announcements mean for both developers, users, and Apple's devices long-term.
The hardware void
WWDC, has in the past, sometimes been a place where new devices are introduced. Sometimes. Not every time. Not even close. This year, early rumors pegged WWDC as the place we'd see new MacBook Pro laptops or 5k monitors; those rumors turned out to be wrong.
Leading up to the event, it's clear Apple quietly reset expectations for what might be announced. Rene, for example, made it clear that he didn't expect new super-duper monitors or iMessage for Android. That's fine; WWDC doesn't need to be the place for new hardware. But the current MacBook Pro line is aging.
Now, unannounced products can't be "delayed," but a refresh for Apple's laptops is long overdue. If we don't see something before the beginning of the education buying season, I'd be curious as to why. If we don't see them before the end of September, I'd really wonder why. If intentional, it's puzzling. If technical shipping delays are to blame, that's a little more concerning.
We might never know for sure what reasons might actually be for lack of a product refresh, but I'm pretty sure I'm not the only customer that would like to see that happen, or not the only user hesitant to buy into what's increasingly a dated product line.
The last major feature "bump" for Apple's laptops was the addition of Force Touch trackpads. I'm not sure we need something as fancy as OLED bars replacing function keys — though how cool would that be? — but the current focus seems to center around thinner, more powerful devices with higher-resolution screens.
OS X and Siri
OS X's marquee features in macOS Sierra appear to be its name change, the introduction of Siri, and a new way to unlock Macs via secondary device proximity. Apple Pay is also coming to the Mac, though it's less interesting if it requires a companion Touch ID device to really shine.
In short, though, that's pretty much it for end-user features, and largely it seems as this version of OS X — er, macOS — is much more of a dot point release than one that merits a full name change. Feels more to me like "El Capitan climbers base camp."
Siri has gotten a lot smarter – there are more things it understands, and more places where to use it. As mentioned, Siri is also part of macOS, something that feels natural, and perhaps even a "what took so long" feature. Siri is also now open to developers of certain types of third-party apps. I thought that was awesome — at least until I read the fine print.
Siri, for the moment, is limited to two classes of apps: ride sharing and image search. More app types are "coming later," though there's no word as to when. That's a little disappointing. A full and open Siri API is something that could have rocketed Apple's aging assistant to the head of the AI class. As it is, there's still a lot of untapped potential in Siri — but the assistant is clearly prepared to compete with the likes of Amazon and Google. To underestimate Apple's abilities here, even if those abilities have been limited in the past, would be a huge mistake.
The promise of watchOS
From the keynote, watchOS 3 looks to be a major update, improving upon watchOS 2 — which, in of itself, felt like a finished version of watchOS 1.
It's got the redesign and finished features customers have been looking for. It's also a clear sign Apple's looking to double down on Watch as a health device. There are new, fitness-oriented watch faces, and a new app dedicated to deep breathing. Additionally, the lambasted Glance and button feature have been completely overhauled. Apple is now starting to get what customers need and want.
A few interesting things stood out to me from this keynote. One, Apple isn't going to add a tiny keyboard a la Android wear. Instead, there's a new input based on handwriting recognition. This may also be a sign that we might see handwriting recognition in a future iPhone. The technology is there, and it's a potential differentiator.
Another important and needed update is speed and performance. What Apple showed was impressive, but I'll hold off my judgement until watchOS actually ships.
Finally, we often see features in iOS that make sense only in future devices. For example, sketching in the Notes app didn't seem to be overly important... until iPad Pro and Pencil came along. I'd venture to say watchOS 3 extends the life of the current devices: No new Watch hardware this year would be a nice way to stave off buyer's remorse, though watchOS 3 may also be optimized for new, Fall hardware. Time will tell.
Moving tvOS forward
As with watchOS, tvOS also feels like the operating system has reached maturity. Developers no longer need to support the Siri Remote when designing games, while single sign-on for third-party services feels like it should have been there from day one.
Developers are rejoicing over the first; end-users will jump for joy for the second. Anyone who has ever authenticated multiple channels know what I'm talking about; hopefully this will remove the need to toss remotes at the TVs in frustration.
The lack of Siri Remote support as a requirement might mean we're going to see much more attention from Apple in the mobile gaming field. On Apple TV, the market is tepid at best, though support for "casual" games has been brilliant: More users play those titles than hardcore console games. Support for more sophisticated titles, however, might make Apple TV appeal to a market more interested in gaming, and help Apple TV cement its place as input two.
Music and messaging
Music is clearly more important to Apple than it was a year ago. The UI has received a much-needed overhaul: This was one part of the keynote that felt targeted toward users more than developers. There's no doubt Apple Music has been a success for the company, despite bugs — anyone who says otherwise is in denial or works for Spotify. Apple's heavy marketing for the service, home court advantage with the built-in app, and updated UI will make the service even more appealing. At a time when services are becoming more important for Apple, I'd expect to see a lot of growth for Apple Music this year. Apple, of course, knows that too.
The updates to Messages are, in every sense of the word, cool: Messages now feels more like a platform and less like a standalone app, and has taken cues from some of the most popular social messaging apps of late.
Of note: Messages, as previously rumored, was not ported to Android. At a time when Apple is looking for more Android switchers, I don't see why Apple would make it easier for iOS users to migrate to Android, or give Android users a reason to stay on the platform if they don't need to switch to stay in a friend's circle on iOS.
iOS
The most anticipated news is always iOS; Apple's mobile devices — iPhone especially — are the core of Apple's business. And the mobile OS looks like a nice refresh. Again, it feels like an evolution of things users have been looking for. Notable? Extended support for 3D Touch. To anyone skeptical of Apple's commitment to 3D Touch, the extended support almost certainly guarantees it in future devices, including iPad. It would also seem a feature that no longer can be only a differentiator for lower end devices if developers are going to ramp up support.
One feature that was called out has received a lot of digital ink. I'm referring to the ability for users to remove native apps. Huh? I don't see how that's major. Users have clamored for this ability ever since the app store was created. I know many users (including myself) that don't bother with Apple's native apps, at best, or wonder why some apps are even there in the first place. Game Center, I'm looking at you. What will be worth watching for is how Apple let's things such as links or references from apps such as mail to be set to different defaults.
Other apps did get some overhauls. Photos in particular feels a lot more mature and brings the feature set closer to what Google already offers in Google Photos. I'll be interested to see how Photos work in final release. I'm wondering if there's enough to make Photos appealing for users like me who abandoned Apple Photos for greener pastures.
Closing thoughts
I'm only hitting the high points that jumped out at me. There's a lot more to discuss. For example, things that would seem to be "no brainers" to add, such as a CarPlay app native to all iOS devices, not just cars (Google already announced that feature for Android). Look for more commentary in days ahead. In the meantime, what things merit deeper dives? Let us know, and we'll make it happen.
Get the best of iMore in your inbox, every day!
I've covered the personal technology beat for more than two decades at places like Gartner, Jupiter Research and Altimeter Group. I've also had the fun of contributing my $.02 on the topic at Computerworld, Engadget, Macworld, SlashGear and now iMore. Most recently I spent a few years at Apple as Sr. Director of Worldwide Product Marketing. On Twitter I'm an unverified @gartenberg. I still own some Apple stock.
Well they announced handwriting with IOS 10 for iPhone.... Would be interesting if the iPhone 7 pro rumor is true and they make it compatible with the pencil.

Nice balanced article. Well done.
In my opinion handwriting on the watch along with activity challenges will be a niche area and that's it. North Americans are lazy in nature and won't be bothered beyond the initial honeymoon phase. Similar to doodles on the first version.

Thanks for the generalization re North Americans...

You missed the point of this, and missed the other cues in the keynote. Almost every feature about this keynote was directed at China. The inclusion of WeChat and other apps as first citizen phone apps (call screen instead of lock notification), for every feature in Messages, there's a WeChat feature that works similarly, the ability to handwrite on the watch, dual language input without changing keyboard - handwriting on the watch will be great with answering in Chinese characters. This isn't about Lazy Americans, it's about opening up the world and including them in Apple's offerings.

There are some cool features in the watch out iPhone but is it not really time for padOS? Somehow ios doesn't fit in the iPad anymore. Way to big for 5x4 apps. It looks so funny and why would people buy that when it is almost the same than the iPhone

I wouldn't blame Apple for the lack of a hardware announcement. It's really Intel's fault with their problematic SkyLake chipset that still has all sorts of problems and is not yet ready for prime time. In fact, Microsoft is in the same boat with their next-gen of Surfaces.

A lot of interesting stuff coming up.
I have an iPhone 4S, and this is the first iOS update to convince me to upgrade to a new phone. I use tvOS every day, and a few things jump out.
1. It needs to stop being US centric.
2. Apple needs to fix their wi-fi problem.
3. Siri needs to search local content.
4. The remote was poorly designed.

Remember that this is Apple announcing features that affect developers, in the most case, rather than selling the changes to users. The feature list for all these OS versions will be longer when the new iPhone comes to be launched.

Re iMessage to Android Allow imessages to reach Android users in an Apple-written app , but don't allow them to use the new features and third party apps in their replies.

Enjoyable and informative article Michael - many thanks. I'd like to see a deep dive on the real capabilities of iMessages extensions/apps. For example can an imessage app actually send a message outside of it's sandbox, or just present content that the user then chooses to send. And since iMessage now appears to have grown up to become a platform, how do you see it maturing and competing with Facebook, what'sapp and others. I saw a lot of those new features as things that my 13 year old daughter and friends would delight at, but I'm not sure there are enough to move them from Snapchat -particularly snapchat stories; so is that a missed opportunity, or something that would be addressed with an app. What happens strategically if snapchat actually built an iMessage app - does that makes sense for them? And finally, it seems that the premise of apps embedded in app platforms in this way is a move away from the springboard icon app, instead giving users functionality directly at the point that they need it, no app launch or switch, just get on with it - how significant is that for the future of ios?

Michael - as a dedicated Surface user, I think I can tell you why the MacBook Pros (and if they are continued, Airs) have been delayed - driver disasters with the SkyLake chipset. I've owned both a Surface Book and Surface Pro 4 (i7/16gb/512gb models) and until the last few weeks video performance has been a disaster. Even now, the the Pro 4, and Surface Book when run from the clipboard only, are relatively stable. But the Surface Book, when combined with the Nvidia dGPU is still a nightmare, with video tearing, flashing, and disconnecting from external monitors at a constant, but random, rate. If I were Apple, I'd be working double time on driver development, and perhaps even hoping the Kaby Lake chips are more stable and skip SkyLake Core chips altogether (seems that SkyLake M may be a little more stable for some uses).

It's refreshing to see this on iMore. An actual opinion piece on what happened at WWDC although Daniel took a stab at the Watch as well. If people are upset about no announcements for new hardware, then clearly Apple has sent the wrong message on what this event is all about. Or at the very least they need to push the idea that products optimized for what was announced are coming later. The software betas are only half the story. New hardware in the fall completes the loop. Was something like dark mode really left out? We won't know until iphone 7 is announced. We don't know what other new features any new hardware may enable that all these software updates may support. Something we both agree on, ecosystem upgrades, got kind of hammered here. Is this the future or not? Being able to unlock the mac with a watch is an example. Copy and paste across devices is cool as well. Clearly if i have an iphone and a mac, then that's a feature I have vs someone with only an iphone and a windows pc. But can Apple market this? Already you can see they'll focus marketing on having new emoji features vs something more useful. That said, I'd be surprised if the new macs in the fall don't have touch ID on them or at least the ability to also use an iphone to unlock where as older macs will only use the watch via the new macOS Sierra update. I'd like to see a family cloud option. Maintaining separate photo clouds between wife and I is a bit more maintenance. Sharing an apple ID for that purpose causes havoc with other functions and continuity between devices. If they want to charge more then fine but give me the option. This alone has me exploring other options. My only other comment on WWDC is that let's see more Craig Federighi. My interest level jumps a few notches when he's talking vs the other presenters. Let's hope they give this guy a raise or elevate his status since he's pretty much carrying these events.

I was hoping Siri would be able to do things on device, without using wifi or cellular. Rene Ritchie was also hoping for this. However I am not sure what the implications of this would be.

The keynote it's was a snooze fest but iOS isn't as bad as I first thought. Sent from the iMore App