YouTube iOS app updated with full support for iPhone 6 and iPhone 6 Plus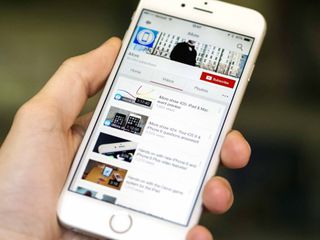 Google has just issued a new update to its YouTube iOS app, which offer full optimization for the larger screens on Apple's new iPhone 6 and iPhone 6 Plus.
This means that users will be able to access the larger status bar and keyboard when using the YouTube app on the iPhone 6 models, along with the ability to see more video suggestions on the big screens. Here's the full change log:
Now updated for iPhone 6. Includes bug fixes to:
Prevent the status bar from overlapping the UI
Address keyboard orientation issues
Make scrubbing more responsive
Show all playlists when adding videos
If you own an iPhone 6 or iPhone 6 Plus, how do you like watching YouTube videos on the larger display?
Get the best of iMore in in your inbox, every day!
I have been writing professionally about technology and gaming news for 14 years.
I'm wondering why it's taking major developers to at least optimize their apps for the larger screens. It's been nearly a month and still most apps still look horrible on the +. Any developers with insight as to why it's taking so long?? Sent from the iMore App

As far as Google Apps, it may be they are focusing on Android 5.0 for the most part. Just a guess at best though. Sent from the iMore App

Thanks for the response! It's like all the major platforms are taking forever whereas smaller developers have it together :-) I think you may be right about Google though. Sent from the iMore App

There is currently about a 10 day waiting time for approval I think. Some may have already submitted for review. Sent from the iMore App

Ohhh okay. Hmm wonder why it's taking time on Apple's side then. Especially since the Apple Store took awhile to update itself. Sent from the iMore App

Meh. Nothing Google on my Plus, whatsoever.

I going to guess its mostly laziness. Sent from the iMore App

I think it's a step backwards...Text is too small and is super laggy on my regular iPhone 6...Come on Google...

How is the resolution? "Better" considering the screens? Sent from the iMore App

I was glad this came out because it reminded me to delete it. No Google apps left on my phone. Sent from the iMore App

Wow, now you can have a pony of your choice.

Supports 1080p now . . . nice.

Am having real trouble with buffering at 1080p. Are you having any trouble? Sent from the iMore App

It appears to be working fine for me.

I have it on my iPhone 6 and it is lightning fast, I have no issues at all with any of my Google Apps. I find it funny that almost all the Google apps for IOS have been updated before many of the Apple apps. Why the complaining about great apps at no cost that work fantastic? This YouTube app doesn't have any issues with loading the videos, I can watch a 1 hour video on LTE without any stopping and starting, the videos load up very fast and just a great experience.

It screws with landscape view on the iPad. Good job Google.

This update made scrubbing less responsive, crashed a lot, and now when I play videos when my mute switch is muted, the videos are actually muted (I guess it should be that way, but now I have to remember to unmute it to hear videos). Sent from the iMore App
Thank you for signing up to iMore. You will receive a verification email shortly.
There was a problem. Please refresh the page and try again.