YouTube celebrities get a crack at Amazon's Influencer Program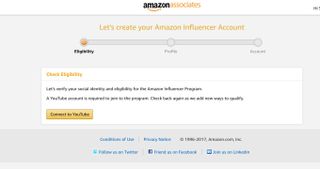 Do you trust online influencers — even if they're getting a cut of what they're promoting? Or do you think online influencer and affiliate programs are designed more for people's convenience rather than making a quick buck?
It's no surprise that big YouTubers like Nikkie Tutorials and Jaclyn Hill get a bit of revenue from whatever beauty products they're pushing on their massive YouTube channels, with everything from affiliate codes from high-end brands like Sephora (opens in new tab) to smaller, indie companies like Colourpop and Morphe.
Now, Amazon has decided to throw its hat in the ring with its own Influencer Program (opens in new tab), with its sights set not only social media celebs, but prominent YouTubers.
Why would Amazon set up a program like this?
Long story short, online influencers and YouTubers with big followings mean big money for companies like Amazon and other companies that use Amazon to get their products out there.
How does it work?
Once you click Get Started, applicants link up and verify their social media accounts to see if they're eligible to join the program. Not all YouTubers will be approved — you'll need a certain (unknown) number of subscribers, and your channel must first be vetted by Amazon.
Which YouTubers will be involved?
Right off the hop, Youtube is saying that popular YouTube channels like What's Up Moms, Mark Cuban, And Felicia Day will be included; it's worth noting, however, that Amazon will not disclose how many beta participants the program has signed up to date.
So will YouTubers be making a ton of money off of this?
Amazon has also noted that it's "especially useful when promoted verbally or in an environment where linking is not possible" — like when a product is casually mentioned in a YouTube video.
What do you think?
Are you someone who's hesitant about trusting affiliate codes and online influencer's recommendations, or are you excited that this might be a brand new way to effortlessly shop your favorite YouTuber's favorite products?
As a friend of mine pointed out:
Let us know what you think in the comments below!
Get the best of iMore in your inbox, every day!
Cella writes for iMore on social and photography. She's a true crime enthusiast, bestselling horror author, lipstick collector, buzzkill, and Sicilian. Follow her on Twitter and Instagram: @hellorousseau