YouTube launches paid channels, watch them back on your iPhone, iPad and Apple TV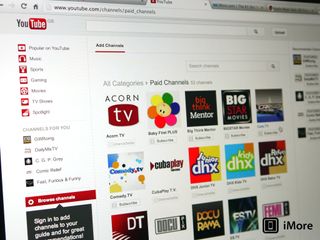 Having been much rumored in recent weeks, YouTube has finally pulled the trigger on launching paid channels. The subscription based channels start at a monthly rate of $0.99 and all come with a 14 day free trial period. Best of all, once subscribed the channels are available to enjoy on your iPhone, iPad, and Apple TV beyond the browser on your Mac.
This is because the paid channels add to your list of subscribed channels, right along side your non-paid channel subscriptions. So, when you fire up your Apple TV, the paid channels will be right there to watch on the big screen. There aren't many channels to choose from at the moment -- just 53 at present -- but the programme is in its pilot stage, and YouTube has said they hope to launch more paid channels in the near future. UFC has a channel at launch, which is sure to be popular and has a whole host of classic matches to view as well.
Paying for content on YouTube may seem a little crazy, but the service has expanded far beyond grumpy cat and crying baby videos. Already there is a lot of premium content on YouTube, and the paid channel partners will have to deliver premium content to succeed. But, since we already pay for content in so many other places, YouTube is no different so long as the quality is there. And if a guaranteed pay day means we get better videos, it's a positive move.
There will be skeptics, for sure, but it's also worth asking ourselves whether or not we have room in our lives for another pay-to-view video on-demand service. In a world full of Netflix, Hulu Plus, LOVEFiLM and Amazon Instant Video, we're already pretty well catered for in the subscription space. But, YouTube is a well established, globally available video platform, so potentially its reach is greater than those other services combined.
It's a bold move, but not a totally unexpected one. Personally, I'm not too concerned who I'm paying for my content, just so long as I get it. YouTube isn't without its problems, but the name is synonymous with online video so there is big potential providing the execution is done right.
So, are you willing to pay for YouTube content? Can you add another subscription based service into your life? How about the current channels; if you've subscribed to one already, what do you think? Jump into the comments and let us know!
Source: YouTube
Get the best of iMore in your inbox, every day!
I don't have a computer, but was able to subscribe on my ipad in Safari (desktop mode) and so far that is the only way I can play the videos back. They don't play in the YouTube app. (Greyed out) and they won't play in mobile Safari, I have to switch to desktop mode. I don't have Apple TV. Did you try it before writing the article? If so, is it playing in the app for you? Or mobile web?
I'm in Canada btw.

Works just fine for me in iOS YouTube app and on the Apple TV. Tried them both before writing :)

Are you in Canada Richard?

I just tried the YouTube app again, it works. I assumed because it was greyed out that the videos wouldn't play(that has been my experience in the past) but lo and behold, they do play! Still not working in the mobile site though.

I'd be happier if my TV service provider offered up a-la-carte pricing. :)

TV providers are going to be watching this closely.

That will happen when iTV finally comes out.

Senator McCain introduced legislation today on this very topic: http://www.deadline.com/2013/05/john-mccain-cable-legislation-a-la-carte/

Do we know if this is coming to Australia? As it would seem we are the forgotten member when it comes to services like this and when we question why. All we told is that we too pricey or we get a limited or delay version of these service.

Some of them are available in Aus.

It is a bold move indeed. I think a bold move Google/YouTube will regret.

It's all about the $$$... Lets see.. Now we have to pay to watch YouTube... So does that mean we have to pay an additional tax with that new Internet tax??

Seems like an unnecessary step.

No thanks. I'm sure you make enough money by forcing me to watch these redundant commercials every time I click on a video. No way am i going to pay to watch some idiot sitting in his living room talking to a camera.

I thinks this a great move from YouTube. Its influence is far reaching, and I am sure that for some people, paying $0.99 cents for content is not bad at all.

Given most North American iTV services aren't available in Aus without a hack, I might have a look.

This is Google's attempt to monetize YouTube. But it's too late. They'll never catch up to Netflix. Direct quote from Businessweek dot com: "On a normal weeknight, Netflix (NFLX) accounts for almost a third of all Internet traffic entering North American homes. That's more than YouTube, Hulu, Amazon.com (AMZN), HBO Go, iTunes, and BitTorrent combined."

Because they don't have the internet outside the US

Not keen on this. I know Youtube is also a service that must make money but this just seem to be a bit much. YTers will not be pleased. However, on the plus side, maybe there'll be official (say) concert videos that you can watch only with a paid subscription. Something like that wouldn't be available otherwise.

The most ironic thing is when you get a link from a friend to watch a funny commercial on YouTube, but you have to put up with another commercial ad before the one you wanted to see starts.

If i could pay 5$ to get rid of ads on my current Subscriptions, id do it instantly!