2014 iPad and Mac event: What we didn't get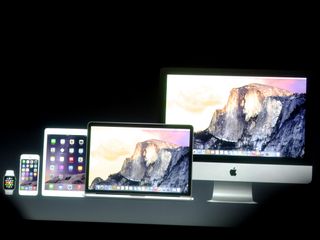 Apple's fall 2014 event brought with it an all new iPad Air 2, a somewhat updated iPad mini 3, gorgeous new retina iMacs, and finally, an update to the very long in the tooth Mac mini. Make no mistake, this was no small event for Apple and they delivered on a lot. However, there are still a few things that were either rumored or expected that didn't seem make the cut this fall.
Retina MacBook Air
It's arguable that a Retina Display MacBook Air has been one of the most highly anticipated items of the year. Unfortunately, it's most likely not going to happen until the spring at the earliest. Most of this can be attributed to Intel's continued delays of their new Broadwell chips that would bring power consumption in line with what Apple would expect in the MacBook Air line. A Retina Display draws a lot more power and portable computers are a little more tricky than desktop computers, because you know, battery.
So for now, we have Retina iMacs, which are an amazing upgrade in their own right.
iPad mini 3 performance boosts
One of the only things that disappointed me personally during this event was how much of a shaft the third generation iPad mini got. Not only does it not get the [new A8X chip](http://, it also didn't get an upgraded camera or 802.11ac support. Basically, the iPad mini 3 with Retina Display is pretty much what we got last year with the addition of Touch ID, a gold option, and upgraded storage.
For people that really wanted the power of an iPad Air in a smaller form factor, the iPad mini 3 unfortunately isn't it.
NFC-enabled iPads
The new iPads were rumored by many sources to receive NFC capabilities for use with Apple Pay. While we never really fancied the idea of tapping to pay with an iPad, we know there are some folks out there that for one reason or another, wanted to see an NFC capable iPad.
Looks like we'll have to wait at least another year to witness people dropping their iPads off a Starbucks counter while trying to use Apple Pay. Damn...
iPad Pro
Rumors of an iPad Pro were growing rather persistent as we neared launch, specifically a 12.9" model. If I were to take an educated guess on why, I'd almost certainly think it may have to do with Apple not being able to get battery life where it needs to be for a screen that large. If you remember, the iPad 2 never received a Retina Display for what was believed to be a similar reason.
For whatever reason, it's not going to see the light of day this year. When Apple feels comfortable with the performance, it's probably a product we'll see.
5K Thunderbolt 2 display
This is one thing I know a lot of my colleagues and many designers really wanted to see happen. Considering the new Retina Display iMacs pack a 5K display, it isn't unreasonable to assume that Apple could easily adapt the same technology into a standalone Apple display. However, for some reason they decided not to follow through on that.
However, a 5K display may be something that Apple opted not to devote stage time to. At this point, I wouldn't rule out the fact that we may see it eventually crop up in a press release or just appear in the online Apple Store.
Apple TV
Some people were really hoping for a refreshed Apple TV, even though we had a feeling it wouldn't see the light of day until next spring. When iOS 8 was released in September, newer revisions of the Apple TV received a decent update that overhauled the entire interface. And for now, that's going to have to be enough to hold us over until spring.
New iPod touches
The iPod touch hasn't been updated since the fall of 2012 and is starting to show its age. There's no Touch ID support and even though it supports the latest version of iOS, it can't take advantage of many features simply due to its age. While we didn't expect to see new iPod touches at this event, it's still an item in Apple's lineup that's still biding its time.
Your impressions?
If you tuned into Apple's live stream or followed our coverage live, are there any items you were secretly crossing your fingers for that aren't listed above? If so, be sure to let me know what as well as your opinions on today's announcements in the comments!
iMore senior editor from 2011 to 2015.
I was disappointed in the fact that the Mini 3 didn't get the same specs as the Air 2. Unless you REALLY want Touch ID on your mini, it seems like the Mini 2 is a MUCH better value.

I agree. I wouldnt have bought the 3 anyway, so soon after getting the mini 2 (NOV 2013) and the 6+, but it would have been cool.

Agreed, I can not remember another apple product that received such a small upgrade. The mini 2 is a much better deal at this point.

iPhone 5s? Wasn't that barely an incremental update? ;)

Barely? New processor (A7 vs A6), new graphics unit, M7 coprocessor, dual led flash, Touch ID, Slo-mo, gold color, etc... Yeah, the mini 3 is about the same deal. Yeah.

Gold color? It's a color dude not an upgrade. Slow-mo is software. Posted via the iMore App for Android

The iPhone 5s was a lot more than an incremental upgrade well maybe no I real world use but in graphics performance it was more noticeable also with other CPU intensive tasks. The iPad Mini 3 is worse. They didn't even bother to upgrade to the A8X chip they just kept the A7 chip and they only put Touch ID and a gold colour option. Sent from the iMore App

Well, okie-dokie then. I used an ill-informed comparison. You folks are correct, the 5s was more of an update. Still, I'm seeing some $150 price cuts on iPad Mini 2s and it's truly tempting to me. The fact the 3 didn't even get 802.11ac really chaps my bum ... and makes the choice so, so simple.

Yea if the mini got those upgrades it would be great. Sent from the iMore App

Was surprised as well Sent from the iMore App

iPad mini 2 already had 128GB of storage..!

Not as cheaply though.. They dropped the 128gb option down $100

The mini 3 is an insult. 100$ more for touch id and nothing else? Buy the old one and you're fine.

Ally, you forgot the new Mini did get the new anti-glare screen for reading in the sun.. which may be a reason for some to get it if they use it outside.. I'm surprised that most of the sites didn't pick up on that addition to the iPad Air and Mini.. using it in the sun was a large complaint of many..

Easily remedied with a screen protector for < $10. That ain't worth $100 for the Mini 3. ;-/

Exactly. Fitted one on mine, does an excellent job

I was disappointed at no apple tv. I got a chromecast for the 2nd tv (apple tv for the first). The only drawback imo is the lack of using iTunes videos.

Well, SHUCKS. I was sorely tempted by the iPad Air or iPad Mini+retina (now named iPad Mini 2, and isn't THAT super-confusing) as my next tablet, but since the iPad Mini 3 is so underwhelming ... possibly the most significant feature change on the iPad Mini line is that iPad MIni 2s are now $100 cheaper. IMHO of course. I might pick one up, but the lack of 802.11ac has me scratching my chin and eyeing the iPad Air 2. But not the iPad Mini 3.

I was disappointed in the form factor of the new Mac Mini not really changing. I was hoping that they would switch to a smaller sized version of the Mac Pro's casing. Posted via the iMore App for Android

After listening to last week's podcast I won't accept a Mac Mini form factor that is anything less than the shape of a three-dimensional Apple logo that floats in the exhaust stream of the Mac Pro.

I am getting sick of no new Macbook Pros.

Mini should have had the same specs !! Anyways ! I was gonna get the Air 2 anyhow soo Sent from the iMore App

I'm disappointed at no new iPod touch. Posted via the iMore App for Android

I don't think they care about that anymore, you already get an iPod in every other device so what's the the point of buying an iPod? Sent from the iMore App

I think he was hoping for a 5.5 inch iPod touch.
Since the iPad mini came out, it slowly eliminated the iPod touch.

Ok, but they did deliver rather a lot today... And I particularly liked the way Tim wrapped it up by saying basically "You ain't seen nuthin' yet!" Gotta keep these events interesting... Just wait until the next one!!!

NO!!! Sent from the iMore App

So... At what point do we stop believing so strongly in rumors? It's gotten to the point where a few rumors are considered fact. And when it doesn't come true, we blame apple instead of the people who speculated. Sent from the iMore App

I really wanted the new Apple TV and iPod touches. I hate to say it but my kid's OG iPad minis are showing their age. The kids aren't old enough for phones so iPod touches would've fit the bill, especially since they envy my iPhone. I know I could get them the current ones but I'm really looking at longevity for my money. An Apple TV with home connect and some gaming features would've been on my Christmas wish list too. Sent from the iMore App

Good point on the iPod touch. My two kids grew up on it and were able to unlock them at 6 months.
My 4th gen iPod touch will have to suffice for my 3rd child. Stuck on iOS 6.

im kinda bummed that there was no sort of split screen multitasking. I know that there was no mention of it when iOS was announced but i still had hope they might have added it to 8.1 when they released the new ipads. Oh well

My guess is the Mini 2 outsold the Air 1 that Apple had to take the reins and decide they couldn't have that since the Air is suppose to be their flagship tablet. Even if the mini 3 got the A8 chip the growth would have outpaced the Air 2. Sent from the iMore App

I bet when Apple gave Mini 2 the same specs as the Air it did not expect it to be wildly popular. Now Apple is trying to coax users to buy the Air edition by putting all the upgrades in this line. Sent from the iMore App
Thank you for signing up to iMore. You will receive a verification email shortly.
There was a problem. Please refresh the page and try again.