8 Reasons to Buy Apple TV 4K and 3 Reasons to Skip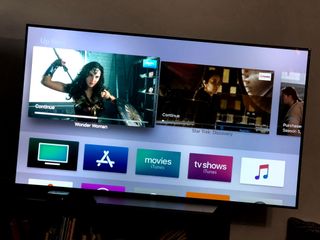 The Apple TV 4K has been available since September 2017. It's not unusual for most people to hold off buying a new product until the dust settles and the reviews are in, but at some point, you have to make a decision on whether to go for it or skip it. If you're still considering buying the Apple TV 4K, here are some reasons to say yes and a few reasons you should say no.
You get better resolution
This is the most obvious reason. Apple's fourth-generation Apple TV maxed its resolution at 1080p. The Apple TV 4K has nearly four times the resolution. It's a significant upgrade in picture quality over its predecessor. Apple analyst Rene Ritchie says it best in his review of the Apple TV 4K:
You get better color
In addition to all those extra pixels, the Apple TV 4K supports High Dynamic Range (HDR), which brings out the colors, shadows, and highlights of your movies. By having a larger contrast ratio and more color accuracy, you're just getting a better looking image on your screen. It's like you've been wearing slightly tinted sunglasses while watching TV all of your life and then someone takes them off. The colors on your TV start to look more lifelike than they ever did before.
If your TV supports HDR10, you're in for a real treat when you watch a 4K movie on Apple TV.
You get Dolby Vision
For those who've invested in the future of UltraHD, Dolby Vision, getting an Apple TV is a no-brainer. It's the only self-contained set-top box that supports Dolby Vision (Google's Chromecast Ultra supports Dolby Vision, but requires a second device to "cast" to).
If you've spent the extra money on a Dolby Vision-supported TV set, why would you stream movies with anything less?
You get better performance
The Apple TV 4K is outfitted with the A10X Fusion chip, which outputs twice the CPU performance and four times the graphics performance of the fourth-generation Apple TV
That, combined with tvOS's frame rate and dynamic range matching, you're getting the most optimized viewing experience on any type of television. If you're running 60Hz on an HDR10 TV or 30Hz on a Dolby Vision TV, Apple TV 4K will automatically adjust so everything runs smoothly.
4K iTunes movie upgrades are free
You may have heard about this already, but any HD movie you've purchased in iTunes gets an automatic 4K upgrade (if it comes in 4K, of course). If you have a fairly large collection of iTunes movies, that's a really nice present. You don't have to do anything to upgrade your library. It'll just be there waiting for you as soon as you sign into your 4K Apple TV with your Apple ID.
Movies Anywhere
Movies Anywhere is a service that Disney created, which allows us to combine nearly all of our various digital movies into one, convenient place. If you've purchased movies or downloaded codes from physical discs on Vudu, Google Play, iTunes or Amazon, you can watch all of them across each brand's streaming media outlet. That includes 4K movies you've purchased from any of these platforms.
So if you've bought a 4K movie from Amazon, you can watch it in the Movies app on Apple TV. If you bought a 4K movie in Google Play, you can watch it in the Movies app on Apple TV. You don't need a separate app for each one.
4K everywhere
Ok, not exactly everywhere, but there are a lot of streaming services and content providers that are adding 4K to their offerings. It's not going to be long before most streaming services offer a 4K tier. If you've got a 4K TV and use content providers that offer 4K content, why not watch that content on your 4K Apple TV? Watch content from Plex, Netflix, Hulu, YouTube, Vudu, Amazon Prime, and more.
4K HDR movies in iTunes are inexpensive
If you're shopping around for the best deal, you'll quickly realize that, not only are Apple's 4K movies the same price as their HD movies, they're also a few dollars cheaper than it costs to purchase physical discs of UltraHD movies. You can even get some digital-only titles for less than some of the bigger digital movie providers like Amazon.
Building your 4K library won't be more expensive than building your HD library, and will be less expensive than building your UltraHD or even Blu-Ray library in some cases.
Why you might want to skip the Apple TV 4K
For all the good you get from the Apple TV 4K, there are still a couple of reasons you might consider not getting one.
You don't own a 4K TV and aren't planning to buy one
This is the most obvious reason not to get an Apple TV 4K. If your television set doesn't support 4K, you're wasting your pixels. If you think someday you'll buy a 4K TV (or possibly receive one as a gift), the price difference between the 1080p Apple TV and the Apple TV 4K is small enough that you might as well get the upgrade.
But if you have no plans within the next few years to get a 4K television set, you should invest in the fourth-generation Apple TV instead. Other than the visual improvements and faster CPU (which isn't much of an issue streaming 1080p content), there isn't much difference between the two.
Your internet download speed is slow
Having fast internet becomes exponentially more important when you're trying to stream 4K video. It's something to consider when deciding to upgrade to the Apple TV 4K, even if you already own a 4K TV. Here are the minimum requirements of some of the more popular streaming services for internet download speeds.
iTunes - 25Mbps
Amazon Video - 15 Mbps
Hulu - 13 Mbps
Netflix - 25 Mbps
Vudu - 11 Mbps
YouTube- 15 Mbps
As you can see, iTunes and Netflix require a robust 25 Mbps, so make sure your bandwidth can handle the load before converting to 4K.
You just don't care about 4K
It's something to think about, isn't it? Do you really need 4K in your house? Some would argue, yes, you do. It's beautiful and makes your favorite movies look like heaven on a flat screen.
If, however, you've never considered pixel resolution when making TV purchases, if you've got an older TV and you don't care what it supports, it might not be such a big deal for you to go all in with 4K, especially if it means upgrading your TV, changing your internet provider, and buying a new Apple TV.
Any questions?
Do you have any questions or concerns about whether you should get the Apple TV 4K? Put them in the comments and I'll help you out.
Master your iPhone in minutes
iMore offers spot-on advice and guidance from our team of experts, with decades of Apple device experience to lean on. Learn more with iMore!
Lory is a renaissance woman, writing news, reviews, and how-to guides for iMore. She also fancies herself a bit of a rock star in her town and spends too much time reading comic books. If she's not typing away at her keyboard, you can probably find her at Disneyland or watching Star Wars (or both).