iPhone 6s predictions include Force Touch, gesture control, 12 MP camera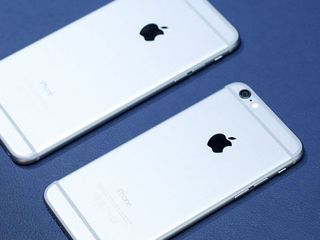 While financial analysts typically serve the interests of their clients, not the general tech reading community, KGI Securities' Ming Chi Kuo has been among the most reliable when it comes to Apple product predictions. This year he's released an investment not that features 11 predictions for the iPhone 6s and iPhone 6s Plus.
Force Touch will be the biggest upgraded selling point, but also one of the main bottlenecks of the supply chain. Force Touch can enhance user experience due to more input methods and support of handwritten signatures, which is beneficial for expanding in the commercial market;
Screen will remain at 4.7 and 5.5 inches, with resolution the same as existing models. There will be no new 4-inch model;
There will be an additional casing color, rose gold, matching the rose gold Apple Watch Edition;
The camera will have a pixel upgrade, likely to 12 MP;
One microphone will be added near the speaker to enhance voice quality;
The A9 processor with upgraded 2GB LPDDR4 will be adopted;
The bending issue will be improved by using different casing materials and internal mechanical design changes;
If drop test issues can be resolved, the 5.5-inch model will have a limited number of units with sapphire cover lens;
The recognition rate of Touch ID will be improved further in a bid to promote Apple Pay;
Gesture control support;
It's expected that mass production will start in mid-to-late August. Total shipments will be 80-90mn in 2015, with a 2:1 ratio of 4.7-inch and 5.5-inch models.
If Apple holds to pattern, an updated Apple A9 is close to a certainty. Rose gold, as mentioned, would match the Apple Watch finish of the same name. A 12 megapixel camera, especially if Apple maintains the quality of their optics and image signal processor (ISP) would not only be more competitive, but offer additional flexibility for things like cropping and sampling. No 4-inch option would certainly disappoint those who've been clinging to their iPhone 5s.
Force Touch has been an easy bet for the iPhone since the launch of the Apple Watch and new MacBook Force Touch trackpad. It's how the company works. Handwritten signatures are something that can be done on any touch screen. Force Touch just makes them better. Gesture control could refer to the gesture navigation previously found only in the iPad product line, or it could refer to the type of Force Touch controls found on the new MacBook.
We'll know for sure when Apple announces the iPhone 6s and iPhone 6s Plus, likely this September.
Via: MacRumors
I would not complain about any of those upgrades.

I wouldn't either, but we know someone will of course lol Sent from the iMore App

Very good article. I will be ready by the time the phone goes to the public market and excited if all the features you mentioned holds up.
Thanks for the heads up!

These upgrades make it hard to justify upgrading from a 6 plus, but then again every s upgrade is like that, so I'll be excited a year from now when we start getting rumors about the 7 haha.

You can add a 12th prediction:
"The 6s and 6s Plus will externally look just like the 6 and 6s. Therefore, the media will refer to the new models as 'boring' and 'uninspired' without caring at all about any of the changes on the inside. They will conclude that Apple is in trouble and unable to withstand the competition from Samsung's IPhone clone, the S6."

LOL that is so damn true its not even funny tbh........

I just can't see rose gold for the iPhones. It makes sense for the Watch, because Apple sees the Watch as jewelry. Also, the gold and rose gold Watches are made with gold (and color additive), while the iPhones are anodized aluminum

Or... this will be a $25K device Sent from the iMore App

I was thinking the same. The only really colour change I can see if there is one will be to the space grey to a slightly darker colour to match the soave grey watch and MacBook. Sent from the iMore App

Makes sense. I think it is time to upgrade the MP in the camera and 12 seems like a good amount, along with a nice large sensor. LG and samsung really upped their game in the camera department, apple should as well. 2gb of ram will help with app reloading, and other multitasking things. Mid to late august production? Uh oh be ready for very long delays again like with the 6+. Doesn't apple normally start production in like july?

Well, since I have T-Mobile, and JUMP, I'll be trading in my 6 Plus for a 6s Plus for sure. Sent from the iMore App

I'm good with those upgrades and continuing to provide the excellent and consistent experience that I've had with the 6 I'm all in. Sent from the iMore App

I don't know if any of this will force me off my 6 Plus. I always say that though and then BOOM!!! A new iPhone shows up on my doorstep on launch day. But, this is the happiest I have ever been with my iPhone this far into the product cycle. Force Touch is interesting as are gestures. Wouldn't gestures be more of an OS thing, though?

I don't think any of this will pull me from my 5s. I'm in that minority of people who don't want a bigger phone.. Other than that, the upgrades look good. Force touch and a substantially better camera sound great! Sent from the iMore App

I used the 6 for about a week before I decided that I would go back to a smaller phone when they release one. I had already sold my 5s, so I figured I would give it a couple more weeks just to make sure. I am now sure that I would prefer a new iPhone with a 4 inch screen.

I wonder if the sapphire will shatter if dropped for the next iPhone if they include it. Btw is there any drop test of the sapphire apple watch? I can't find any.

I like the upgrades, but is it enough for people to upgrade from an iPhone 6 or Plus. I believe the camera should have been twelve or more in the first place. I think 7 will be my next IPhone.

Not bad, and hopefully the protruding camera is removed. We have seen skinner models that do not have protruding cameras with higher megapixel cameras to begin with although a protruding camera isn't that horrible as some day, it'll still be nice. Maybe tweak down the bezels a bit, especially the top and bottom. The iPhone's considering their screen size are much bigger than they should be, especially the iPhone 6 Plus. Posted via the iMore App for Android

And water proofing please. Sent from the iMore App
Thank you for signing up to iMore. You will receive a verification email shortly.
There was a problem. Please refresh the page and try again.