Who knew chargers could be fun as well as useful? With three USB-C charging ports, GaN tech, and fast power delivery speeds, the Shargeek Retro 67 is as adorable as it is handy.
Pros
+

Wonderful design

+

67W fast-charging output across three ports

+

Handy retro-style power output display
Cons
-

A full-size USB would be useful

-

Can't sit in a wall outlet without hiding the display
You can always trust iMore. Our team of Apple experts have years of experience testing all kinds of tech and gadgets, so you can be sure our recommendations and criticisms are accurate and helpful. Find out more about how we test.
A grown man should not be getting excited about a charger. No-one should be getting excited about a charger. But when a charger is as useful and cute as the Shargeek Retro 67, who can help but fall just a little bit in love?
Taking a hefty dose of inspiration from the original Apple Macintosh design, and shrunk down to Lilliputian proportions, the Shargeek Retro 67 is a pint-sized, three-port USB-C charger, capable of delivering 67W of Gallium Nitride (GaN) fast-charging power while showing a real-time power output reading on its diminutive screen. For once, here's a charger that won't get jammed in a drawer once the job is done.
Shargeek Retro 67 GaN charger: Price and availability
The Shargeek Retro 67 GaN charger is available to order now, via Shargeek's Indiegogo crowdfunding campaign. At the time of writing, the campaign is fully funded, with shipments expected to roll out worldwide in March 2023. It'll retail at $79 / £65, but early-bird pricing brings that down temporarily to $39 / £32. Considering the extra charm the design offers, that's a fair price.
For a general comparison, the 96W single-port MacBook charger from Amazon costs $79 / £79.
Shargeek Retro 67 GaN charger: What's good?
What's good? What's good? Just look at it! It's a tiny Macintosh! Though for obvious reasons it can't feature the Apple logo itself, the attention to detail in the Shargeek Retro 67 GaN charger is otherwise spot on, from the 'disk drive' on the front to the 'power switch' and 'plug socket' etched into the rear of the plastic shell. Its cream-colored casing nails the retro-tech aesthetic, and a slight curvature to the screen even suggests CRT vibes (though it's an LCD underneath). This is the Wall-E of USB-C chargers, and it now sits on my desk whether I need it for charging or not, I enjoy looking at it so much.
But is it a good charger? Yes, thankfully. It makes use of Gallium Nitride (the GaN chemical formula making up part of the product's name), a crystal-like semiconductor material. Compared to silicon, GaN transistors can be made significantly smaller, switching faster and carrying power quickly and efficiently. It allows chargers that make use of GaN technology to deliver higher wattages at faster rates without getting too hot and cram them into smaller devices at the same time.
As such, the Retro 67 measures just 57 x 39 x 41mm and weighs just 110g, among the smallest chargers we've seen with a spec like this. Its three USB-C ports sit on the top of the charger, while its power prongs flip out from the bottom, helping to improve its portability (as well as letting it sit comfortably as a decorative item).
Depending on which combination of ports you use, the charger's USB PD 3.0 protocol will split the 67W intelligently between the devices that need it most. So, for instance, using a single charging port will deliver the maximum 67W to one device. Plug one device into the first port and one into the second, and it'll split between 45W and 20W respectively — doing the same with the first port and third port delivers similar speeds. Use the third and second ports and they'll get 15W each. Plug into all three ports and the first socket will push out 45W, and the remaining two deliver 15W each.
If that sounds confusing, fear not — each port has a small illustration of the best socket to use for either an iPhone, iPad or MacBook (though all will work just fine individually).
To help illustrate it even more clearly is the charger's screen. It'll show you the real-time power draw in watts going to whatever combination of devices you have plugged into it, so you're clear on what's eating up the most juice. It displays in a chunky green font, which in a nice touch defaults to a scrolling Matrix-like code pattern when plugged in and idle.
Shargeek Retro 67 GaN charger: What's not so good?
With such a small, feature rich package (as far as chargers are concerned, at least) there's not much fault to be found with the Shargeek Retro 67. But two small grievances do present themselves.
Firstly, you're limited to USB-C ports only on the top of the charger. Arguably, it's forward thinking — USB-C is the port of choice for most modern devices (it's expected to be in the iPhone 15 and iPhone 15 Pro, too — a first for the smartphone line), and it's a physical space saver as well. But there's still a lot of full-size USB charging cables out there, and being able to use one of them in a pinch would have been handy.
Also, it's a shame that the charging pins can only be placed on the bottom of the Retro 67. This may be an unavoidable problem, given the design and small size of the unit. But it does mean that it won't work great with a wall outlet, at least in terms of putting the display at a sensible angle.
Also, though 67W will be good enough to quickly power most devices, you'll struggle to quickly power a 16-inch MacBook Pro in use — they ship with a 140W USB-C charger as standard.
Shargeek Retro 67 GaN charger: Competition
GaN chargers are everywhere now, and seem to be the go-to premium choice for smart chargers from manufacturers as diverse as Spigen and Ugreen. However, we've yet to see one with quite as appealing a design as the Shargeek Retro 67, even if it's not the most powerful one out there.
If you need a wider array of ports, including a full-size USB, we recommended the Alxum 100W 4 ports GaN charger. It includes a USB-A port alongside USB-C ports and can charge at a higher 100W rate. It's not as portable as the Retro 67 though, and its design is functional compared to the Retro 67's quirky personality.
Shargeek Retro 67 GaN charger: Should you buy it?
Buy the Shargeek Retro 67 GaN charger if…
You love that old-school Macintosh design.
You have multiple USB-C devices to power.
You want to reduce the number of power bricks you take with you when charging.
Don't buy the Shargeek Retro 67 GaN charger if…
You don't have the need to power multiple USB-C devices, and need a full-size USB.
You're limited to regular wall outlets, where the design will be harder to appreciate, rather than a tabletop outlet or power strip.
You hate fun.
Shargeek Retro 67 GaN charger: Verdict
If you were looking for a great gift for the Apple fan in your life, the Shargeek Retro 67 GaN charger is a charming option, and worthy of a spot among the best iPhone chargers. It'll keep everything from a MacBook Air to an iPad Pro topped up with power, offers great charging speeds, and is highly portable. And did we mention that it looks amazing? By putting a little joy into one of the gadgets we most often take for granted, the Shargeek Retro 67 will earn a place on your desk every day — whether it's plugged in or not.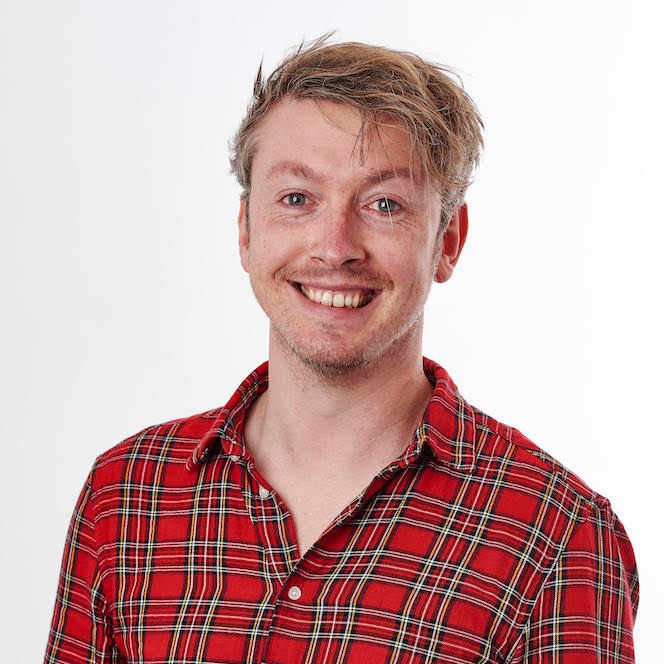 Gerald Lynch is the Editor-in-Chief of iMore, keeping careful watch over the site's editorial output and commercial campaigns, ensuring iMore delivers the in-depth, accurate and timely Apple content its readership deservedly expects. You'll never see him without his iPad Pro, and he loves gaming sessions with his buddies via Apple Arcade on his iPhone 14 Pro, but don't expect him to play with you at home unless your Apple TV is hooked up to a 4K HDR screen and a 7.1 surround system.
Living in London in the UK, Gerald was previously Editor of Gizmodo UK, and Executive Editor of TechRadar, and has covered international trade shows including Apple's WWDC, MWC, CES and IFA. If it has an acronym and an app, he's probably been there, on the front lines reporting on the latest tech innovations. Gerald is also a contributing tech pundit for BBC Radio and has written for various other publications, including T3 magazine, GamesRadar, Space.com, Real Homes, MacFormat, music bible DIY, Tech Digest, TopTenReviews, Mirror.co.uk, Brandish, Kotaku, Shiny Shiny and Lifehacker. Gerald is also the author of 'Get Technology: Upgrade Your Future', published by Aurum Press, and also holds a Guinness world record on Tetris. For real.